Root Beer Barrels performed live on Audioasis 8/11/07
photo by Ron Henry
LIVE ON AUDIOASIS:
Thanks to Llama and Root Beer Barrels, who both performed last week on Audoasis. If you missed it or want to hear it again, you can go back and listen on our Streaming Archive.
This coming Saturday, August 18th, Abe Beeson will host Audoasis with two more local bands live in-studio:
Massy Ferguson will grace the KEXP airwaves at 6pm debuting a fresh musical sound combining alt-country and American southern rock. With only a 5 song EP available, Massy Ferguson have been working on recording a full-length and are sure to debut songs from that upcoming release.
Indie-Rock that pops and lyrics that dance along like little musical notes — that is Stuporhero at 8pm. This Seattle duo (whoops, that is if you're not counting Chuckles, their mannequin drummer, who I expect is a person too) will be debuting music from their upcoming full-length, "Last Star Shining" to be released this coming Tuesday, August 21st, 2007.
For more info on upcoming in-studio guests check out the Audioasis myspace page.

JUST A COUPLE! — SEATTLE'S OWN PLAYING AROUND TOWN:
If you're not busy listening to Audioasis, here are a few events that we think your eyes and ears would enjoy:
| | |
| --- | --- |
| | The 5th Annual KEXP BBQ features three of Seattle's most exceptional local bands, the Cave Singers (ex Hint Hint and Pretty Girls Make Graves), the three piece garage rock band The Blakes, and hip-hop act Blue Scholars (performing with a live band!). Come join us at the South Lake Union Lawn. Doors open at 2 pm. |
Cave Singers – Seeds of Night (MP3)
Here's The Blakes performing "Streets" live:
and here's Blue Scholars with "Back Home":

The Prids with Hypatia Lake , The Delusions and Paris Spleen at The Comet Tavern (10th and Pike). This 21+ show is sure to make you feel like you just went to a Space-Age Psychedelic 80's alcohol influenced house party. Don't know what that is? I double dare you to go to the show and comment on this entry! I double-dare you! 21+, 9pm
At Neumo's, catch a notable folk-punk songwriter, with another impressive pop songwriter and a garage punk band sure to set everyone's "Fuel On Fire." Kimya Dawson performs with The Old Haunts and TV Coahran . This 21+ show will run you only $6.
Kimya Dawson – I Like Giants (MP3)
Here's "Lullaby for the Taken":

THE ULTIMATE COMBO PLATTER: MINUS THE BEAR + LASERS:
Remember those days when you would go and watch laser shows to a soundtrack of Pink Floyd and thought it was totally awesome? Well, it wasn't. Or at least it won't be after Tuesday the 21st.
This coming Tuesday Minus The Bear's new album, Planet of Ice, hits the stores. So in celebration of its release, the band is having a listening party at the Pacific Science Center. This won't be your mother's listening party, it will be accompanied by a fullgrown badass technicolor laser show. Minus the Bear has finally reached the same level as legends such as Pink Floyd, Led Zeppelin, and The Beatles. Stop by the laser dome at 8pm.
The formula is simple, Minus the Bear + lasers, it's a win win. That's right, you can't lose. They will not be playing live at the laser show, but they will be doing an in-store at the Queen Anne Easy Street Records the day before (September 20th) at 11pm which will be followed by a midnight sale and signing.
And as if that was not enough MTB action for all of you, they will be playing live in the KEXP studio on that same Monday, the 20th at noon. Be sure to tune in for what is sure to be an excellent performance.
Here's the first single off of the album (Via MFR):
Minus the Bear – Knights (MP3)
If you just can't wait to hear Planet of Ice you can listen to the full thing over at mtvU.com.
AUDIOASIS' LOCAL RELEASE OF THE WEEK:
Every week, we will be bringing you a quick review of one oven-fresh release that you should know about. This week it is Natalie Portman's Shaved Head's first official release, the Secret Crush EP.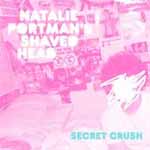 Natalie Portman's Shaved Head is made up of five Seattle area teenagers who broke into the local scene by taking 2nd place at the EMP's Sound Off! Battle of the bands competition (check out video of their performance here). Winning 2nd place, they earned themselves a live performance on Audioasis, which happened in May. You may have caught their set at the Capitol Hill Block Party where they turned the Vera Stage into an electro dance party. They bring that same energy and party feel to their new EP.
If you haven't heard them yet, think of other dance bands like U.S.E. and Of Montreal. Their EP features six songs with a variety of topics including beards, ponytails, and Iceage Babeland (whatever that is). Bottomline: it's good. You should get it. You can't find it in stores, so if you want a copy you are going to have to shoot a message to the band via MySpace. It could be the most fun you get out of an EP all year.
Wanna see NPSH in person? Check them out at Bumbershoot on September 3rd. Or better yet, go see them at the October 6th Audioasis benefit at the High Dive — it's a great bill (KEXP favorites Common Market and Dyme Def are on it).
PDXPLORE @ ASH STREET SALOON IN PORTLAND:
PDXplore is a monthly showcase featuring Seattle bands in Portland and Portland bands in Seattle.
This Saturday, August 18th, KEXP presents Brent Amaker and the Rodeo (Seattle), Herman Jolly (Seattle), Hazelwood Motel (Seattle), and The Birthdays (a new Portland band featuring Jonathan Drews of Sunset Valley and Dolorean, Matthew Peterson of Sugarboom, and Jim Tulstra of Dharma Bums and Maroons) at the Ash Street Saloon in Portland. Come down and see some of Seattle's finest! $6, doors @ 9:30pm, 21+.
Herman Jolly – Key On A Kite (MP3)

Hazelwood Motel – Released (MP3)

Brent Amaker and the Rodeo – Bring Me The Whiskey (MP3)

The Birthdays – Wood Lane (MP3)
Get more info here.