The Young:
This weekend Seattle's makeshift all-ages venues kick into high gear with the 2007 Carousel Festival. Put on by Seattle DIY, the festival is sure to be promising. If you don't know about Seattle DIY it is a collective of artists, activists, and all around awesome people whose mission is to promote all-ages, do-it-yourself art and activities within the Seattle area.
With a total of five shows held at five different venues over Fri, Sat, & Sunday there are way too many good bands to pass up. Highlights of the festival include: Membership, Little Party & the Bad Business, Yes, Oh Yes, RB Reed, Sugar Skulls and, Bird Show of North America
For a full listing of the bands, locations, dates, and times head over to the festival's MySpace or simply look at this picture.
The Old: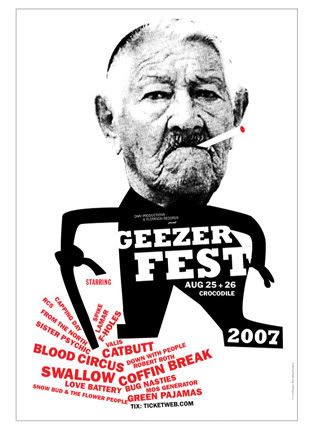 If you just can't stand those young hipsters and their silly "music," or if you have just been aching for a chance to relive the glory days of the Seattle grunge scene, look no further than Geezerfest.
Geezerfest is a two night event happening at the Crocodile Cafe on Saturday and Sunday this weekend. The lineup is a medley of old and new bands that have helped to shape the Seattle scene, most importantly in the sense of grunge. The show features many a band that used to be signed to Seattle label, Sup Pop, as well as a smattering of bands that have not played together in over a decade. Some of even more noteworthy performances include Blood Circus, Catbutt, Love Battery, Valis, RC5, Green Pajamas, and The Bug Nasties. With ex-members of bands such as Screaming Trees, Mudhoney, Willard, Tree People, and uhhh…. Nirvana, the only excuse you have to not be there is if you are at the Carousel Festival!
Tickets are $13 in advance, 15 day of show. Lineup is as follows:
SATURDAY, 8/25

Blood Circus (first show in over 10 years)
Catbutt (1st show in 17 years!)
Swallow
Coffin Break (first show in 13 years!)
Love Battery
Snow Bud & The Flower People (PDX legends feat. Chris Newman from Napalm Beach)
Valis (Van Conner from Screaming Trees)
Lamar (w/Chad Channing….Nirvana)
F-Holes
Mos Generator (ex-treepeople, mindfunk)

SUNDAY, 8/26

RC5 (Robb Clarke from Zipgun)
Green Pajamas
From the North (ex-Malfunkshun guitarist Kevin Wood w/ Shawn Smith)
Bug Nasties (w/catbutt's brother james!)
Down With People (formerly known as Room Nine)
Robert Roth (Truly)
Sister Psychic
Capping Day
Spike (Rod from Swallow)
If you want a thorough run through of the bands playing check out
Grant's Rants
.