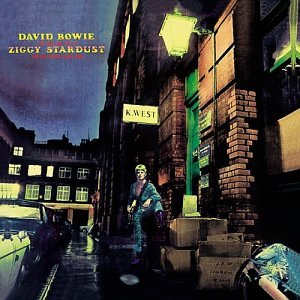 Every Friday night on KEXP I do a show called Nite Life at 9pm. In the midnight hour, I choose a record from my personal collection and bring you trax and stories from that album.
Tonight's "Midnight Album Feature" is David Bowie's The Rise and Fall of Ziggy Stardust and the Spiders from Mars. I tend to like albums that you can just put on and let run all the way through, because after picking out music all week long it's nice to let the artist just take you where they will.
On Ziggy Stardust, David Bowie seems like he is singing straight to me, especially the song "Rock and Roll Suicide." The track means a lot to me. I once made a CD of my favorite songs for my little brother, who is one of my favorite people in the world. This song was the opening track of the mix because I wanted my little brother to never feel like he was completely along in the world. I think this song makes you feel like somebody good is really there, always there…
This album is also important to me because I grew up as a tomboy in Pennsylvania. I had all boy cousins and brothers, there were no girls around, so I always played with the boys. I did wear makeup and stuff as I got older, and dated a lot, but the "girl" stuff always seemed so…girly. It wasn't until college that I embraced femininity and started regularly wearing girl clothes and earrings and stuff. Around that time I discovered David Bowie, who was also wearing girl clothes and earrings. I loved the fact that a man would be so enamored with femininity that he would want to experience it and portray it.
Majestic, intelligent, well-written, personal, this album was released in 1972, it was Bowie's sixth full length album. Ziggy Stardust is an alter-ego of Bowie's – an androgynous alien rock and roll superstar. The album is the story of Ziggy's life on earth during the earth's last five years of existence. In addition to Bowie on vocals, there was the unparallelled Mick Ronson on guitar, piano and vocals; Mick Woodmansey on drums and Trevor Bolder on bass. The track "Ziggy Stardust" best explains the alter ego.
That song has a line in it that says "making love with his ego." When I discovered this album I was in college at UC Berkeley. My friend Kimbrough had the album and he and I would sit in his room and listen to records almost every night when we should have been doing our homework probably but we would just sit and listen to records. Kim actually thought that the words to that song were "making love with his eagle" — like the bird. So that song never ceases to put a smile on my face whenever I hear it.
Join me this Friday night for Nite Life at 9pm and The Midnight Album Feature at 12. This week we'll focus on DC electronic duo Thievery Corporation's downtempo masterpiece The Richest Man In Babylon.