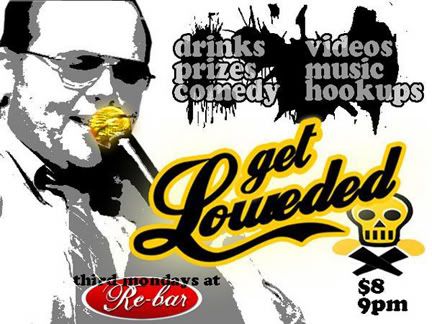 words by Corbett Cummins
photos by Heather Christianson
Get Loweded is a congress of hard-rock music, stand-up comedy, multi-media philosophy, inter-gender arm wrestling, and multi-cultural drinking held every 3rd Monday at Re-Bar. It is the product of Chas Roberts who is Re-Bar's booking agent and the alter ego of Get Loweded's gregarious host Jackson Lowe. He produces it with his crew Cotty James (Pravda Studios), Emmett Montgomery (Peoples Republic of Komedy), Deevious Silvertounge (co-host), Jackson Portwood, Brandi Bratrude (seattleDIRT), Josh Black, Nate Miller, Trevor Harmon and TV the bartender.
Cotty James, Andy Peters, Michelle Francis, Brandi Bratrude and Emmett Montgomery enjoy a light dinner.
Roberts is the "Fonze" of Seattle entertainment. He's good in a fight. He is constantly surrounded by swooning women. He walks with an impenetrable air of Zen coolness and he can fix a broken soundboard by snapping his fingers. Just like the Fonze, Roberts is friends with characters all around town, from wrestlers to musicians, dancers and comedians. And they all show up at Re-Bar to Get Loweded.
Michele Francis and Jackson Lowe are stunned by Jen Seaman's glasses
The true genius behind Get Loweded is that it's really a drinking game held at a bar. According to Roberts, the game has the same two goals as any good party: 1. Get people to drink, and 2. Get people to hook up. The difference is that Jackson Lowe is not like some amateur party host who'd like to see you get a little tipsy and lock a few lips. He's a seasoned professional with a strategic plan and an army of friends dedicated to accomplishing these objectives.
TV, the lovely bartender, makes the first step towards goal #1 by providing everybody with a lovely "communal shot" from her lovely repertoire of specialty drinks. Then, to seal the deal, the audience is ordered to take a drink every time a curse word is spoken into a microphone. This alone puts a serious dent in Re-Bar's beer supply.
TV mixes up some amazing Mini-Bloody-Mary's
To achieve the second goal, Lowe picks out an audience member via lottery. Then with the help of the audience, Lowe finds them a mate in whatever gender-flavor they prefer. The random couple gets set up in the Get Loweded penthouse, situated in the DJ Booth, where they can get cozy, get comfortable and consider hooking up.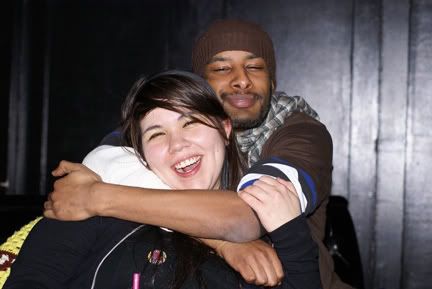 Hook-up or not they made a great couple
Then the room is filled with enough music, comedy, video clips, burlesque, trivia contests, raffles and arm wrestling to ensure the successful completion of each goal.
With a large cast of rotating friends and performers, every month is different and it's impossible to know what the next one will be like. But to help illustrate, here is what the February the show looked like:
The night began with the hard rocking Imperial Legions of Rome, who laid out a beautifully loud and tight set which helped everybody to loosen up for the revelry to come.
Imperial Legions of Rome
Later we were treated to local star Andy Peters, who really enjoyed the curse=drink rule. As soon as he realized that everybody had to chug their booze when he dropped an f-bomb, he put out a blue streak that would make sailor blush.
The only 90 seconds of Peters act clean enough for the Internet
Matt Brennan, the self-proclaimed inter-gender arm wrestling champion, provided the most delightfully unP.C. moment of the evening with a spectacle sure to make the ghost of Andy Kaufman smile.
Matt Brennan and Jen Seamen work out some gender politics
Then, Michele Francis regained the stage for the ladies. Her performance raised the room temperature by about 20 degrees, and she didn't even have to touch anybody.
Michele Francis is banned from every All You Can Eat restaurant in Washington
To help the audience cool down from Francis' act, Lowe introduced a clip from video artist Flash Hayes called "Ask Machiavelli."
Pet tips from Machiavelli (courtesy of Flash Hayes)
If you think Machiavelli can help you, go to his MySpace page and ask a question. Hayes makes a point to respond to each inquiry he receives.
Every month. Get Loweded hosts a segment called "Are You Smarterer Than…" in which an audience member pits his or her trivia knowledge against local personalities. This month featured members of the Rat City Roller Girls, which was great because nothing balances out Machiavellian politics like Roller Girls. After three rounds of questions about presidents and Playboy photo shoots, they emerged as the winners.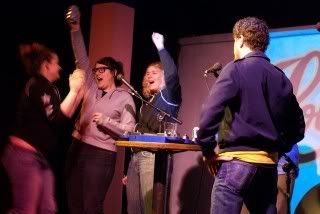 The Roller Girls triumphed with their knowledge of Playboy Bunnies
After completely overwhelming his audience with fun and drink, and possibly sparking a romance Jackson Lowe gathered his stumbling performers up on the stage for the final performance. In a fashion not unlike a 4-way car wreck, they performed the traditional closing song, "You Are My Sunshine":
WARNING: the following video contains material unsuitable for people who can hear:

And at the end the onslaught, Jackson summed up the night in true Fonzie fashion: