Sad news from Beirut: Zach Condon posted a letter explaining that he is canceling all his summer shows "to change some things, reinvent some others, and come back at some point with a fresh perspective and batch of songs". You can read the whole letter on Beirut's website. Fortunately for us here in Seattle, we will be able to catch their show at this year's Sasquatch Music Festival. (Thanks to Drowned In Sound for the lead.)
Today marks the long awaited launch of Pitchfork TV. Radiohead is the main feature here in a performance of "Bangers and Mash" from In Rainbows (CD 2). This was recorded exclusively for Pitchfork, marking it the first music video the site will show. After that, you can watch Radiohead tourmates Liars (see below) in Juan's Basement, Man Man recording their newest LP Rabbit Habit, and Jay Reatard live at The Cake Shop in NYC from October 10th of last year. Also debuting is the official release of M83's video for "Graveyard Girl" from the upcoming album, Saturdays =Youth, due April 15th.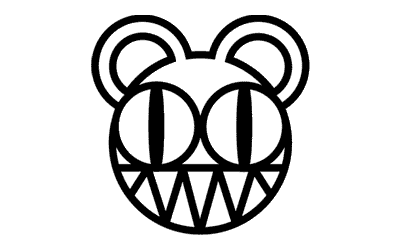 Just announced: Radiohead has released for the second leg of Radiohead's upcoming North American tour, including dates in New York City, LA, and the great Northwest. Seattle-area fans can catch Radiohead at the White River Ampitheatre in Auburn. KEXP will be giving away on air tickets all week!
I guess now would be the time for all the other Radiohead news there is to report from the last few days, and the reports are legion. This morning, the Lollapalooza line up has been revealed and all the rumors were TRUE! This means that yes, Radiohead, Nine Inch Nails, Wilco and Rage Against The Machine will be headlining the festival. Go see the whole line up here and watch this video:
With upcoming Radiohead world tour coming the questions have risen "Who will open?" Well, that depends on where you live. Bat For Lashes will handle some of the European dates while Grizzly Bear and Liars will split the U.S. dates.
By now you are asking yourself, "Isn't there a way that I can keep all this Radiohead news organized? Maybe somewhere on one website where I can get all this information AND share it with all my friends all at the same time? Like, some kind of Myspace but for Radiohead fans only?" Yes, there is a way. Behold the Radiohead specific social networking website W.A.S.T.E. Central. First it was Kylie Minogue, and now this. I for one am excited though — at least this way when they want to give you a record, perform live videos over the internet, offer up stem tracks to "Nude" for remixing, or just rickroll you, they can do it on one place. Do you think Trent Reznor will become a member?
So Radiohead takes on Myspace but they're too busy to notice because they're too busy taking on iTunes. Read all about it here. It seems that the social networking giant just got bigger.
Our friends over at Three Imaginary Girls have the low down on the upcoming Sub Pop 20 Anniversery Festival. Sounds like a good time to us! Reunion performances by Green River and The Fluid? Cool! Sub Pop Comedy stage? Can't beat that. Head over to Marymoor Park in Redmond on July 12th and 13th for all the action.
The song Stephen Merritt wrote for NPR's Project Song, "A Man Of A Million Faces" will be available tomorrow for download at iTunes or Amazon.
This week's talk show performances:

Monday – Hot Chip is on Conan O'Brien, Jimmy Eat World is on Leno
Tuesday - The Mars Volta on Letterman, Phantom Planet on Jimmy Kimmel
Wednesday – Counting Crows on the Late Late Show, Tapes 'N Tapes on Conan
Thursday – Del The Funky Homosapien on the Late Late Show, They Might Be Giants on Conan, Ben Harper on Last Call,