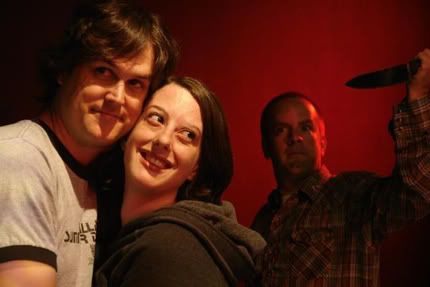 By Corbett Cummins and Heather Christianson
Blood Squad!
Saturdays, 10:30pm at Odd Duck Studios
It's hard to say enough good things about Blood Squad because at first glance it doesn't sound like a particularly good idea. According to their MySpace page, every Saturday night at 10:30 at the Odd Duck Studios the cast: co-founders Elicia Wickstead Brandon Felker and Michael White improvise "a hilariously nasty gore-fest" based on a movie title suggested by the audience.
The idea of taking a genre whose bread and butter is special effects (good or bad) and recreating it without props or even a microphone, sounds like the type of post modern thesis that gets dreamt up by theater majors the day before their final project is due. Besides, why pay to see "hilarious nasty gore" on a Saturday night when it is so readily available?
Michael White disagrees. When I interviewed him he said that teen slashers are one of those cultural icons that everybody understands. "They have universal appeal," he said. "Everybody loves seeing teenagers screaming and running around."
Shower scene: the water and nudity is all in your mind!
He also said that the stripped down improv provided "A cinematic experience in their brains. We don't use any props or fake blood, so the audience creates all of the horror between their ears."
He was right.
At last Saturday's show the packed audience chose the title "Champion Chainsaw Cheerleaders." After taking about 40 seconds to prepare, the cast dove into a performance that parodied every slasher convention I knew, and a few I had forgotten. It had shower scenes (lethal and non-lethal) a cheerleader rivalry, a hidden boob cam, nerdy friends (who died), a creepy-yet innocent old man (who died), a troubled-yet-fateful heroine, a bon fire fight, a chainsaw/cheerleader fight, a doomed make out session, and a bumbling dad (who also died). Even with all of those references, it seemed that the slasher theme was not the center of the performance rather than an artifice to showcase BloodSquads other talents.
The show begins
Each of the Blood Squad members is an improv veteran. While Blood Squad is an independent company all of its members have worked with the local improv theater Unexpected Productions for over a decade.
In fact, their improv was so smooth that I forgot it was being improvised. It only got bumpy when the guys got trapped in a kissing scene or somebody got forced to do the splits. Furthermore, their particular form of improv does not rely very much on audience suggestions. Once the name of the movie was determined I just sat back and watched with the rest of audience.
Not the first time, not the last
They also had this subtle way of slipping bits of plot into each scene and making it all seem like a logical or at least semi-logical progression. At the end of the show, after laughing for an hour and 15 minutes, I was stunned to find that a story had unfolded. Between the quiet audience, the smooth acting and the viable plot line, it was pretty easy to assume that they were working from a script.
At Blood Squad Looks DO Kill
This made me realize that even the improv itself wasn't the main attraction. There was something else driving the show. I didn't figure it out until after the lights went down, and we were at a bar with the 'Squad as they recounted the show. As they tried to remember how they ended up with things like a corpse-finding-bottle-rocket, a tourched boyfriend and a chainsaw/ leaf-blower fight I realized that the heart of the Blood Squad wasn't in the theme, the acting or even the audience. It was in the uncanny chemistry between the cast members.
With a smirk and a shrug, they can tell each other what to do, what to say and what accent to use. This makes the entire production feel like a happy coincidence. It is that relationship that keeps the show tight and clean cut despite its gorey content. And that is how they are able to make the only "hilariously nasty gore-fest" that you don't want to miss on a Saturday night.
The Blood Squad Mind Meld