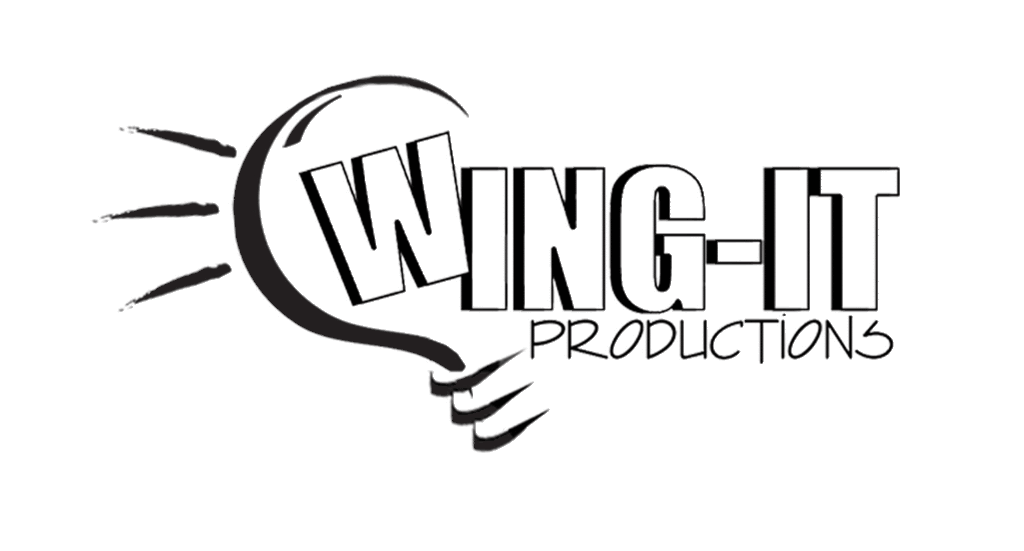 The Vast World of Wing-It Productions
by Corbett Cummins & Heather Christianson
(video courtesy of Wing-It Productions)
In 1992, improv actors Mike Christensen and Andrew McMasters decided to put together a weekly improv show in a 50-seat theater. The show expanded exponentially to become the improv theater company called Wing-It Productions. Fifteen years later, they occupy the Historic University Theater, command an army of over 30 performers, and are one of the most respected comedy troupes in Seattle.
Wing-It Celebrates their Sweet 15 with the Age Old Tradition of Lying about Themselves
Wing-It is currently showcasing Jet City Improv, Twisted Flicks, their seasonal late night comedy Your Job Sucks!, and LEASE, Seattle's own rock opera. They also produce a weekly improv class on Monday called Dojo as well as shows outside of the theater such as the Fremont Outdoor Movies and the Seattle Festival of Improv Theater.
A couple of times a month they schedule Twisted Flicks, Jet City Improv and their Late Night Comedy all in the same evening. This way, those with a full calendar and a strong heart can catch three shows in one convenient 6 hour sitting. It's sort of like a comedy marathon. Only, you don't run and there is always bourbon handy. So of course we signed up.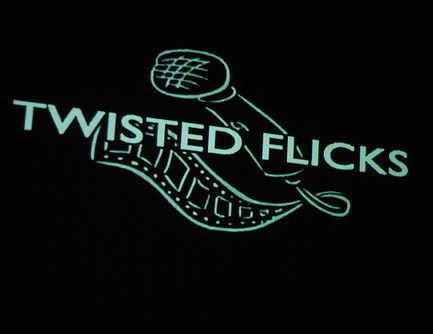 The first leg of the marathon is Twisted-Flicks. The Twisted-Flicks web site describes it as a "fully improvised movie show" that is produced once a month. They start with an obscure B Grade movie. Then they replace the B Grade sound with improvised dialogue, music and sound effects from their A list performers who are armed with suggestions from their crazed audience.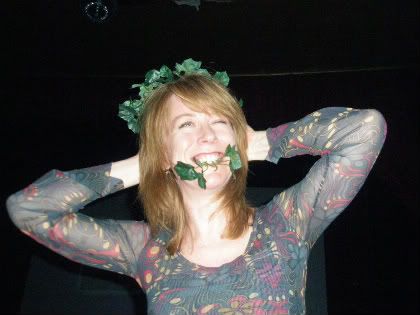 These are serious fans
The Twisted Flicks performers took on last month's victim, "At Earths Core" by rewriting the opening theme song to the tune of Edwin Starr's "War" with lyrics like "Earths/core/what is it good for?/ absolutely nothing/." Then, in obedience to the audience, they changed the lead scientist into old spy, the lead male into a lawyer and the leading lady into a gold digging wench.
The combination of parody, inventive improv and really bad filmmaking infected the entire audience with giddy energy. They were like a group of sugar rushing 4th graders, spinning off into hysterics at the drop of any hat.
Twisted Flicks Dinosaur Fight: Listen to the audience howl as they watch the most un-awesome fight ever
The performance was augmented by Christensen's encyclopedic knowledge of B grade cinema. Watching a comedian put words in the mouth of the campy old professor was fun. But when Christianson tossed in the factoid that the campy professor was played by Peter Cushing, who played the Captain of the Death Star from Stars Wars IV, he became absolutely mesmerizing.
Mike Christensen commands his audience
Christensen said that he started Twisted Flicks as a Jet City Improv Halloween special. They had so much fun with it that he decided to make it a regular feature. Ten years later he is still having a fun with it. Only now he has a dedicated fan base of giddy fans, college kids and families that come to have fun with him every month.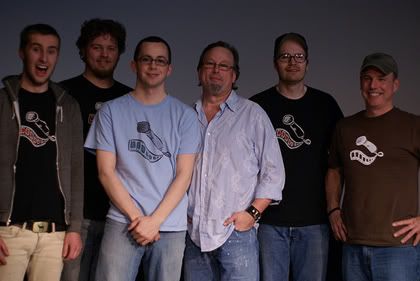 Twisted Flicks Cast: Graham Downing, David Rolleson, Conor McNassar, Chris Lundgren, Jerry Haener, Mike Christensen
According to Christensen, the 15-year-old Jet City Improv is the cornerstone of the Wing-It line up. It is more than that though. The 5-person improv show, capable of packing the house every Friday and twice on Saturdays, is one of the most successful long running comedies in Seattle.
Amanda Denning tries heroically to dig to herself out of a hole
In contrast to the long story ark of Twisted Flicks, Jet City Improv works with short sketches and quick jokes. Much like "Whose Line is It Anyway" it utilizes improv games and ideas from the audience for its fodder. Its only secret weapon is it's cast of whip smart performers who can transform any suggestion it into a room full of laughter. They are also easier to look at than Drew Carry or Clive Anderson.
What Twisted Flicks and Jet City have in common is Wing-Its dedication to "A Higher Plane of Comedy" which is a fancy way of saying that they don't use curse words or off color humor. The esthetic is best described by Dartanion London, in this clip.
Grape Ape Regulates at Jet City
Christensen says that the family friendly comedy is necessary for developing new audiences. Having a clean show allows Jet City to go on the road to corporate gigs and "introduce kids to theater" back at home. Corporate gigs are a great source of revenue. And those kids are the future of all theater, weather they end up in the aisles or on the stage.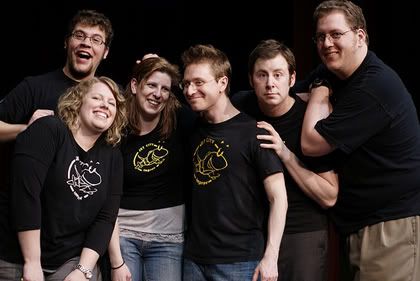 Jet City Cast: John Axel, Amanda Denning, Stephani Thompson, Dartanion London, Doug Willott and Ian Schemp
Besides, there are plenty of naughty words to be found at the 12:30 show.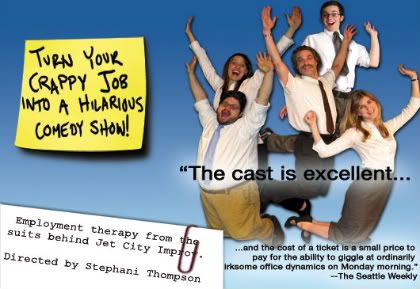 Your Job Sucks promo video
The Saturday 12:30 show is where Wing-It performers and directors can experiment, try out new concepts, and drop a few f-bombs. The show rotates on a quarterly basis. This gives the directors time to work out the kinks. The formula seems to work. Already, the first show of this year, Dart-Mondo has gone on to have a life of its own outside of Wing-It.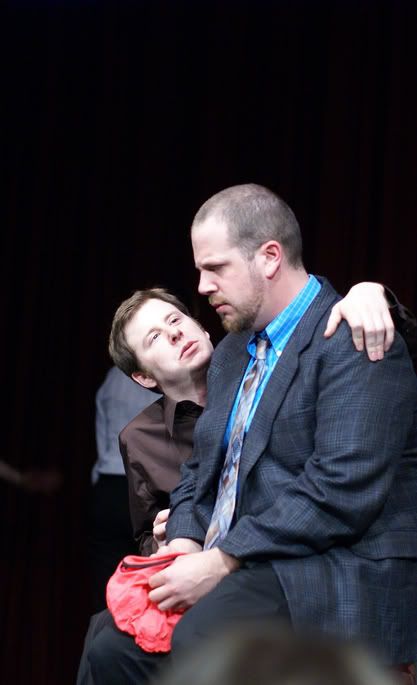 Your Job Sucks at Bonding
"After Cupcake, Suave and Late-Night with Satan, our growing midnight-thirty audience expects shows that are smart, different and a little off-the-wall," said Productions Managing Director, Brandon Jepson.
Your Job Sucks! fits perfectly into that category. The concept behind the show is simple. People tell some stories about their sucky jobs to the improvisers. The improvisers take those stories and make a comedy out of them. The result is equal parts brilliance and pain.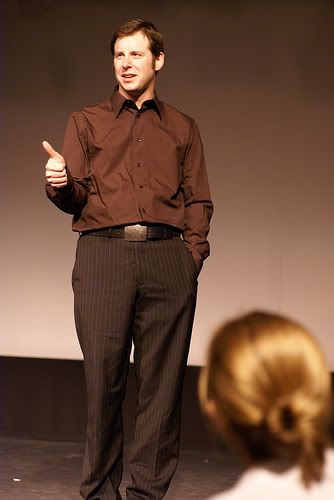 Your Boss sucks!
Director Stephani Thompson, inspired by the success of work-based comedies like "Office Space," "The Office" and her own job, wanted to try her hand at making "a funny improv show about working in an office environment."
She very much succeeded. The show not only creates a great platform for the improvisers. It is also a place to hear about insane jobs that might help to put yours into perspective.
The show we went to featured the job description from a Tacoma sewer worker. After the troupe combined his story about "working with turds all day" with some others to create a tale of recycled feces, elicit office romances, deceit and monumental stupidity, my day job didn't seem so bad.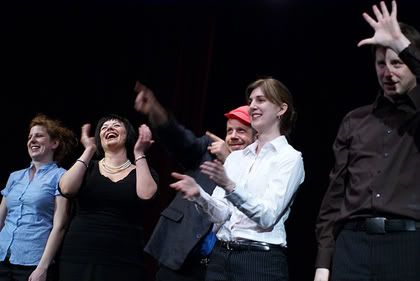 Your Job Sucks Cast: Stephani Thompson, Annette Auger, Steve Lange, Jeannine Clarke and Doug Willott bid adieu