by Corbett Cummins and Heather Christianson
This year the Sasquatch! Music Festival responded to the ever growing demand for hard and laughs by launching their first comedy stage which coincided nicely with Monday's main stage act Flight of Conchords. The new programming looked like a complete success. With a combination of local and national alt comedy luminaries gracing its makeshift stage, the tent was packed all weekend long.
The weekend began with The Upright Citizens Brigade (Matt Besser, Amy Poehler, Ian Roberts, and Matt Walsh) which is a bi-costal comedy troupe with theaters in New York and L.A. The have been delivering comedy to the masses since their award winning sketch comedy show began in New York in 1996. Though they began as sketch comedians, the UCB's stages have become homes to all forms of comedy. Their super power is to make large name talent available to all audiences by brining people like Robin Williams and Tina Fey on stage for $8 a seat. They also provide affordable training for up and coming comic geniuses.
UCB was the work horse of the comedy tent. Their shows were an effortless combination of sketch, improv and stand-up comedy and they did four of them on Saturday and two on Sunday.
The Sunday show began with an argument between Matt Walsh and Matt Besser about opening theme songs which lead to them playing "It's OK to Cry" followed by "Piano Man" and finally something that sounded like it came from the Lion King sound track. Their featured comedians were Sean Conroy, Rich Fulcher (from BBC's the Mighty Boosh), Jerry Minor and Tim Meadows (of Saturday Night Live fame). Their grand finale was Besser coming out as a vulgar version of Pope Benedict XVI and randomly accusing people of doing everything the church disapproves of from using condoms to being gay. This was followed by Tim Meadows who said he was a little worried about following the Pope. Still, he managed just fine.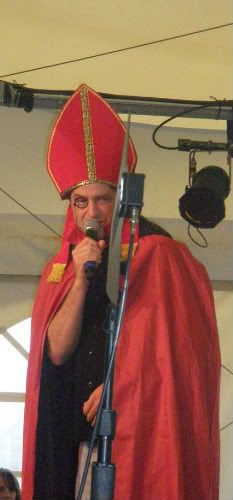 Matt Besser does a terrible impersonation of the Pope
Next up was Seattle's comedy darlings, the Peoples Republic of Komedy. For the last four years PRoK has been connecting audiences to comedians throughout the Seattle area. They produce stand-up, sketch and improv comedy nights all around the Jet City. The crown jewel of which is their weekly showcase Laff Hole which has featured the likes of Shock G and Eugen Merman.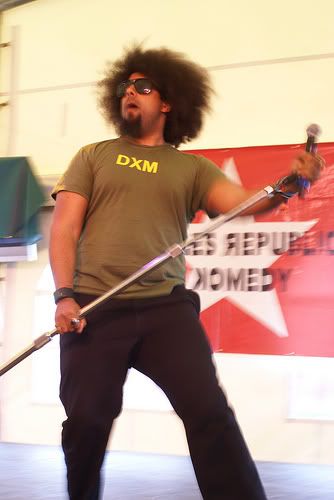 Reggie Reggie Watts introduces PRoK
After an amazing introduction by Reggie Watts, the audience was ready to rock. The PRoK line up did not let them down. Their differing styles created a roller coaster for the audience. They went from the surly pragmatism of Derek Sheen to Andy Peters supercharged goofy energy, Aziza Diaz's thoughtful awkwardness the awkward thoughtfulness of Kevin Hyder and finally to the oddball charms of Andy Haynes.
Derek Sheen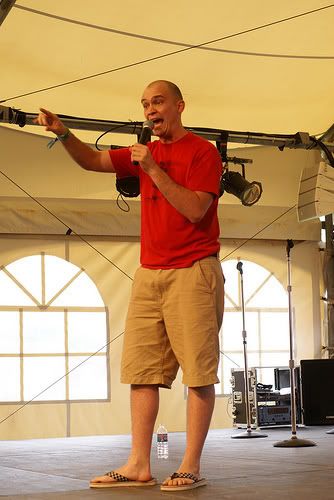 Andy Peters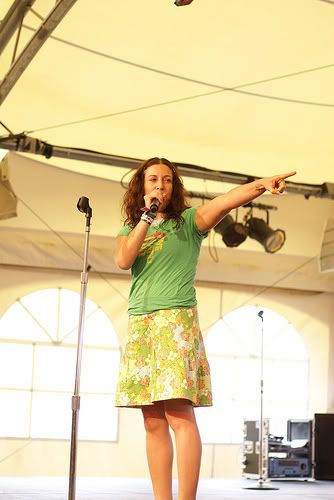 Aziza Diaz

Kevin Hyder

Andy Haynes
This was the PRoK's first time on such a large national stage. The fact that they are going to follow it up with a several performances at Bumbershoot is evidence that Seattle is able to hold its own on the national comedy scene.
Kevin Hyder is completely humbled by the Sasquatch experience
The next performer on the stage was Reggie Watts. Reggie Watts is sort of like a Hip Hop version of Laurie Anderson. He is a musical virtuoso with a sharpwit and a talent for incorporating esoteric ideas into his act. He is also on track to be a legend.
Reggie Watts rocks the audience
Watt's set was more musical than stand-up. This helped him keep his audiences attention despite the fact that The Cops were playing on the stage next door. Between his beat boxing, tape looping and story telling, he kept the audience more fired up from start to finish. As always, he was a sight to behold.
Morgan Murphy, the next performer was stylistically the polar opposite of Watts. Her jokes were thoughtful, but definitely not esoteric. Her delivery was deliberate. You could even call it sage-like. Though most sages usually don't spend so much time making you laugh about day-time television. The only thing she had in common with Watts was a huge, laughing audience.
Morgan Murphy is distracted by security
Morgan Murphy makes comedy look deceptively easy. She has the ability to talk through a microphone as if it were her buddy sitting next to her in a bar. Furthermore, she has been on almost every late night show and has even run a few laps in the land of TV pilots. So you might get used to hearing her name.
The main headliner for the night was Brian Posehn. Posehn is the metal comedian. Rob Zombie, who cast Posehn in his movie The Devils Rejects, said that "If George Carlin and Rob Halford had a baby, his name would be Brian Posehn, 'hellbent for leather' and hilarity." Posehn was also on the Comedians of Comedy Tour, the Sarah Silverman Program and numerous Comedy Central things.
Brain talks about life with Kate Beckinsale
From hard rock to his security system in Los Angeles his set was an honest demonstration of his love of metal and his life as a super nerd.