by Corbett Cummins and Heather Christianson
video courtesy of Seattle Neutrino Society
About this time last year, Mark Siano and his Tounge-In-Orwellian-Cheek-Named Freedom Dancers stormed the Re-Bar with their Bonnie Tyler and their Billie Ocean. As hipsters around Seattle cringed, they rocked the old house with such unbelievable softness the Re-Bar was forced to extend the show. On June 13th and 14th, they are coming back home to do it again.
It would be easy to label the polyester clad song/dance/comedy troupe as fish out of water. How else do you describe a man and a group of shiny dancers bouncing around in holy homage to Journey on stage here in Seattle? Our gray little town will always be the home of Jimi Hendrix and Kurt Cobain, no matter how much you loved Patrick Swayze in Dirty Dancing.
The last Soft Rock Explosion had a lotta Swayze
At their most recent show at Chop Suey, the place was over capacity with over 300 people. By the time Miss Mamie Lavona, The Exotic Mulatta, did her version of "Your So Vain" the crowd was packed in like smooth dynamite. The rendition of Naked Eyes' "Always Something There to Remind Me" hit like a hot flame to a dry fuse which finally detonated with all the fury Patrick Swayze in Dirty Dancing The soft blast of dance moves, power chords and cheesy lyrics left the audience grooving on the dance floor hours after Siano and the Freedom Dancers had left building.
Mark Siano uses the power of clapping to preach the soft rock gospel
While the Soft Rock Explosions music might be more at home at a yacht club in Santa Barbara, the show itself is a Seattle original. Siano started it in February of 2007, at the Spin the Bottle, the Annex Theater's new works cabaret that was also home to local successes like Trachtenburg Family Slideshow Players and "Awesome".
"I wanted to do a funny dance to some Rick Astley" said Siano over e-mail. So I called up some friends and we put on the dance. Within three weeks I had a gig at the Re-Bar and we were doing shows pretty routinely."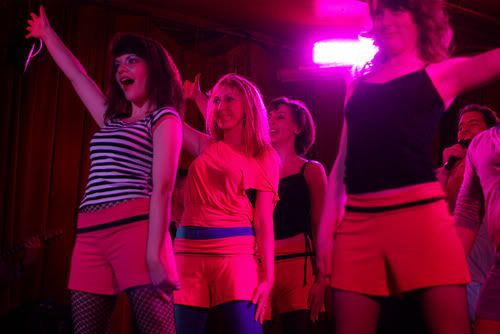 Dancers Lieta Siano, Andrea Ford, Mara Siciliano and Abigail Guay make you love freedom
Since then he has molded it into a variety show of dance, music and comedy that is as relentlessly entertaining as it is self-effacing. So you don't even have to check your snarky judgments at the door. Just don't use any words that you won't want to eat when you end up dancing to "Caribbean Queen" with everybody else at the end of the night.
Say what you will but there is no escaping Barbarellas after party dance floor
Siano hosts the entire show with a wink and a nudge. But like any hero from a Journey song, he never backs down from his love of soft rock. In fact, it is his true and honest love of a genre often derided as corporate and passionless that gives the show its ironic charm. He exemplifies this self-conscious appreciation in his new music video "Up in Your In-Box":
"Up in Your In-Box" produced by the Seattle Neutrino Society
"I just like to talk about songs that are really funny, or really beautiful," Said Siano.
"There's a style, a format, that people recognize and is really ripe for humor. The big key changes at the end, the huge bridges, the soaring melodies – On the Wings of LOOOVVVEEE! It kinda lends itself to comedy"
Siano and Joanna Hardie: Hard Core Soft Rock
"I just think it's funny to say, yeah, I'm a soft rock guy , said Siano. As a comedian who does a lot of music, I wanna carve my own nitch. I wanna be to soft rock what Jack Black is to hard rock."
The next Soft Rock Explosion will go off at Re-Bar today and tomorrow, June 13th and 14th.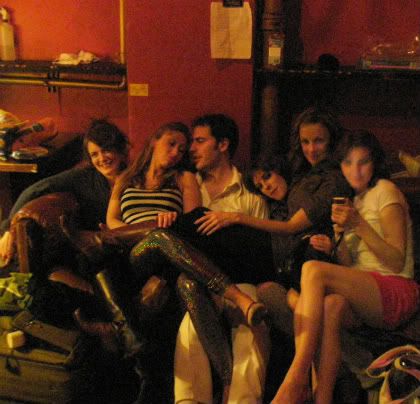 The Soft Rock Explosion in repose