by Corbett Cummins and Heather Christianson
Over the past few years the definition of "rock star" has undergone a major metamorphosis.
Ever since Milli Vanilli sold 6 million U.S. albums, records sales could no longer be seen as the gold standard of rock stardom (if in fact they ever were). Nor is it limited to musical talent and success. For instance, compare Michael Hutchence and Steve Irwin. While Hutchence's awkward death saddened the world, it paled in comparison to the global event that surrounded the death of Crocodile Hunter Steve Irwin. Not only did 300 million people watch Irwin's funeral service, but his home country dedicated thousands of acres of land to preservation in his name. And Irwin, by all accounts, never even played Wembley Stadium.
The actual definition of rock star is as difficult and intriguing as the people it describes. What we do know is that rock stars are everywhere. They are in the Australian Outback, in L.A. tattoo parlors, at computer terminals in Redmond, Washington, and in the kitchens of New York City.
One of best examples of this: author and television host Anthony Bourdain came to the Moore on June 7th to speak about his life as a chef, a traveler, a television host, and a general rock star. He started the evening by apologizing for his May appearance on Top Chef when he sent home Dale, one of the shows most popular contestants. He went to great length explaining how he really liked Dale and how he disliked many of the other contestants, but then defended his decision with one perfect quip: "YOU didn't have to eat those scallops," said Bourdain. "They were like f—ching Mrs. Butterworth!"
And within the first five minutes we had fine cuisine, television, a crude play on words and a roaring crowd — a normal evening for Anthony Bourdain.
Few people embody the broader definition of Rock Star like Bourdain. He built his credentials Cal Ripken Jr style, by working tirelessly in his profession for almost three decades. In his autobiographical book, Kitchen Confidential, he rejoices in his status as a two star chef, stuck in kitchens light years away from cooking celebrities like Rachel Ray and Emeril Lagasse. The insightful book, full of sex and violence in the classiest of kitchens catapulted Bourdain into the limelight, giving him the opportunity to produce his travel series A Cook's Tour for the Food Network, which he later parlayed into Anthony Bourdain: No Reservations on the Travel Channel. Ironically, these shows have garnered him celebrity status that rivals both Rachel Ray and Emeril (insert "Bam" joke here).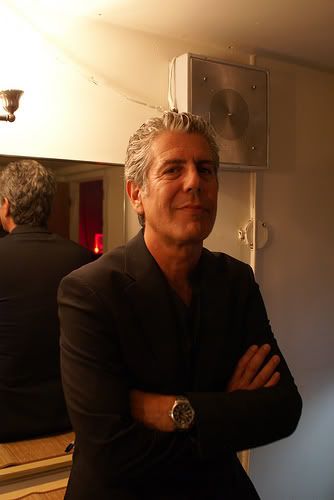 Anthony Bourdain probably thinking terrible
things about Rachel Ray right now
During his talk, Bourdain defended his status as a "middle range utility chef" by explaining that whenever he considered himself a culinary genius "a lotta people went bankrupt." He downplayed his literary successes by describing his breakout book Kitchen Confidential, as "obnoxious" and "over testosteroned" and explained that the only extraordinary part of his life as chef is that he wrote a book about it. He even downplayed that, saying that the writing was just like hanging out in the kitchen.
"You talk about your life and tell dick jokes," he said.
All of his arguments made sense in their own way. Still, it was difficult to buy into a story of outrageous mediocrity when the protagonist was speaking to a room of 1400 paying audience members.
However, even Bourdain cannot, in good, bad or ugly faith, downplay the critical success of his Emmy nominated show Anthony Bourdain: No Reservations. In it, he travels the world in search of interesting places, interesting people and the things they eat. It is a perfect storm of everything he is good at: eating, cooking, writing, traveling, drinking, smoking (though there are numerous rumors that he no longer lights up) and oddly enough filmmaking.
Bourdain may actively eschew the limelight. However, after watching him geek out about the nuances of how his show is shot, produced and distributed, it became obvious that life on the screen is his true calling. It's not just the free travel (though he doesn't complain about that). No Reservations affords him a platform to show people the world as he sees it.
One of Bourdain's favorite themes is how the best recipes in the world originated from poor people trying to make bad food taste good in tough circumstances.
"Do you really think the first guy to eat a snail was a fucking gourmet?" asked Bourdain. He continued to say that the person was probably starving and said to himself "maybe if I put enough garlic butter on that…"
As Bourdain explains it, impoverished peasants living hundreds of years ago under the "cruel and capricious centralized aristrocricy" of places like France and China would pull together ingredients like fish eggs and duck feet just to survive. These dishes were perfected over years and eventually the fish eggs of the poor became the caviar to the world.
For me, this cements the cook's status as rock stars in this cruel and unfair world. Surely a man like Robert Johnson, who shook the world with his musical impression of life in Depression era South could appreciate somebody who could begin the day starving and end it with escargot. And surely every one-hit-wonder band could commiserate with somebody who could start the day as the audience favorite and end it with butterscotch scallops.
With this in mind we went to meet up with Bourdain before he was whisked away to the after party. Backstage, he was cool and comfortable, enjoying his first beer, completely unfazed, despite having just rocked a huge crowd.
I asked him if he felt that outside the privileges of fame, that the cook and the rocker faced similar life. He responded with a reality check.
"Absolutely not," he said. "We all wish we could play guitar. We got a lot of the drugs and alcohol that rock stars get… but you are flattering yourself if you think you are a rock star and your are a chef."