Robin Williams outside SP20 Comedy Show
photo by Ron Henry

by Corbett Cummins and Heather Christianson
We here at WTFM, believe a lot of things. We believe that laughter, cheap drinks and $5 covers can heal almost everything (except serious conditions that require medical attention). We believe that you should be forced to get a permit before you are allowed to make an "airline food" joke from the stage. We believe that Joe Cocker's cover of "A Little Help From my Friends" entitled "With a Little Help from My Friends" was basically unnecessary, even though it was a significant factor in the success of the late 80's comedy "The Wonder Years."
However, the most fanatical belief we have is that Seattle has the most awesome comedy scene in the U.S.
This is an easy stance to take because every week we get more evidence to support it. For example, take last Wednesday's Laff Hole comedy show at the Re-Bar.
It was a special evening to begin with. Ross Parsons, one of Laff Hole's very own, was celebrating his 21st birthday by headlining the show. As an added value, his friend, the nationally talented Morgan Murphy, was in house to introduce the soon to be drunken birthday boy.
According to Kevin Hyder of Peoples Republic of Komedy, Murphy invited another actor by the name of Robin Williams to come down to the show as well.
Since we have an international audience here on the KEXP blog it is important to note that Robin Williams is the Bono of comedy. He has enjoyed one of the most successful comedic careers of anybody in recent history. He has been in countless movies and television shows, from his breakout role as an alien on the television show Mork and Mindy, to his role as a gay nightclub owner in the movie The Birdcage to his Oscar winning dramatic performance in Good Will Hunting and hundreds of others.
He arrived early in the evening and spent a lot of time talking with the comedians and the Re-Bar crowd. So the mood in the room was already electric when Laff Hole co-producer Kevin Hyder, in a moment of generosity that would make Santa Claus blink, asked Mr. Williams to lead the crowd in a round of "Happy Birthday Ross."
Williams agreed and was so taken by the enthusiastic audience that he ended up staying on stage for about 10 minutes, firing off one liners and gently poking fun at Seattle and our dedicated comedy community.
Said Hyder, "Robin Williams has always been a fan of Seattle audiences. But it was really exciting to see him be so impressed with our audience because they have always been a big part of the show. After three years, we are really proud of our show and it was nice to see it recognized by somebody of the caliber of Robin Williams."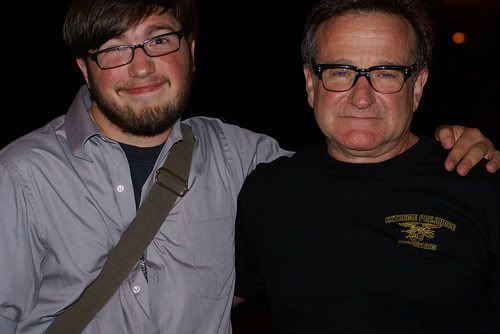 Robin Williams and Danniel Linn doing their best to be serious
After the show we asked some of the other comedians to send us some thoughts on their Robin Williams experience. This is what they said:
It was great seeing all these jaded, hipster alt-comics (like myself) totally lose their shit when Robin Williams walked in. He talked with me about Popeye for ten minutes and complemented me on my act (after which I had to change my underwear). I somehow managed to avoid blurting out that he was the reason I got into comedy and that I wore Mork suspenders for most of the 2nd and 3rd grade. A complete sweet heart and gentleman,totally approachable and self-depreciating. Oh, and he was amazing on stage. Duh.

– Paul Merrill, producer of the Ballard comedy series Lo-Ball
I told him that the movie "Hook" changed my life. And he responded "Well that's both a good thing and a bad thing." He then told me that he enjoyed the flying and the wires. I listened to his show from the back door, thanks a lot, being 18.

– Danniel Linn, comedian
The first joke I ever wrote was in a Mork and Mindy note book.

– Danniel Carroll, comedian, Laff Hole co-founder
Many many thanks to Mr. Williams, and Happy Birthday, Ross.
P.S. Our birthday present to you is to promise not to publish anything about what happened later that night at The Hurricane.