review by Corbett Cummins
photos by Heather Christianson
Brown Derby is a loose collaboration of drag queens, theater geeks, and comedians. Every few months, they buy rights to an old movie script. What they do with it is hard to describe. Founder Ian Bell describes it as "homarody," which is meant to imply that it is both homage and parody. Whatever they call it, it involves savagely hacking the script, morphing the characters, cutting scenes, and exploiting every possible avenue of innuendo.
The final product is a "stage reading" at the Re-Bar with the actors actually reading from the scripts on stage. This makes the show seem unfinished, like an insane rehearsal where anything can happen. So it kinda makes sense when, for instance, the token Hispanic employee character at the office breaks into a song from West Side Story. It doesn't make as much sense when Dolly Parton's character begins talking about "fisting," but at that point there is no turning back, so the audience just rolls with it.
Ian Bell does his best to direct the madness
Bell first came up with idea in 2000 when his boy friend told him about parties in New York where celebrities would stage readings of Valley of the Dolls. So of course he thought he would do one himself.
"The idea was born," said Bell, "to cast local 'stars' in the parts they SHOULD HAVE played in famous films. After the first rehearsal for Valley of the Dolls, I realized that this would have to be more than just a 'seated-at-music-stands' staged reading"
He was right. Brown Derby has gone on to produce 28 productions since Valley of the Dolls and has expanded the length of its run from one night to three. Judging from Wednesday nights audience, it seems that Brown Derby could easily run for weeks. However, Bell said that a full run production is not what he has in mind: "It is important that the Brown Derby be rehearsed enough that it is not improv and not played so much that it becomes rehearsed."
Brown Derby's most recent victim was the pink ghetto classic Nine to Five, which most of you know is the story of Judy (Jane Fonda), a newly divorced woman making her way into the work force. She is hired into a dysfunctional office ruled by the incompetent, despotic, and sexist Franklin M. Hart Jr. (Dabney Coleman). There she meets Violet (Lilli Tomlin) and Doralee (Dolly Parton) and together they usurp the balance of power and bring communism to all, or something like that.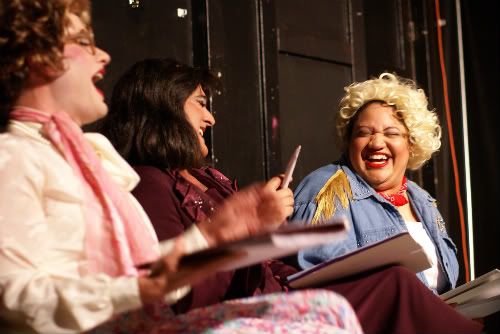 A few good men… and women… in tights
In the Brown Derby version, Judy was played by Nick Garrison who gave her about half as much of the brainpower of Jane Fonda did. In fact, at one point she got so confused that she ended up having sex with a photocopier.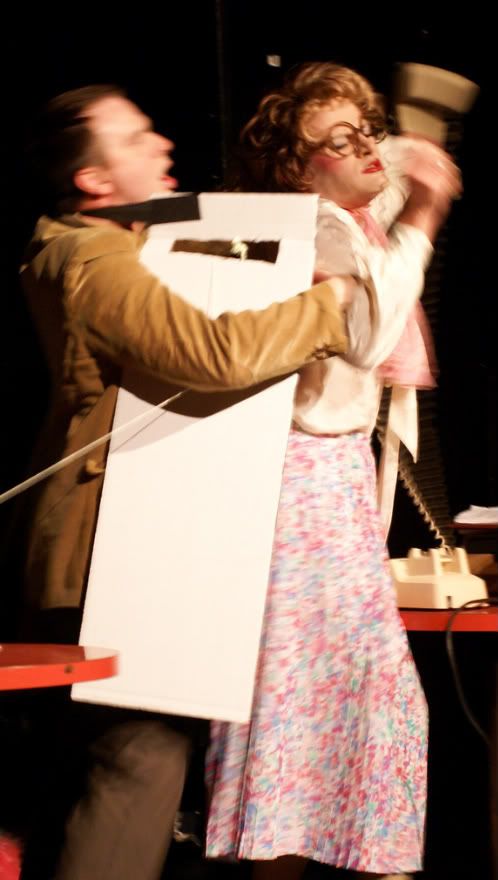 Judy learns how to "manually" operate the copier
Violet, the bossy secretary, was played by Andrew Tasakos's, with as much masculinity as possible. He sported his chest hair, he stood up to pee in a urinal and threatened to motorboat Judy (look it up).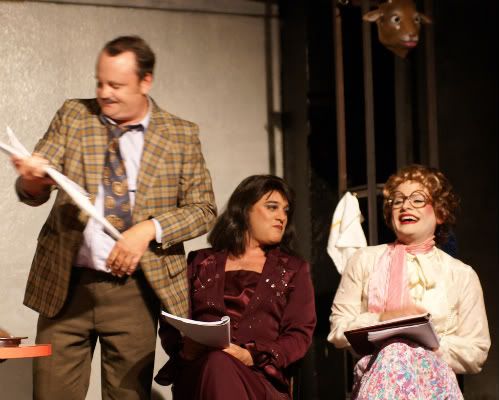 Violet tries not to share in the joke
Rebecca M. Davis was perfect as Doralee. She had the same combination of rage and naivete that Dolly Parton did. But she also had an edgy twist. She was great a being ignorant, great at threatening to blow people's balls off and great at asking for a booty bump (look it up).
Doralee attempts to lead a jack ass to water
Franklin Hart's character was already a parody of the Texas businessman. However, Brandon Whitehead did an excellent job of exaggerating an already exaggerated character as he did with his opening monologue where he with no trace of irony described business as a "circle jerk" (actually, don't look it up) then went on to explain that that is the reason why women can't do it.
Just another man named Monday
Throughout the night, the entire cast of gifted actors caste broke into songs, bickered with Bell as he read the stage notes, ripped up their scripts. It felt like a hilarious rolling theatrical disaster. One that should not be missed.
The next Brown Derby will be September 23, 24 and 25. Go to their MySpace page for details.