by Corbett Cummins
photos by Heather Christianson
Few Seattle institutions have been as responsive to the rising popularity of comedy as Bumbershoot. Over the past few years, the festival has added comedy stages, brought it bigger names and been forced to deal with larger and larger crowds.
This year is no different. On Saturday alone, Bumbershooters were forced to figure out if they were going to see, Tig Notarro, Matt Walsh, Janeane Garofalo, Nick Thune, David Cross, Blood Squad, Laff Hole or perhaps some music.
In an effort to stay sane, WTFM checked out two shows, the 2:00 show at Intiman featuring Hannibal Buress, Karen Kilgariff, Doug Benson and the Best of Laff Hole, featuring Travis Vogt, Kevin Hyder, , Daniel Carroll, Emmett Montgomery and Ryan Cuddihy.
The 2:00 show was hosted by comedian Pete Holmes from New York. In his opening remarks he came across the one person in the entire room who was suffering from a gun shot wound. He then found out that the guy was still friends with the shooter.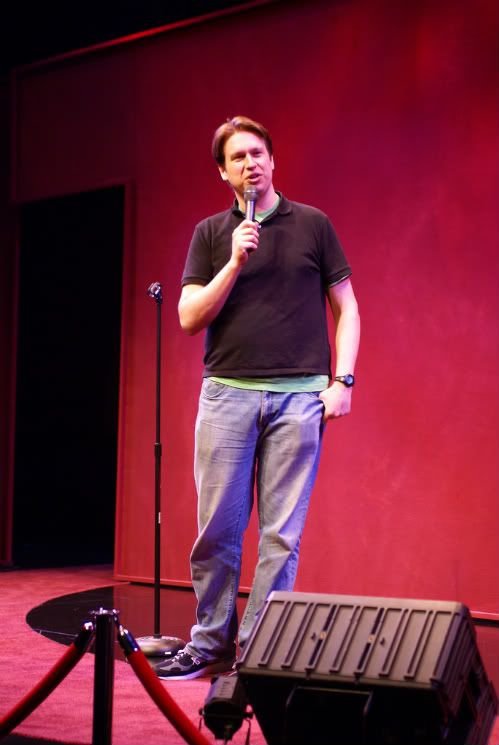 Pete Holmes learns about youth violence
"What!?" Holmes replied " That is a deal breaker, even Dick Chaney does not hang out with that asshole anymore"
After coming to terms with the gunshot victim, Holmes turned the show over to Hannibal Buress. Hannibal Buress, first got into comedy in 2002 when he went to an open mic.
"I saw some people who were horrible" he said "and thought, I could be at least that horrible."
So he gave it a shot. Soon, he was doing shows around town and had a campus TV show, called The Hang Over which got him some exposure on campus. So he flunked out of school and in 2004 began doing comedy in a serious way. He has since won Time Out Magazines Funniest Person in Chicago and now tours regularly… and he is not horrible, not by a long shot.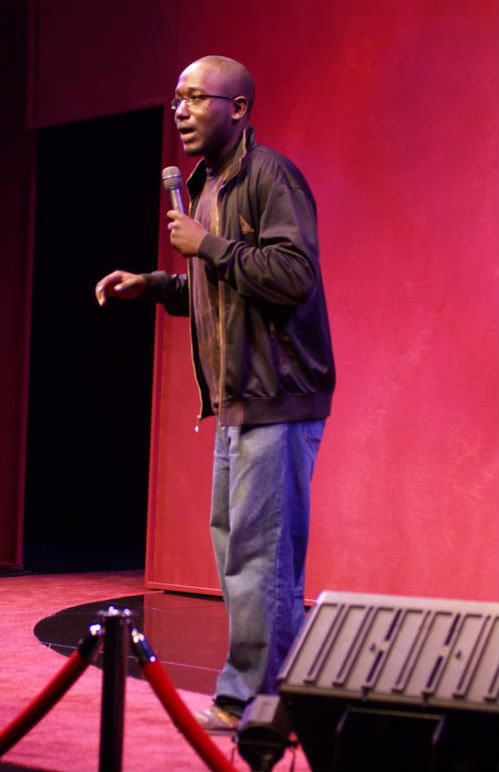 Hannibal Buress explores a possible career in fire management
Hannibal has an easy delivery, like somebody cracking jokes over a pizza. His set ups and punch lines are slow and deliberate and he times them to hit the audience at just the right moment. At one point he was talking about driving the Fire Fighter SUV.
"I don't know what it does" he said "you arrive and just have to wait until a real Fire Truck arrives. We need to get water on that shit. People are gonna burn."
He was followed by Karen Kilgariff. Karen has had a pretty steady career as a writer in L.A. She has worked on the Mr. Show as well as the The Ellen DeGeneres Show. On stage she has a great presence as a real sweet person with a nasty edge. Her set was mostly her trying to relay a few simple stories, but then getting bogged down by the details which were hilarious. She began by talking about how she had recently lost 60 pounds and then go immediately miffed that the audience did not applaud her appropriately for it.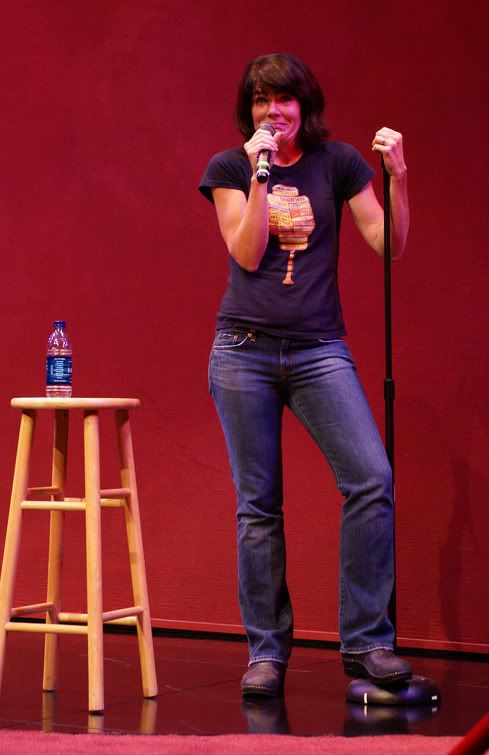 Karen says that she still needs to lose 50 lbs to be a citizen of is of L.A.
"Do you know anybody who lost 20?" She sneered. "Well triple that! Motherfucker!"
She went on to talk about really bad tattooes and sugar free slurpees that taste like nickels. She also delivered an impression of Bjork if she had won the presidency of the U.S. that was very funny and involved a promise to deliver a bear to every American.
She was followed by Doug Benson, who can be seen on VH1's Best Week Ever, last years Last Comic Standing and his new movie Super High Me. Doug has a very sweet, almost goofy presence on stage. He was like your good natured, pot smoking brother. But his jokes were not stoned out party antics. They were precisely worded, and delivered with ninja accuracy.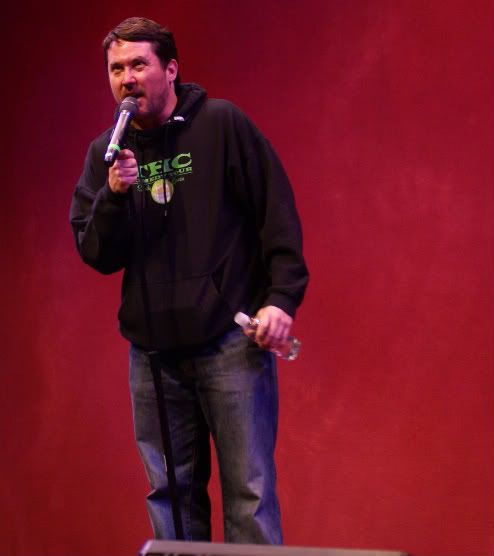 Doug Benson: Sweet natured, comedy killer
He started by saying that interviewers are always asking him, who he is voting for and why. To which he responds:
"One: That is none of your business. That is a private decision that I will make. And two: Because he is black."
He delivered short, hard jokes throughout his entire set and rarely gave the audience the chance to breath. Even as he was talking about his movies, he peppered everything with so many one liners and side jokes that the audience never stopped roaring.
It was a great way to start the weekend.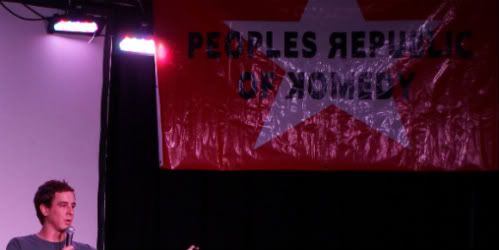 At 6:30 we went to the Vera Project stage for the Best of Laff Hole. Laff Hole is one of the longest running comedy nights in Seattle. For about three years its has been the flagship of the People's Republic of Komedy and has provided a stage for their friends, out of town comedians, and the occasional international celebrity. It has also served as a lunching ground for them. Now, the PRoK runs shows all around Seattle as well as in Los Angeles and New York, where they see people like Patton Oswalt and Eugene Mirman.
The show was hosted by Scott Moran, who has been managing the PRoK New York show called Sweet Haven. Scott got the all ages audience excited by telling them that their brains were about get a blow job but then warned them that because he was sober (due to Vera Project rules) we would be 35% less funny.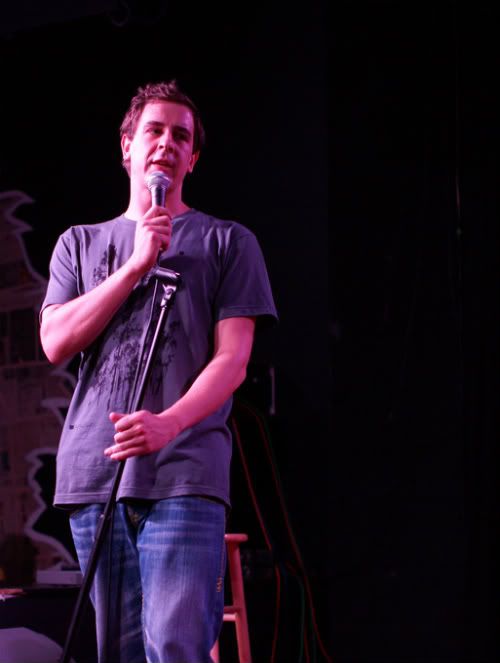 Scott Moran explains the importance of beer to the Vera audience
After Scott, the first person up was one of the founding members of PRoK, Kevin Hyder. Kevin's comedy is like surreal observational humor. He began by warning people about taking the phrase "Do you what you love and you will never work again" too literally, as apparently you can die masturbating.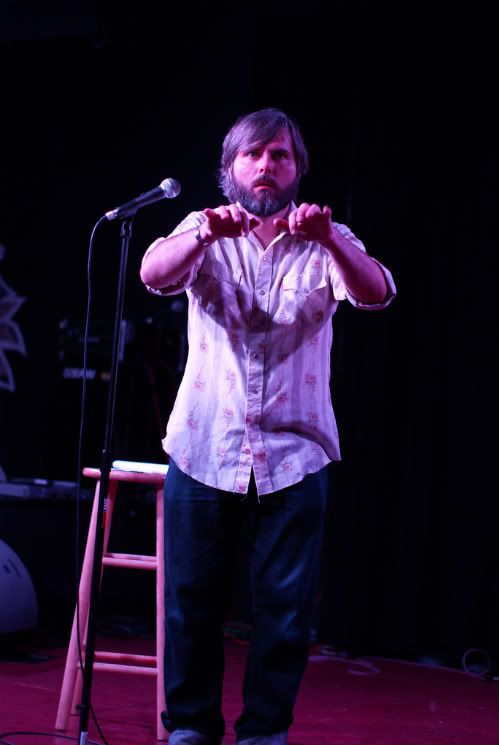 Kevin impersonating every movie hacker from '84 to '96
"I've been to the edge people" he said, "and I came back to warn you." The audience loved it.
He was followed by Ryan Cuddihy a 17 year old Seattle Prodigy. Ryan has been doing comedy for a while with great success, he has headlined all around town and won 2nd place in the Seattle Laff Off. On stage, he is young and it shows. Which is fine because that is what he jokes about. His opening joke was about how he invented the hand powered electric tooth brush (the batteries died). He went on to talk about how uninspired bullies make fun of his name ("yea, I'm cuddly"), drinking and traveling through time with Stephen Hawking (Cuddihy tells us that Hawking is a beast) and pulling out his underwear at a school show and tell. And the audience followed him through it all.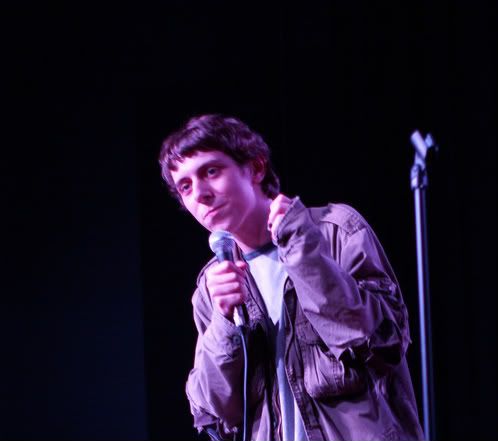 Ryan helps the audience feel really old
He was followed by Daniel Carroll. Daniel Carroll, a founding member of the PRoK, is very different from Ryan Cuddihy. Daniel was unapologetic, cocky and ready to kill some sacred cows, such as Special Olympics Body Building,"That's putting the body of a man on somebody with the mind of a child, that's how the Hulk got started." The audience was there with him some of the time, and when they weren't he scolded them and got them back in shape. By the end of his routine they were all in line.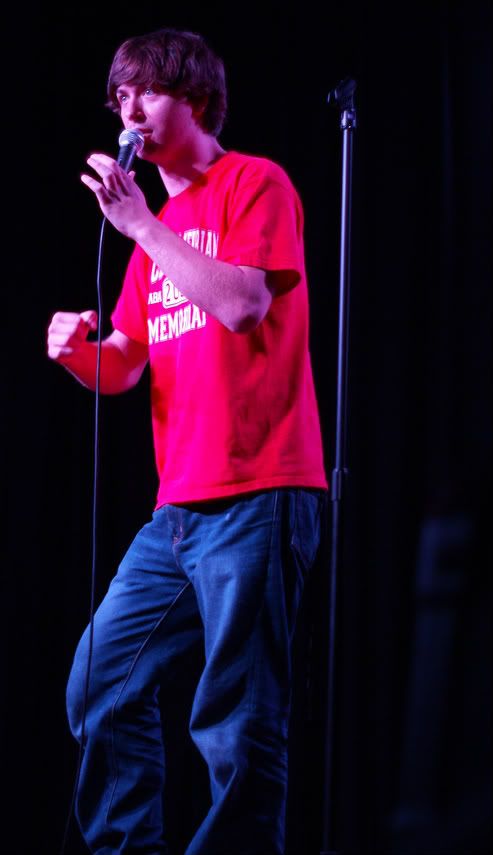 Dan doesn't know why the audience is so fucking offended
The following comedian was Travis Vogt. Travis is part of a comedy team called Clarkthevogt productions, who do a lot of things, they make comedy videos, weird action films and a show called The Entertainment Show. He joked about sports "if your definition of a sport is something I can't do, then everything is a sport, paying my bills on time is a sport…bathing regularly is a sport, having a girlfriend is a sport." Travis was a little worried about money so he came up with some slogons to use when he finally goes homeless such as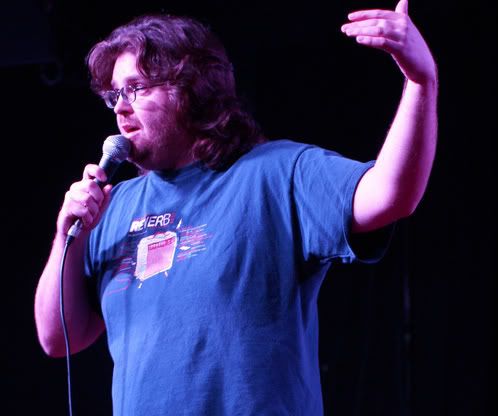 Travis gives us his take on the sporting life: "Jesus loves you. Don't let his apparent hatred of me stop you from giving me 3 quarters"
The final comedian was Emmett Montgomery. Emmett was walking with a bit of a limp due to a recent hernia, which gave him an unnerving presence as well as some good jokes. He told us about two things he learned from being injured.
Pain killers aren't as fun when you actually need them.
There is law and order on all the time.
Emmett continued to get unnerved laughter as he joked about finding a space time portal in his apartment (handy cuz his toilet is broken), and becoming the type of clown that parents hire to scare their kids.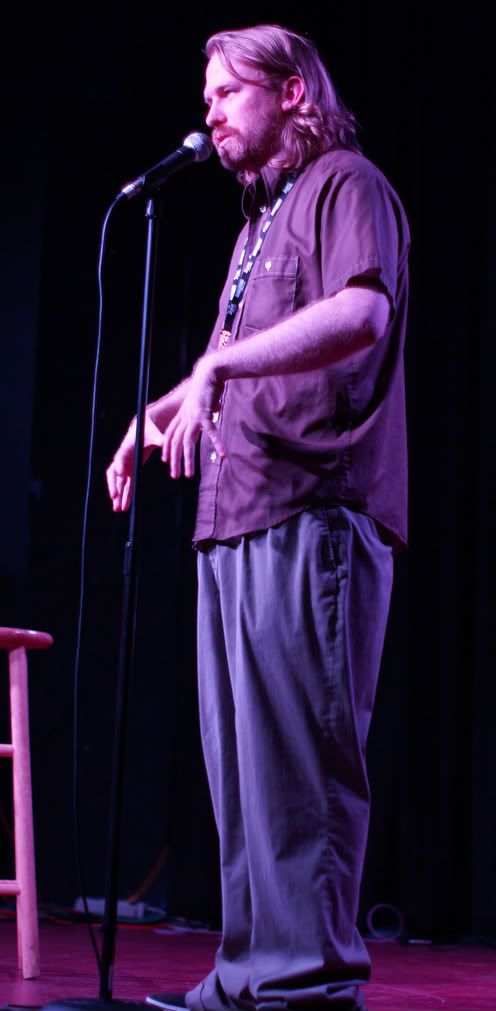 Kids be ware Emmett is available for hire
After the laughter, Alex Malloy from Golden Robot Army and gently rocked the crowd. And that is how the comedy ended on the Vera Project stage on Saturday. Stay tuned for notes on Sundays funnies!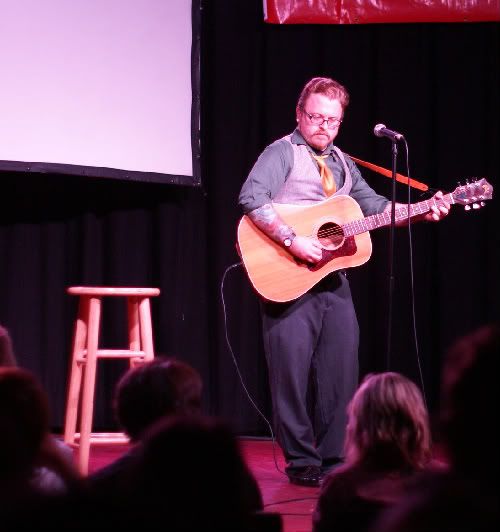 Alex bids the audience farewell