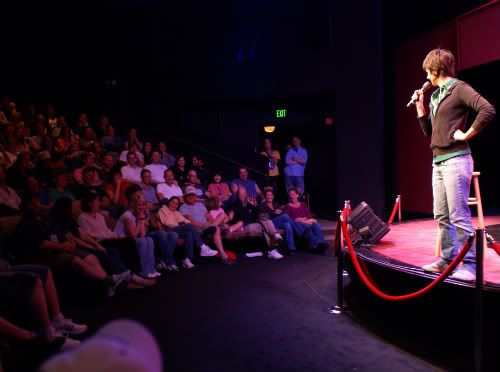 by Corbett Cummins
photos by Heather Christianson
For the second day of Bumbershoot we went back to the Intiman Stage to see Tig Notarro and Greg Behrendt and then returned to the Vera Project to see the Dartmondo show.
Pete Holmes, was doing introductions again along with Doug Benson who could not even get through the pre-show speech thanking the sponsors and the volunteers without sending the audience into hysterics.
Pete came out and immediately fixated on two audience members who were trying to put a magazine back in their bag. He spun the minor situation so out of control that when one of the people tried to just put the magazine down on their lap, Pete turned into some an implication that they were living out some sort of sexual fantasy.
He actually yelled the phrase "Beck, you headline my pants!" without seeming mean. It was a sight to behold and set the stage for the two comics.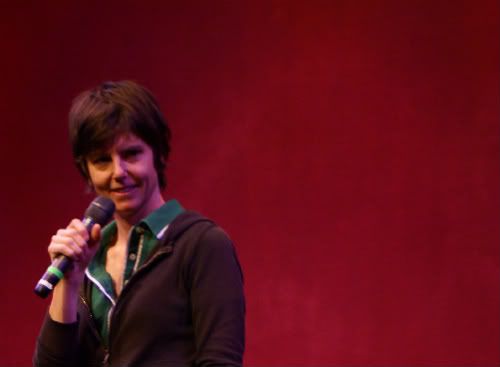 Tig gives her kill face
Tig Notarro opened the show with her trademark high energy dead pan. According to her web site, Tig Notarro's career began after the success of her production company Tignation led her to Los Angles. She has been featured on Comedy Central, American Movie Classics and also partnered with Sam Raimi (who made Evil Dead and Spider-Man) to make her own film company "ZeroDollarsAndZeroSenseProductions." She currently has DVD out called "Have TIG at your party" which is a big infomercial starring Zach Galflanakias, Nick Swaranson (Reno 911) and others talking about how great it is to have Tig at your party.
Tig can hold a comedic note longer than anybody. At one point she moved her mic stand up past the 10 row of seats, and said "my comedy is gigantic, its not safe to have this on stage." She then had an audience member hold the mic stand in his crotch, and when he didn't do it right, she corrected him like and angry librarian. "Sir, your crotch."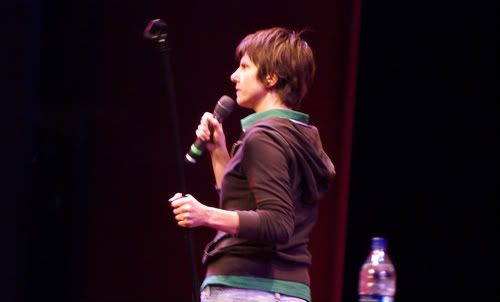 Going…
Going…
In your crotch, sir
The whole joke was about a minute and a half of silence with just those few words. But the audience was so primed that they exploded when she said them. She kept the same comedic tension throughout her entire act, weather she was talking about operating the emergency hatch on an airplane or meeting rude people on the street.
Greg's got stories
The headliner was Greg Berhendt who is currently on top of the world. He has two certified best sellers: "He's Just Not That Into You" and "It's Called a Break-Up Because It's Broken." In 2005 the success of his comedy DVD Uncool put him on Variety Magazines top 10 comics to watch. And before that, he was a writer for a small underground HBO comedy called Sex in the City. He is also married, in a band, has an undying love of rock and roll and claims to have spent a decade engaged in activities that often led to him waking up in Mexico before getting sober.
Greg risks it all to show us his McConaughey
Greg Behrendt put all of those things on stage so fast that it was hard to keep up. You could hear the Sex in the City writer when he talked about how in long term relationships guys must be allowed to look at other hot people (because we're gonna forget about it in a second anyway). You could hear his maturity as a comedian when talked about slipping in his shower after trying to imitate Matthew McConaughey. And you could hear them all when he talked about all of the hard questions he has had to answer as a husband. Questions like "Why, why is there a burrito in the babies crib?" The answers, were of course, hilarious.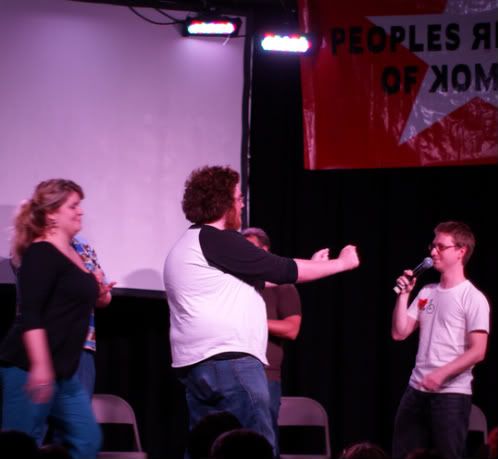 After that, we ran over to the 4:45 showing of Dartmondo. The Dartmondo is a unique performance that combines the precision of stand up and the immediacy of improv. The show was conceived of by local improv actor, comedian and producer Dartanion London when he was part of the improv company Wing-It productions. Since then, it has grown into its own entity and played all over Seattle.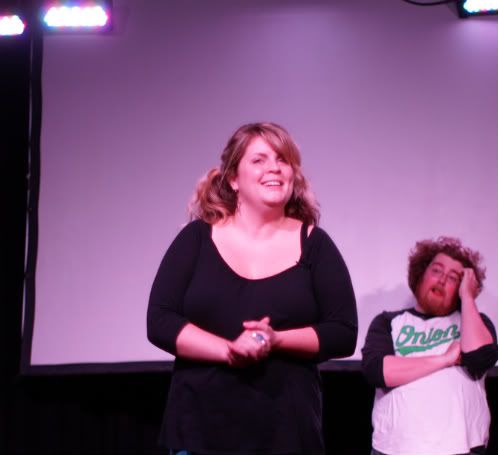 Amanda Williams, in the hotseat
The improv was provided by the cast of local improv actors: Ian Schempp, John Faga, Mike Murphy and Amanda Lee Williams. All of the stand up was provided by Dartanion London, Graham Clark and Hannibal Burress.
The show went as such. A comedian like Graham Clark would come on the stage, and do a full set, including a few jokes about people in Canada who don't believe in global warming.
Graham Clark delivers comedy raw materials
"I didn't think that that was an option anymore" he said "that's like not believing in the circulatory system."
Dartanion gets a angry dose of funny from Mike Murphy
After his set, the improvisers came on and did sketches based on his jokes. So in response to his joke about global warming they did a sketch in which Ian Schemp denied every human act, from science to babies as nothing more than an act of God. Then, Hannibal Buress, came on and joked about how he hates Seattle weather and how he shot his Grand Theft Auto date for making fun of his clothes.
In turn, the improvisers did a sketch where a kid shot his mom with a video game gun for asking him to wear warmer clothes because the weather was bad. By the end of the show, all of the jokes melted into one hilarious comedic mess that filled the entire stage.