by Corbett Cummins
photos by Heather Christianson
If there is one thing Bumbershoot is good at, its delivering unique experiences for audiences and performers alike. And for an up and coming comedian, playing to a packed audience at an early show during a huge festival definitely counts as unique. This is why we began the final Bumber-stretch with an early morning show (this weekend 1:15 pm is early morning) at the Vera Project Stage called the Fresh Faces showcase. As the name implies the comedians at this show were all newcomers to the stage. Several of them had only been performing for a year or so and most of them had never performed at Bumbershoot. And yes, the room was packed, at 1:15 pm, a magical trick that only Bumbershoot could conjure.
The show was hosted by local comic, Jake Merriman a talented, high energy performer who also lends his voice as an announcer for the Rat City Rollers girls and his hard core band My Bones and Organs. His set was like a really fun cup of scalding coffee, it woke up everybody up and burned just a little bit. Nothing was safe from his gaze, not even festival itself.
"I love Bumbershoot I love it. It's a great place to go have white people teach you traditional African dance, white people make you a sarong, white people prepare you falafel. It's a great place for white people to come together and celebrate diversity."
Jake makes a dramatic statement
Each of the comedians he introduced demonstrated their individual voice and took command of the room. As a result the audience was treated to wide variety of comedic styles, from the impenetrable dead pan of Ross Parsons, to James Parkinson's impersonation of a Tyrannosaurus Rex: divorce attorney. The variety of styles and quality of the performances made the show an experience as unique for the audience as it was the performers.
Here is a quick rundown of the fresh faces in order of appearance. Please keep in mind that this information has been abbreviated for your convenience: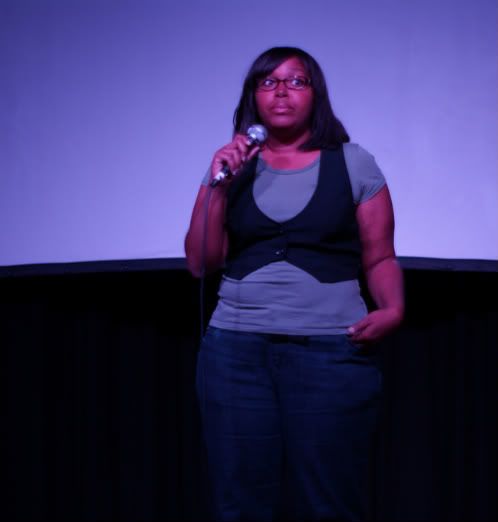 Name: Daniel Radford
Affiliation: Get Loaded (Staff Writer)
Quote for the day: "Yea my family owns a pool but I am so broke that my credit score is not even a number its just a dude who hits you in the face for asking."

Name: James Parkinson
Affiliation: Laff Hole
Quote of the day: "Ladies and gentlemen of the jury, if you could. Please raise your arms for me. My vision is based on movement."

Name: Soloman Georgio
Affiliation: Cracked Up, Peoples Republic of Komedy
Quote of the day: "I saw a police officer on a Segway. Have you seen these things. These electronic pogo sticks on wheels? You spend $ 50,000 to get a piggy back ride from your fat cousin."

Name: Ross Parsons
Awards: Second Place in the American Eagles Campus Comedy Challenge.
Claim to Fame: Serenaded by Robin Williams on 21st Birthday.
Quote of the day: "I get into a lot of knife fights. The element of knife fighting is the element of surprise. Often times my opponents are unarmed and unaware that they are in a knife fight."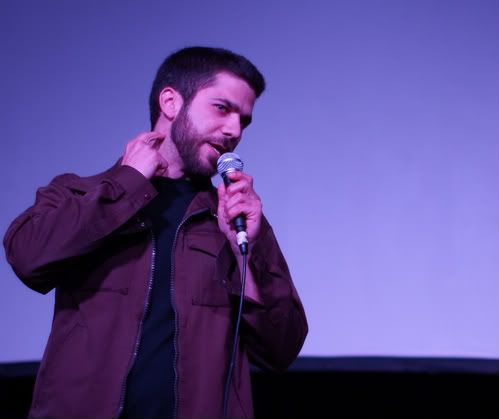 Name: Brett Hamil
Nickname: Hambone
Affiliation: Joke Tellers Union, McCleod Residence.
Quote of the day: "I got woke up by one of these assholes with a gas powered leaf blower…. Terrible way to wake up. So I rolled onto the grass."

Name: Brian Boushes
Last big show: Bite of Seattle
Quote of the day: "I can't get a tattoo on my chest. It would look like a scene from that book Pet the Bunny."