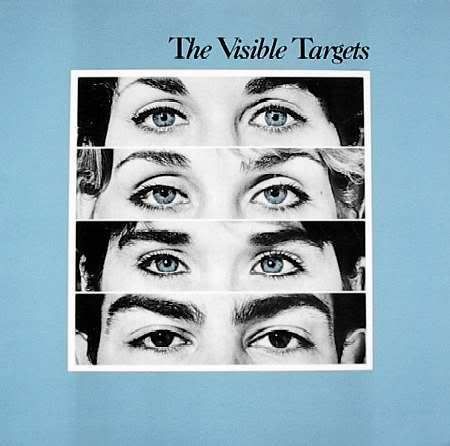 by DJ El Toro
So after my August post about Seattle new wave band The Visible Targets, former drummer Ron Simmons sent in a lengthy missive. He gave KEXP the skinny on what happened to the group and then answered a couple pressing questions about the band's career. Mystery solved? Well, at least the last days — and for those of us who missed them, the glory years — of The Visible Targets are now less mysterious.
Here's the story in Ron's own words:
One summer in the mid-'80s we all decided that we needed a long overdue break. We had been performing, writing and practicing pretty much all the time, five to six days a week, for five years. During that time most of us worked day gigs to make a living. We were all exhausted and decided to take the summer off. After the summer, we just kept putting off getting back together, taking time to do other projects that we now had time to do. Pamela started visiting Nancy Wilson (of Heart fame) briefly and did some jamming. She then started working on a solo project with the help of Tony Levin (bass player for King Crimson). She put out one CD shortly after. Rebecca spent some time with various musicians mixing tunes and writing new ones. Laura spent more time with her family. I threw myself into painting and various art projects that I had a passion for; I showed my work quite a bit in the late 80's through the mid 90's in the Seattle area.

In the mid-'90s Pamela and Rebecca, with the help of another close friend, wrote a CD's worth of music (actually quite good), and called me to get back together for a possible reunion. I had already made a commitment to move to the Portland area and start up a publishing company for a close friend, so our reunion never materialized. Today, Laura is working for a college in the area, and Pamela and Rebecca started their own business in the service industry. They still pick up their guitars and jam. I am North Regional Publisher for the Little Nickel publication, still painting and showing my work in the area. We all still stay in contact.

Bob Jeniker our manager and best friend, died around the late '90s of cancer. He kept encouraging us to get back together, but it was just not in the cards.

All the great stories happened during our short five year career: Awesome times hanging with Mick Ronson, and members from Simple Minds, and rubbing elbows with Peter Gabriel, James Brown, Lene Lovich, T Bone Burnett, Ann and Nancy Wilson, and hanging out backstage at the Showbox during the heyday of the '80s music scene. Making music videos, recording, and, of course, partying. Although we never landed a major label record deal, we led the life of rock stars and I would not change one single thing.

P.S. Did you know we were all in an Elvis tribute band together before we became The Visible Targets?
Geek that I am, I had to know more, so I fired off a few more questions to Ron via e-mail, to which he promptly replied.
Did you ever shoot a promo video for "Life in the Twilite Zone"?
Yes. Local film maker Carl Crogstad shot it. I have it on VHS, along with some other press coverage and our first video of our song "Just for Money," shot by Bruce Vechito (now working for Industrial Light and Magic). It was recorded on 35 mm film. It looks great.

Why did you re-record "Twilite Zone"?
We recorded "Life in the Twilite Zone" twice because the first recording was done pretty much live in the studio, for our first EP, early on, and we wanted to re-release it with a bit more production for our second. The first recording did not seem to match well with the newer production of our later songs.

How did you come to work with legendary guitarist Mick Ronson?
We were all BIG Bowie fans and we had been playing at the Showbox, and around town quite a bit, and we had our first version of "Twilite Zone" playing on local radio stations in the Seattle area. The manager of Split Enz had heard our song on the radio and he approached our manager. After several meetings, he went back to A&M Records and came back with a list of producers that would be available to work with us, to produce a demo. We looked at the list and immediately saw the name: Mick Ronson. It was kind of a no-brainer at that point, so we hooked up. We never got much movement from A&M for a major deal, but Mick liked our music, so he said he would also produce our EP. He did this incredible piano part on one of our songs on the demo, reminiscent of the Bowie album Aladdin Sane. It never made it to vinyl. Mick was a great person, and not pretentious. We miss him.

Who did you consider your peers in the scene back then?
We really liked a lot of the new music coming out at the time, as far as our peers go from this area we enjoyed the Cowboys, the Fastbacks, Student Nurse, the Enemy and Life in General.

Please share a few of your favorite Visible Targets career highlights.
Of course working with Mick, touring with Simple Minds, and playing for packed houses. Making our "Twilite Zone" video. Being the opening act at the Seattle Center for James Brown and the Animals. Actually, it was just one big, fantastic ride, with never a dull moment. The early '80s in Seattle was an incredible time for the music scene. The cool thing was there were tons of places to play: The Gorilla Room, the Wrex, the Golden Crown, Astor Park, and the Bahama Room (where we got our start).
DJ El Toro is the host of the overnight show In Between Sleep & Reason, Wednesday mornings from 1 AM to 6 AM on KEXP 90.3 FM Seattle and kexp.org. His column, Weird At My School, appears every Monday on the KEXP Blog.