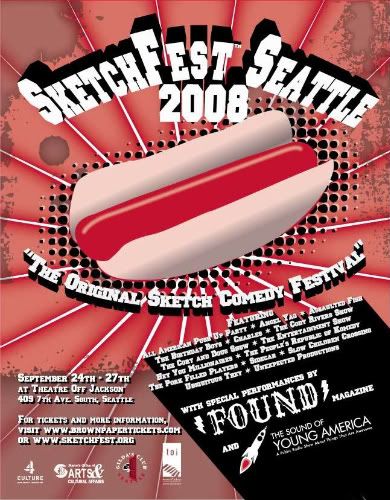 by Corbett Cummins and Heather Christianson
additional photos and video courtesy SketchFest Seattle
From Wednesday through Sunday this week, Theatre Off Jackson is hosting the international-world-series of sketch comedy known as SketchFest Seattle. Every night, till midnight, their stage will be filled with actors, sketch artists, comedians and Radio Hosts from across the U.S. and abroad (ok Canada). There will even be opening and closing Galas.
SketchFest Seattle has a lot to celebrate. Now in its 10th year, it has become a bright, permanent fixture in the local and national comedy scene. Audiences know it as a place to laugh at something new and artists know it as a place to play to a great audience.


SketchFest's PromoFest
To get a feel for how SketchFest is going to complete its first decade we spoke with Artistic Director, Andrew Connor.
WTFM
Are you surprised/excited to be in your 10th year?
Andrew Connor
Yes and yes. It is really remarkable for a festival like this to survive for this long, and there is a lot of excitement about the festival this year, which hopefully will create a strong foundation for the next ten years to be even better than the last ten.
WTFM
Who are the main people involved in making SketchFest happen?
AC
There is a core groups of four staff members: myself (Artistic Director), Val Bush (Managing Director), Josh Knisely (Marketing Coordinator) and Ian Johnston (Technical Director). Beyond that, there is also a board of directors and a cadre of fantastic volunteers who put in a lot of time to make the festival go off like gangbusters.
WTFM
What prompted you all to start this?
AC
That pre-dates my arrival in Seattle, but the legend goes like this: Way back in the late nineties, there was a plethora of major sketch groups in Seattle – no fewer than nine. SketchFest Seattle (which was the first SketchFest in the nation) was started as a way to showcase all of these local groups. Over the next several years the festival expanded to include and showcase visiting groups from elsewhere, but the original intent was to provide opportunities for local groups.
We have brought things full circle in a way this year, using the festival to develop and cultivate local comedy. We have given slots to groups of stand-up and improv comedians interested in exploring sketch, and we have partnered four other up-and-coming local sketch groups with experienced writers.
WTFM
How is SketchFest a unique experience for a performer?
AC
Having performed at SketchFest Seattle as well as lots of other festivals around the U.S. and Canada, I think I can safely say that the SketchFest Seattle is one where performers really feel like people care that they are here. It's a far cry from the anonymous impersonal affairs where no one seems to notice that you've come or gone.
It's a great environment to connect with audiences and other performers.
WTFM
How is SketchFest a not to be missed experience for an audience member?
AC
Live sketch groups don't generally tour very much unless they are going to festivals like this one, so there is no other opportunity in Seattle to see 17 different groups in four days for a completely reasonable price. Not only can folks see the best in local sketch and stand-up (we have local stand-up comedians hosting all the shows), but they can also see five hand-picked amazing sketch groups from New York, L.A. and Chicago. It just doesn't happen outside of SketchFest.
Plus, this year we have something called The Incredible Shrinking Ticket, which we think is a smoking deal for repeat audience members: Your first ticket to a SketchFest show is $15. You bring that ticket back to the next show you want to attend, and you pay $10. Your next show is only $5, and your fourth show is free? After that, it all starts over again at $15.
WTFM
Why and when did you start the mentoring program?
AC
This is the first year for the mentoring program. We started it because we felt like the festival had a lot of potential to encourage the development of comedy in Seattle and not just be passive beneficiary in the process. The groups who are being directed in that program are all solid, competent functioning groups, but we thought that we could really help them raise the quality of Seattle sketch if we paired them with experienced directors from the sketch community who have a lot offer. We invest in Seattle comedy by hiring the directors, the groups benefit from some excellent oversight.
WTFM
What has the response been?
AC
So far, so good. I check in periodically, and at the very least there haven't been any fistfights. I think it has been really good for all involved. The proof, of course, will be when those groups are on-stage this weekend. Then we will find out if we've been delusional about this whole thing or not.
You can check in on the fun at their website: http://www.sketchfest.org/