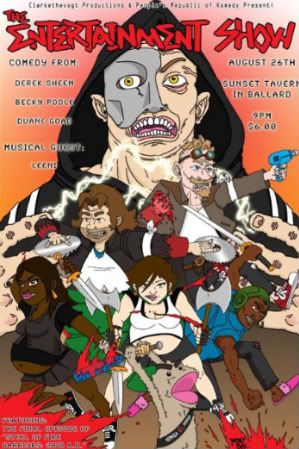 by Corbett Cummins
photos by Heather Christianson
video courtesy of Kevin Clarke and Travis Vogt
Last month, the video/comedy/production team Kevin Clarke and Travis Vogt, showcased the final installation of their hyper testosteroned, post apocalyptic trash melodrama, Steel of Fire Warriors to a packed audience at the Sunset Tavern in Ballard.
Steel of Fire Warriors is like something you might catch on Adult Swim's Tim and Eric Awesome Show Great Job. The production values are at the level of freshman film school students, the acting is so over the top-down-the-wall-and-through-the-gates, the script is self deprecating and the plot is predictable. This makes it extremely engrossing and fun to watch.
Kevin and Travis have been screening episodes of the movie at their monthly comedy, video and music showcase, The Entertainment Show since January. Month after month, they've filled the Sunset with the Steel of Fire cast members, as well as bands, comedians and their dedicated followers, making it party not to be missed. Their final show featured performances by Derek Sheen, Becky Poole, Duane Goad, and the musical mistress of the Gameboy, Leeni.
The credits of the movie are a who's who of Seattle alternative comedy, so it's not surprising that the bar exploded when Kevin and Travis thanked everybody.
"And nobody was a total dick about," added Kevin, "and that was awesome."
The Seattle comedic community is used to acting for Kevin and Travis. They have a pretty large catalog of ridiculous short movies, from a series of Mustache-Foo films to semi-fake ads for Pabst Blue Ribbon and Pagliacci Pizza, who sponsor their partners in crime, the Peoples Republic of Komedy. Most of which were done with local talent.
Andy Peters does an ad with his favorite actor, Andy Peters
So it didn't take much to convince a bunch of Seattle comedians to put on mutant face makeup and run around in tin foil and leather with fake weapons.
In an e-mail interview, Kevin said, "A year before we started Steel of Fire Warriors we had just become acquainted with the PROK people and the Seattle 'alternative comedy' scene and many of them were much more talented than the co-workers and friends that we usually forced to be in our videos."
Travis added that part of the project was just an excuse to work with people that they liked. As a result they were able to give the community a chance to get acquainted with nuts and bolts of movie making, even if it was zero budget moving making. He added, "Doing a full length movie would be a good way to get all of the people we like involved. Most of the parts in the movie were specifically written for the people who played them."
Kevin and Travis talk about the end of Steel of Fire Warriors
Even with the movie done, Kevin and Travis are not resting. While they work on finishing the DVD version of Steel of Fire Warriors they are taking time out to rock the Sunset Tavern this coming Tuesday, Sept 30 and will continue to do so every last Tuesday of every month. They can also be seen all around town in places that appreciate comedy and video.
You can watch past episodes of Steel of Fire Warriors and keep updated on The Entertainment Show at its MySpace page.