written by Corbett Cummins and Heather Christianson
photos by Heather Christianson and Christoph Ferstad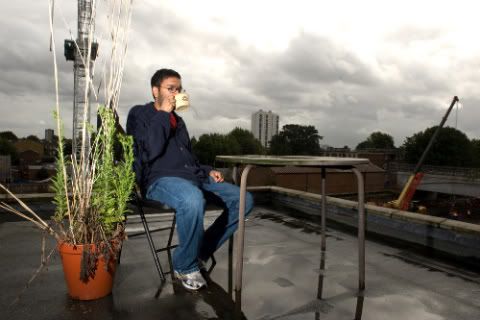 Hari Kondabolu began his comedic career at a comedy night that he produced at Townsend Harris High School in Queens NY at the tender age of 17. He continued to hone his skill during his college career on the East Coast. After graduation he moved to Seattle in order to get serious and take a job as an immigrant rights organizer.
However, it wasn't long until Seattle's comedy scene got to him. In 2006, he performed at Bumbershoot. In 2007 he performed on the HBO U.S. Comedy Arts Festival in Aspen. Since then, he has performed all over the place including Comedy Central's Live at Gotham and The Jimmy Kimmel Live.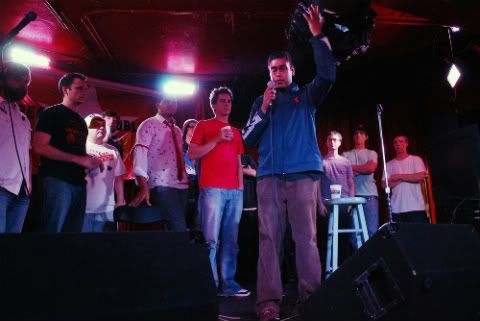 In 2007, with the help of Mass Line Media Hari, Zia Mohajerjasbi, and many others, Hari produced a short comedy called Manoj. In it, he plays the title character, an exploitive, hacky, comedian from India, and Hari, a fellow Indian comic who has to deal with Manoj and his fans.
It was screened at the prestigious Just for Laughs Festival in Montreal, as well as comedy, film and arts festivals around the U.S.
Hari spends most of his time in New York now. However, he is in Seattle for the next few weeks to work on new material. So we were able to catch up with him during his recent visit to Seattle and talk to him about his film.
Hari is an extremely conscientious comedian. On stage, he uses personal experience to lampoon the issues of race and class that drive him crazy. Off stage, at a hip Capitol Hill coffee shop he is personable, highly caffeinated and brimming with intensity.
One of the first things we talked about was the main character of the movie, Manoj:
HK: The Manoj thing was a character I did with friends for a while. We were trying to figure out what to do with him. He was a minstrel character. I hate the idea that you do whatever it takes to make the audience laugh. That's what it comes down to. Mix that with this issue of race. What racial imagery makes people comfortable. Who is in the audience? Comedy club audiences, generally are middle class white folks, throughout the country. When you talk about ratings, that is the audience. And you have to play that audience with what is a comfortable, safe image. This Manoj character is playing into stereotypes. The impact of those images doesn't really matter to him.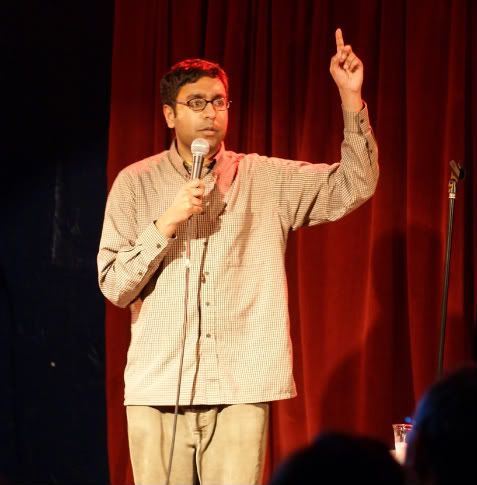 WTFM: In the film you do have two white audience members, but they seem a little exaggerated.
HK:: There is an exaggerated Frat dude and somebody who's not critical. I think they show more of the feeling I get when I hear certain things on the stage, the kind of attitudes that I get in certain situations.
WTFM: But they do not represent all of the audiences that you meet.
HK: No! Because that's crazy. That would be unproductive and untrue. It's like a kind of uncritical audience that, loves this guy. Loves this guy! And doesn't want to think that it could be potentially problematic. And enjoys it, finds it funny. Toby improvised a line about the media (my friend Toby played Jeff). "In the media you can't say these things. And we're in the right and it's messed up that we can't." Political Correctness, Political Correctness. Just throwing it out there. I understand that it is a problematic idea that people can't necessarily communicate properly. But when people talk about political correctness its usually like "I can't say anything fucked up." Like Archie Bunker. "We should be saying what Archie Bunker was saying." Stewart Lee man, Stewart Lee. He's my favorite comedian right now. [He] has a thing that says "I can't write racial slurs in excrement on peoples windshields anymore — Political Correctness!" (laughing)
WTFM: One thing I noticed, is that you made Manoj really funny. Even though you are lampooning him, he is hard to dismiss because his jokes are well written and you deliver them well.
HK: He's a real comic. He could tour. He'd be really successful. I could do him. And I think I'd be alright. Not in terms of integrity, and self esteem and pride. But financially, yea I think that guy would do fine. Why wouldn't he? He's not a bad comic. People like him. He's likable. He's goofy. He's funny. And he is a good joke writer. He makes people laugh. It's a bottom line approach to this and he does it.
WTFM: Your character (Hari) is interesting because all he does is challenge Manoj. He is almost one-dimensional.
HK: I'm a bit whinier than I am in real life (smiles). Here is the thing. That character is frustrated because he is an artist as well that is affected by it. It's a fellow tradesman, its not just somebody in pop culture. This is harming what [he] is doing. And to me, I'm not sure if I feel exactly the same [as Hari in the video]. But when I go on stage, there is a certain expectation and I can feel it. Not on all stages, and depending on what the crowd is, like. There is this; "when's the accent coming, where are your impressions of family?" There is going to be a Microsoft joke, there is going to be a lot of stuff about 7/11 ok, and some terror thing and some facial hair. I have a Microsoft joke, but there's a harder setup that I can go with and if I don't, there will be more aggressive and thoughtful material around it. It's as if there is a list of safe topics I'm allowed to cover and that's it. I don't think its bad to explore those topics. But its how you explore them and I don't think there should be that expectation.
WTFM: You play both Manoj and Hari. Does that mean that the tension between them is something you feel?
HK: Yeah. This film wasn't made in isolation. The reason it was done well is because I understood it. It wasn't something I studied. Its an experience. And the thing is that a couple of those jokes are from my act when I started. That accents joke used to be my closer! There definitely was, more so in the past a tendency of "that's what they want, give it to them." And when I did, it worked. But, it's not what I like doing… Well that's not true. There was a point where laughter was enough. Then, after you think critically, I was like: I'm not even making art that I want to make. And I understand the idea [of compromise] I do the Republican joke that I did on Kimmel. And I keep some of those light ones in. But some of the jokes that Manoj does. There is that certain level of "You're not even acknowledging that your personal experience is really in it." It's so abstract and absurd. It's like: this world does not exist for you and you're making it up. But there was no dancing monkey.
Hari Kondabolu will be perfoming with Ali Wong on December 3rd and 4th at the Comedy Underground. However, he can be found on stages all around Seattle from now until mid-December. The best way to catch him is to check his MySpace page.