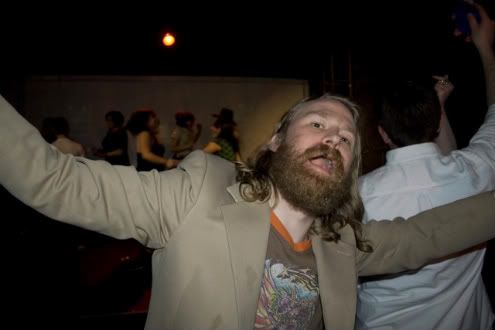 Written by Corbett Cummins
Video by Coty James
Photos by Coty James and Heather Christianson
So our idea for Election Night was simple: Get a bunch of comedians together. Watch the Election. Make jokes. Nothing huge, nothing over the top. Then we made the mistake of asking the Re-Bar's Chas Roberts, producer of Get Loweded, Grudge Rock and myriad of other things, for help.
And as much as we'd like to blame him for everything, its not his fault, all he said was "I think Re-bar is available that night" and then everything else just started falling into place like, well I hate to say it, like a landslide.
Within hours we had a small army of comedians: Amanda Lee Williams, Emmett Montgomery, Kevin Hyder, Danielle Radford, Charlie Stockman from Seattle Untimely, Dartanion London, Blood Squad, Sara Problem of the Rat City Roller Team Grave Danger with Barbarella and DJ Verse ready to provide tunes.
For us, like many others it turned out to be the longest short night ever, impossible to relay even with the use of video. But we would jerks to not to try. So here is a sketch of our election night at the Re-Bar.
4:00
The doors swing open and the back wall is filled with Katie Courics sunny face courtesy of CBS's live streaming election coverage and the Re-Bars awesome projector. We have 4 computers hooked up to WiFi so that the comedians can stay up to date. By 5:00 a handful of happy voters had trickled into the room. TV, the Re-Bar's star bartender pours my first beer and we survey the empty room. This should be fun.
5:45
With the attendance firmly in the double digits (11 maybe) Charlie Stockman bravely takes the stage. Charlies comedy troupe Seattle Untimely treats local issues with the same insight and irreverence that John Stewert and Stephen Colbert give to national headlines. At the same time, they are careful to not mimic the Comedy Central shows in a formulaic way.
As such, Charlie has been following Washingtons Gubernatorial race. On stage he explains that local politics is fun to watch because you can make a bigger difference by joking about Governors. He then went on to introduce some very disturbing political ads that Seattle Untimely had uncovered from the race.

Dino Rossi attack ad

Christine Gregoire attack ad
6:30
I don't know what's going on. The crowd is growing exponentially. Every corner is filled with boots, scarfs, skinny jeans and half empty drinks. At the front door there is a constant stream of people waiting to get in.
And we have news! Obama just took Ohio, the state that decided the 2004 race for President Bush. Things seem to be heading in Obamas direction. So we turn to Danielle Radford, star of Re-Bar's Get Loweded as well as comedy shows all around town, for some calming thoughts and a word of caution.

Danielle warns the crowd
7:15
The crowd has filled the entire room with giddy energy. There are happy faces, shrieks of joy, hugs and kisses in every direction. I just overheard somebody say, "It's like a happy WTO without the tear gas."
And we have more news! McCain (unsurprisingly) took Utah. We have been waiting for this because we have our own Utah correspondent Emmett Montgomery, who is checking in with his parents and preparing his commentary.

Emmett Checks In on Utah
7:50
The networks are in a lull so we decide to go out on a limb and call Barbados for McCain. It made sense and it was a great excuse to get our next performers Amanda Lee Williams and Dartanion London (producer of Dartmondo) on stage. I, of course, was not thinking and did not realize that we are ten minutes away from a historical moment.

Tammy and Dart give us a Red State/Blue State update
8:15
According to CNN Obama just took the entire West Coast and won the election with Amanda Lee Williams and Dartanion London still on stage!
We make the official announcement, James Brown fills the room and there is immediate dancing. Drinks are in the air. Joyful cursing can be heard at almost every table.
After a brief talk, Sara Problem, Kevin Hyder and the Blood Squad graciously decide that they are not going to compete with Barack Obama for the attention of the crowd.
8:45
McCain is conceding. The feed goes out in mid speech. Without missing a beat, Barbarella up in the DJ booth puts on We Are the Champions by Queen. All of a sudden its very very loud in here. We are singing along with Freddy Mercury. Hands are waving in time to the music and people are smiling as if it had just become legal again. Then, as the the last note fades, half the crowd rushes the bar for drinks The other half rushes outside to find a space to smoke and call their friends.
Solomon Georgio, one of Seattles favorite comics, decides to lead the crowd in an incredibly fun and politically incorrect game of "Hug a Black Man" which consists of him standing on stage as 40 people jockey around him for a gigantic group hug.
8:55
Barack Obama is giving his acceptance speech and the crowd is completely taken. They are mostly still, cheering lightly when he pauses, occasionally echoing his trademark phrase "Yes we can" and clapping their hands sincerely whenever he mentions John McCain.
The speech is over and the sounds of Grant Park echo through the Re-Bar. The DJ's retake control of the sound board DJ's manage to keep the crowd in house for a couple of hours with a mix of electro dance numbers and classic (politically incorrect) hits like AC/DC Back in Black. But the crowd is anxious and by midnight most of them have streamed out to join the gigantic peaceful march stomping through the neighborhood few blocks up the hill.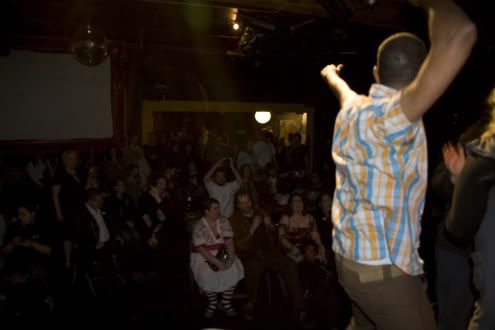 12:30
The night is over, but its pretty obvious that something else has just begun.