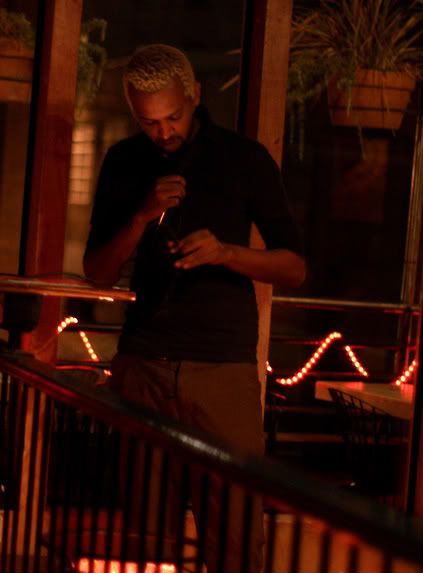 By Corbett Cummins and Heather Christainson
Photos by Heather Christianson
Solomon Georgio has been producing one off shows at the Capitol Club, in a sort of tenuous love affair since last year . In February of 2008, they decided to consummate their relationship with a regular show called Cracked Up.
Cracked Up is a bi-monthly comedy showcase that Solomon puts on at the Capitol Club every first and third Sunday. It has quickly become one of the most respected comedy rooms in town.
The room itself seems a bit awkward for comedy. The almost non-existent stage sits next to the bar area and the stairwell, which is also the only way in and out of the performance space. Comedians are often interrupted by the comings and goings of customers as well as the sound of the waitstaff as they expertly muddle margaritas, mojiotos or whathaveyou.
The show however is anything but awkward. The combination of the funky set up and the great crowd that Solomon always brings to the room makes it feel more like friends in a living room than an audience and a stage.
On November 2nd, the show featured James Parkinson, Daniel Carroll, Emmett Montgomery, Charles Mudede, a special appearance by Hari Kondabolu, and headliner Billy Wayne Davis.
Solomon started the show with a quick set that explained why he as a homosexual advocates for homophobia "homophobes are the number one source of gay people, I'm not about the bite the hand, that's gonna make the hand that's gonna touch my penis."
The first act he introduced was a new feature called Dairy Wars that starred James Parkinson and Daniel Carroll. The two comedians wrote fictional entries for each others diaries and read them to the audience for laughs. Solomon described it as a war that nobody would win.
He was pretty much on the money. Daniel wrote James as a 12 year old girl trapped in a mans body with entries like "Dear Diary, Cher's new album 'believe' came out last Tuesday. And I swear she wrote it just for me, I mean its like she read the walls of my heart and turned them into songs."
James's version of Daniels diary illustrated a privileged, self obsessed existence, peppered with entries like "Dear Dannary, the date is Dantober the 16th, Dan Thousand and 8."
I'm not sure what the audience thought about this section because my minitape was overwhelmed with the sounds of my own howling laughter.
They were followed by Emmett Montgomery, one of the hardest working comedians in town. Emmett tried out some material that he is working for the upcoming Seattle International Comedy Competition and asked the audience to pretend to be the different venues of the competition as he tried out jokes about "babies and poop and death."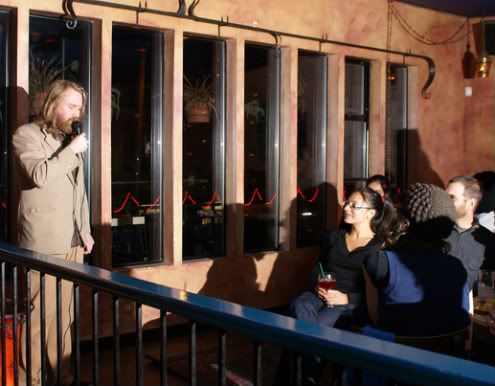 The next comedian up was Hari Kondabolu. Hari had a loose set. He played with the audience a great deal. After a joke about Republicans not liking Halloween because of the free handouts, he announced that it was a "Seasonal Joke" and explained that it was a "Pumpkin Spiced Latte of jokes… not a Gingerbread Latte, it's a Pumpkin, it's for now, election Halloween jokes."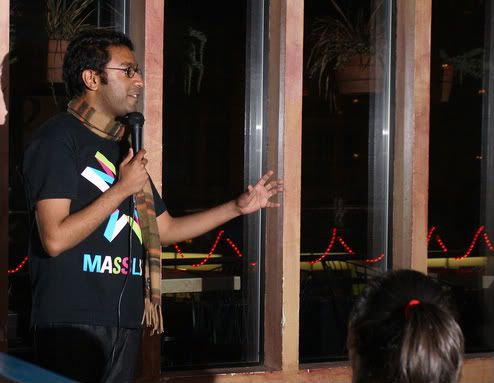 Next up was Charles Mudede, from the Stranger. When Solomon introduced Charles and noted that a long time ago Charles had spoken to a writing class that young Solomon was attending. This forced Charles to explain that he had no idea what they spoke about at the class as he was completely hung over. "Going to Nathan Hales [high school] i had to have a few drinks!" followed by immense laughter.
Charles is a very well established writer with countless articles, essays and a few movie scripts under his belt. His macabre sense of humor (he wrote a movie about the Enumclaw Horse Case after all) and knack for self deprecation kept the audience captive.
"The funniest thing in the world is getting eaten by something," he told the audience. "That's only when you realize that not only are you an ape but you have nutritional value!"
All in all, Charles was absolutely charming and left the audience completely unprepared for their headliner.
Billy Wayne Davis is a seasoned comic. Originally from Nashville, he is contemporary of the late Mitch Hedberg, and has a lot of touring under his belt. He has a bull head, a quick wit and an infectious southern drawl (I was listening to him on my mini tape when I wrote "bull head"). And he is not for the faint of heart.
Billy Wayne likes to test his audience. He actively seeks out the places that people in polite society try to avoid and will rip on homophobes, racists and political correctness in the same breath.
He opened by recounting all the things he read about Seattle before moving here, "Its almost a Utopia of liberalness" and then his dismay upon arriving "where are all the black people? Did you do what I did? And go to Tacoma?! And go oh OK, that's kinda fucked up Seattle! Lotta people marched, you can't do that anymore!" It was a roller coaster ride of a show, and most of the audience survived.
For those interested, Cracked Up will roll through the Capitol Club again this Sunday the 16th of November. Check out their Myspace Page for details.