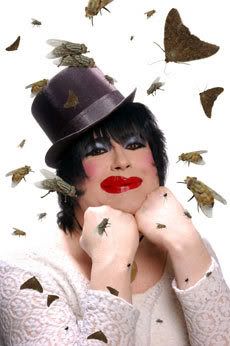 by Corbett Cummins and Heather Christianson
There are very few things that did not happen this year and I honestly don't know how anybody could be expected to deal with it all. First off: New President! Second off: Collapse of Banking Systems. Those two things should have been enough. That's like Lord of the Rings, Charles Dickens and The Daily Show all rolled up into one. Easily enough drama and irony for one year, right?
Wrong! We obviously, did NOT get off that easy! We also had to find time to digest the loss of scores of awesome people, including (but not limited to) Heath Ledger, Bo Diddley, Bettie Page, Isaac Hayes, George Carlin, Bernie Mac, Rick Wright, Paul Newman and Bozo the Clown.
Yeah! We lost Bozo the Clown this year. In the end, most people could live without Freddie Mac. But Bozo?
So it's going to take a lot of partying to put this year down. And in a situation like this, it's important to know one's options. You can rock out, hide, or laugh it off. For those of you who plan to do the latter, here are some of the funniest places you can go to do so.
And in the name of financial crisis we have tried our best to organize them from least to most expensive.

THE DINA MARTINA CHRISTMAS SHOW
Featuring accompanist Chris Jeffries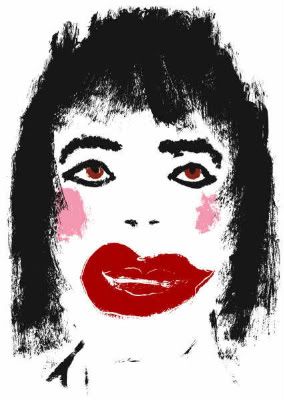 November 28th – December 31st
Re-bar, 1114 Howell Street (at Boren Ave.)
Price: $20 for reservations
If you plan on kickin' it on Capitol Hill you can get your last shot of X-mas cheer with Seattle's favorite lipstick-train-wreck Dina Martina. She's been performing for decades to fans like John Waters, Margaret Cho and John Cameron Mitchell and has been nominated for numerous awards. She is a Seattle holiday tradition along the lines of picking vomit out of Santa's beard and is not to be missed.
Afterwords you can dance off the old year with Cherry's DJ Mathematix and Amateur Youth!

Unexpected Productions:
XTREME THEATRESPORTS NEW YEARS EVE PARTY!


Market Theater
1428 Post Alley
Seattle, WA 98101
Price: $25
For those down in the Market you can check out Unexpected Productions who are planning an improvisation battle royal. Four improv teams, armed to the teeth with quips and wit will clash into each from 10:00 PM all the way to the New Year countdown. Afterwards they are going to party like its 2009. The planners were vague about details saying only that they have upped their champagne supplies by about 30% over last year.
We sent that information over to Secretary Paulson and he did a backflip.
The Comedy Underground has three fantastic shows at three fantastic venues.
Seattle Comedy Underground
109 S. Washington St.
Seattle, WA 98104
Price $20
At their (relatively) new Seattle digs, they will be cracking up the New Year with the extremely funny Paul Ogata, who won the 2007 San Francisco Comedy Competition and was voted "Funniest Asian in America" in the nationwide Take Out Comedy Competition.

Tacoma Comedy Underground
1114 Broadway,
Tacoma, WA 98402
Price: $20
The Tacoma Comedy Underground will play host to Gabriel Rutledge, winner of the 2004 Seattle International Comedy competition. Gabriel's material is insightful, self deprecating and sharp, making him one of the most exciting headliners in the U.S. and a great guide into the wilds of 2009.


Everett Theatre
2911 Colby Ave
Everett, WA 98204
Price: $40
The Everett Theatre will be hosting the best of the Seattle Comedy Competition with headliner Tommy Savitt who, by no coincidence, was the winner of this year's Seattle International Comedy Competition. Savitt also won the 2007 Boston Comedy Competition and has performed comedy for U.S troops around the world from Afghanistan to Japan.

Jet City Improv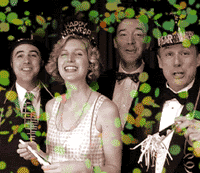 Historic University Theater
5510 University Way NE
Seattle, WA 98105
Price: $50 single $80 couple
If you're in the U District, then you can catch the rocket powered improvisors from Jet City Improv as they host a multimedia improv extravaganza; or as they like to call it "Spectacular." Along with their superlative improv antics, they will deliver food, toys, drinks, champagne, DJ's, dancing (dancing DJ's?) and satellite feeds from around the world.

STG Presents The New Year's Eve Extravaganza with
The Presidents of The United States of America at the Paramount Theater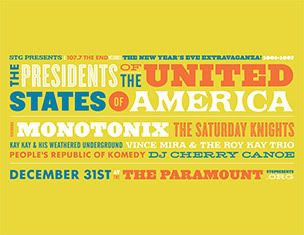 The Paramount Theater
911 Pine St,
Seattle, WA 98101
Price: $50
In a fitting theme for an election year, Paramount Theater will be hosting The Presidents of the United States of America and a metric ton of other people for an all out New Year's Eve spectacular, or as they like to call it "Extravaganza." The bill is more rock than talk, but the Presidents are known for their sense of humor (insert your own presidential joke here) and they have enlisted the help of Seattle's Alt-Comedy-Kings, the People's Republic of Komedy to supply the comic relief.

Indulgence


Bell Harbor International CC (Pier 66) on Seattle's Waterfront at 2211 Alaskan Way
Seattle, WA 98121
Price: $65 to $189
Those looking for something large, swanky and a little hilarious should check out the 7th Annual Indulgence at the Waterfront. This 100,000 square foot soiree has planned 6 stages of entertainment for 5,000 party people. If you don't end up shaking your thing 6 ways to Sunday, you can check out the Comedy Lounge, hosted by Seattle's favorite columnist/comedian/Roller Girl Announcer Cathy Sorbo and her small army of highly skilled comedians.
Whatever you end up doing, make sure you have fun and we will see you in 2009!