by Corbett Cummins
Mark Siano is a man of many talents. As a performer he has put in serious time with Seattle's theater community on stage, behind a mic, in sketches and shaking it up with his iconic Freedom Dancers.
His new venture, the Clandestine Cabaret, co-produced with the Washington Ensemble Theater showcases one of his hidden talents: his ability to bring great performers together. The cabaret will feature performances from The Blood Squad, the Freedom Dancers, Becky Poole, burlesque by Cherry Manhattan and music by Miss Mamie Lavona and Her White Boys along with other superlative performers.
We sat down with Mark and a few of his cohorts; Paul Levy from Unexpected Productions, Katjana Vadeboncoeur (aka Cherry Manhattan), Eric Ray Anderson (aka Eray and the electric Ukulele player for Miss Mamie Lavona), comedian and musical saw player Becky Poole and Michael White from Blood Squad, for a sprawling discussion about the tricky business of cabarets, burlesque apprenticeships, online musical saws and getting cast on Northern Exposure.
Where the Funny Matters: What can we expect from the Clandestine Cabaret? Is it another 80's themed cabaret or something else?
MS: This show is not 80's themed at all. It's basically a hodgepodge of uh 80's Cabar — 80's cabaret (stops, laughs).
Michel White: Its not "80's" per say.
Becky Poole: Eighteen eighties… (lots of laughter)
MS: This cabaret is a little more based on like a 1950's, Dean Martin style of cabaret. We're going to do an actual Dean Martin tango style number. I'm going to be in a tux the entire night. We have a little bit of burlesque going on.
But the theme in my mind, or what I want the show to be is just extremely, highly entertaining. Like high energy, really fun. A little something for everyone.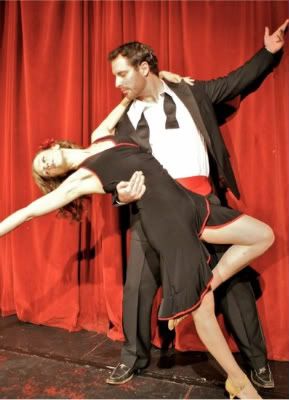 Cherry Manhattan: Did I tell you that I cry in my burlesque? (Laughter)
MS:The woman who takes her clothes off will be crying.
Becky Poole: It drips dramatically at the nipple its beautiful.
CM: More so, I have a heart shaped kitty pool and a bucket of tears and I come out and dance to Patsy Cline and I am crying the whole time.
WTFM: So this is a sort of a carry over from Theater Dangerously you did? I know some of you met at that show.
MW: Yea, that was the first time Blood Squad had worked [with Mark Siano]- Well it was a resurrection from back at the U.
CM: [Mark] had to change the name because the U-kids re-resurrected it.
MS: That was actually the goal though… I felt guilty, because a long long time ago I shut down Theatre Dangerously at the University of Washington. It was this tradition that had been going on for like 10 years. And I killed it.
WTFM: What did you do?
CM: Took it out in the field…
MS: Yea (laughter) I took it into the field… I was in charge of the undergraduate theater society that kind of ran the space where undergrads could put on shows and I had started this comedy troupe called "The Habit." And we were kinda fighting for space. I was like, "you know, maybe we could push these guys out." And Theatre Dangerously never came back like for a full 10 to 13 years"
PL: You're just admitting this on tape right now?
MS Oh it's all well documented, in fact, it was in the early days of Google, so if you Googled me it would be "Damn that Mark Siano" as the first thing that came up every time. I'm glad we brought all that up.
WTFM: Speaking of crying.
BP: And now he's naked.

WTFM: So aside from Mark asking. How did you all decide to come together for this show?
PL Mark pretty much just begs people he knows to be a part of his shows. That's really all it comes down to.
MS: Yes! I really try to make sure that the people in the show are my friends. And if they're not my friends then they are some seriously talented ringers. I really love the people that I work with.
I like that my shows currently kinda have the same cast over and over again. People who come to see my show like seeing that same person. Like "oh I saw Paul in that show from last time. He was great in that! I love what he is doing now…"
It's kinda the thing, where a 'lotta theaters in town don't have repertories, they don't have the same people over and over again and I kinda want to create that community, where you keep seeing me and my friends in all of these shows.
PL: Well there is a level of trust in that… he's using folks that he's worked with before so there's a level of trust there. And then as performers, we trust that Marks going to pull together a great show. Its friendship but its also a respect for each other's work.
MW: One of things I'd like to emphasize about the show and the way its curated. Its really well done because it moves, just boom boom boom boom.
MS: I do like short shows. If it's a full length then maybe an hour-fifteen an hour-and-a-half. You're seeing a cabaret? Hour. Gone! That's exactly what people want.
CM: In and out in about an hour.
WTFM: Now I'd like to switch the conversation from this general discussion to what from your backgrounds drew you to this show. Lets start with Michael.
MW: We [Blood Squad] had been working with the Peoples Republic of Komedy for a couple of years now and usually what we end up doing is a sort of short, snippits of what we do. We can't do a full show. And we found that the shorter we were up there, the better it was.
We also had a really successful really great little short show with the Freedom Dancers earlier. In fact, I almost got my neck broken by one of them.
I was the killer and they were trying to block me from killing my co-hort. All of a sudden, knees are on my head, and "I'm like oh my god don't twist, whatever you do."
WTFM: What a way to go.
MW: I was thinking "This is the greatest and most horrifying moment!" (Laughter)
WTFM: Okay, on to Paul.
PL: I've been at Unexpected Productions for a long time now which is an Improv Theater down at Pike Place Market. We're doing more and more shows involving people outside of our theater, connecting more and more other projects going on. Because in Seattle it seems like there are all kinds of awesome groups that are coming and up starting new things. Like Blood Squad is a great example of that.
Its great to connect with Mark because Mark and I go back back back. We were, uh, dancing Greased Lightning before any of this. (Laughter)
WTFM: Now on to Becky. Your background is all over the place, you're basically a walking cabaret yourself.
BP: Comedy, sketch comedy, and in New York that is what I primarily did is sketch comedy, but I also went to NYU for theater, and so: solo performance, comedian saw player. That's how I like to narrow it down.
WTFM: Now as an aside, for all of the new saw players out there, where did you get your instrument?
BP: I ordered it from Mussehl Westphal if you Google musical saws its either Blacklock or Mussehl Westphal . Just order one off the internet: professional musical saw and then call me! 30 bucks and I'll give you a half hour lesson.
WTFM: Thank you for that aside, and now on to you and the show.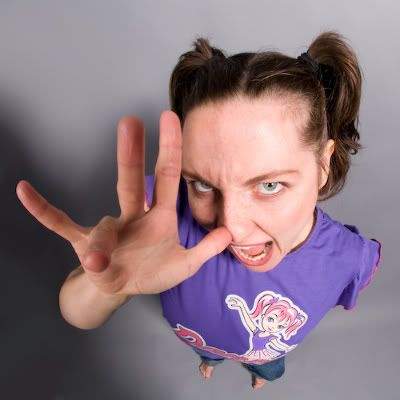 BP: I met Mark a long time ago in New York doing sketch. The Habit came. And my sketch comedy group "Meat" who I used to play with in New York, went to see their show and we were like "oh fuck, we gotta kick it up." Because they were so great and we really liked them. And that's how I met Mark and once I got to Seattle we connected and I really liked the shows that I'd seen. Then Theatre Dangerously, I loved the way the show ran, and it was tight and I appreciate that.
WTFM: So Katjana, you are the artistic director for W.E.T.
CM: I'm a co-artistic director at W.E.T. We're co-producing with Mark. Mark's the artistic mind behind the line-up and we're providing the venue and the location.
WTFM: And a burlesque dancer.
CM: Well I'm primarily a director. I originally started doing burlesque about a year ago, on a total fluke. It was written into a show that WET was doing at On the Boards, and I ended up doing Burlesque for that show and just kept on doing Burlesque.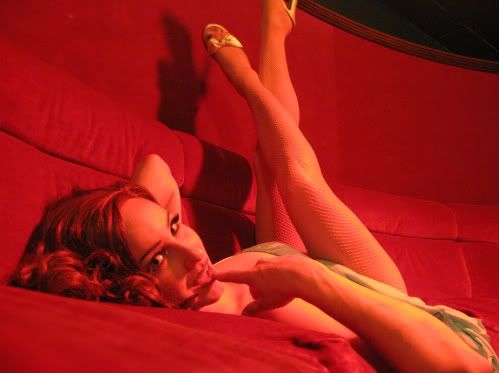 The first real public high profile performance I ever did was to do "pick up", assisting like the biggest stars in the country who did the Bumbershoot show last year. And that was just a gift and a blessing.
Eric Ray Anderson: "Doing pick-up" is a term of art in burlesque right?
CM: It is!
ERA: It's the people who clean up what's left on the floor.
CM: It's an apprenticey kind of role. I got my ass spanked by a one armed man on the Seattle Rep's stage.
BP: The sound of one hand clapping! (laughter)
WTFM: And that brings us to Eric and I am going to stop you with an embarrassing question. I was doing my research last night on INDB and I saw something. Were you actually on Northern Exposure?
ERA: Yea! That was me, I said two words: "Thanks Holling." Meaning Holling, the character on the show. I had a great time.
I have to say that every once in a while for my two words on Northern Exposure I get check in the mail. And its for like $6.50. And about half of them I didn't cash. And then when tax time comes around, you know I've made $75. So I've started cashing them. In the new economy, I'm cashing my Northern Exposure checks let me tell ya!
WTFM: So you are playing Ukulele for Miss Mamie Lavona.
ERA Amber Wolf, aka Miss Mamie Lavona, extraordinary talent. Powerfully powerfully sexy woman, who is a terrific singer and has built this whole band around her own aesthetic and we have a wonderful time.
I am a guy whose day job is theater so that means I get to play in a band. And I'm loving playing in band.
WTFM: Is there anything else you all would like to add?
MS: It's a good show, it won't suck. We don't fuck around.