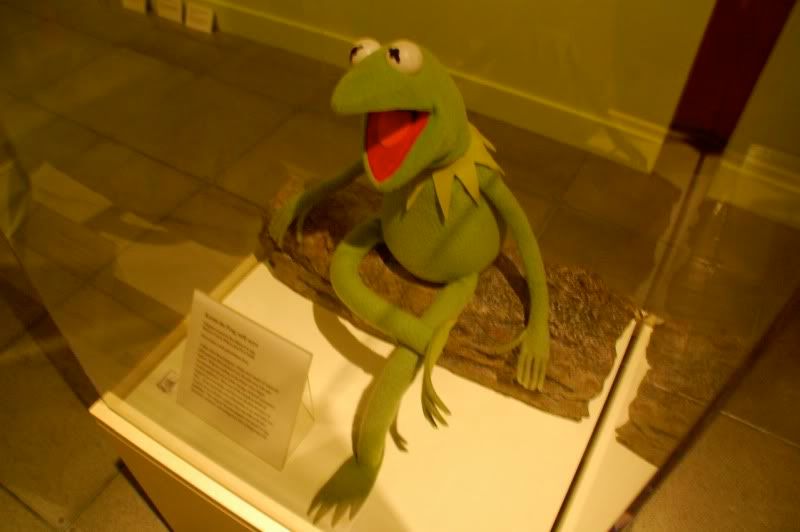 review by Justin Spicer
photos by Seattle Show Gal
The Jim Henson Legacy has brought Jim Henson's Fantastic World to Seattle's EMP|SFM. The exhibit opened to the public over the weekend, but media and museum members were invited to a preview of the traveling exhibit on Thursday and Friday.
Greeted by bright paint, unhung plaques, and wall mounted fur, the surroundings EMP|SFM provided the kid-friendly nostalgia of Jim Henson's Fantastic World was an immediate draw. While the finishing touches were still a few hours from being completed, the kinetic energy generated with a large room's worth of Henson memorabilia was undeniable. Henson icon, Kermit the Frog, welcomes attendants in all of his plush glory. Karen Falk, archivist for the Jim Henson Legacy and our private curator, told the story of Kermit's humble beginnings as a cut-out from an old coat of Henson's mother. As to be expected, we weren't laying eyes on the ORIGINAL Kermit, who is locked — breathless — in an unnamed bank vault, but we were starring at the ping-ponged eyes of the legendary Muppet with a glee only youthful Christmas days could hope to match.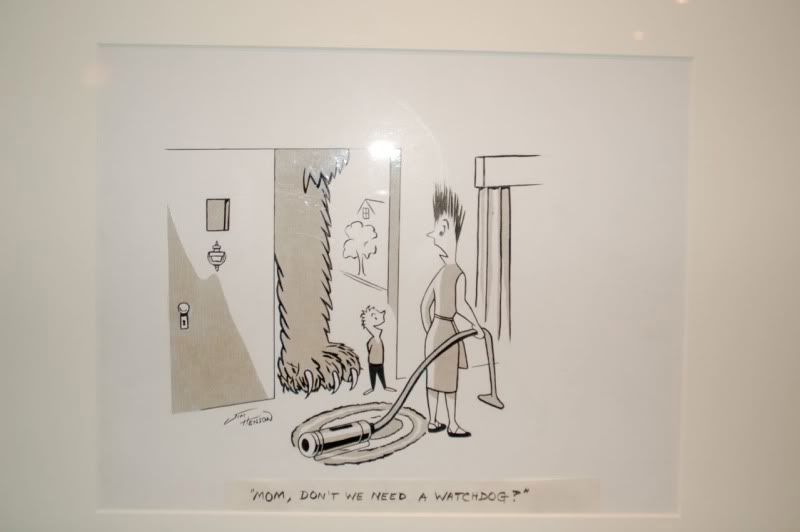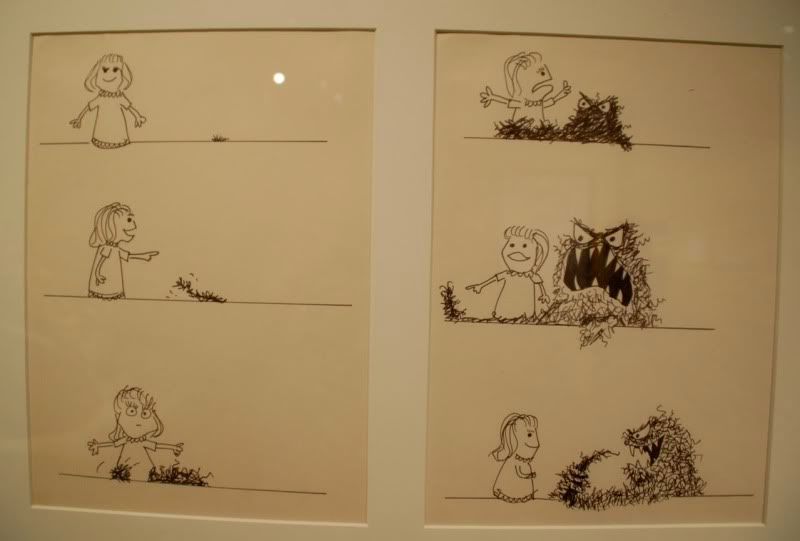 The tour begins with a look at the humble beginnings of Henson. With the limited (but plentiful) space provided, an in-depth look wasn't what was in store. However, there were plenty of sketches, posters, and storyboards to give detailed insight into Henson's genius. As a college student, Henson met many of the people who would become confidants and colleagues throughout his many projects.
Thanks to video, we were treated to a handful of Henson's post-collegiate works: commercials. His beginnings were local advertisements for Baltimore and Washington D.C. (Henson was a graduate of the University of Maryland in the late 50s). His work didn't go unnoticed, as he was eventually doing station identification shorts for nearby television studios before eventually working with national advertising campaigns. While the voices of his early Muppets were identifiable, many of Henson's original creations were rudimentary. The Muppet humor, however, was as sharp and witty as it ever was during Henson's life.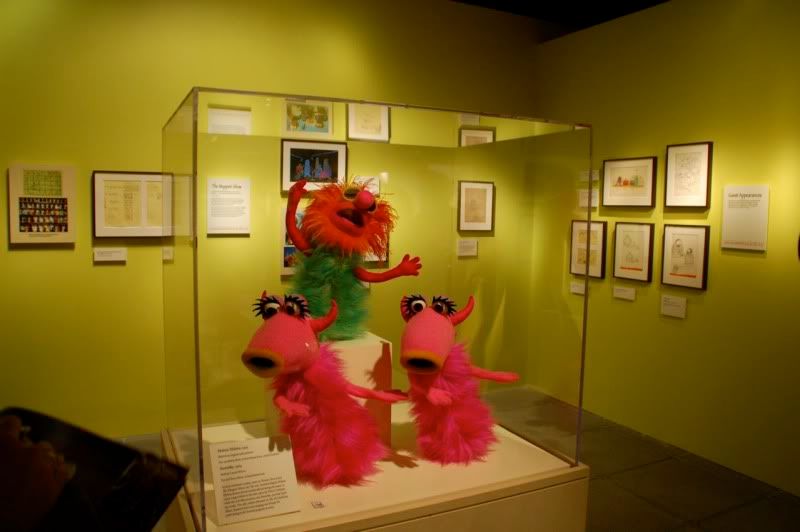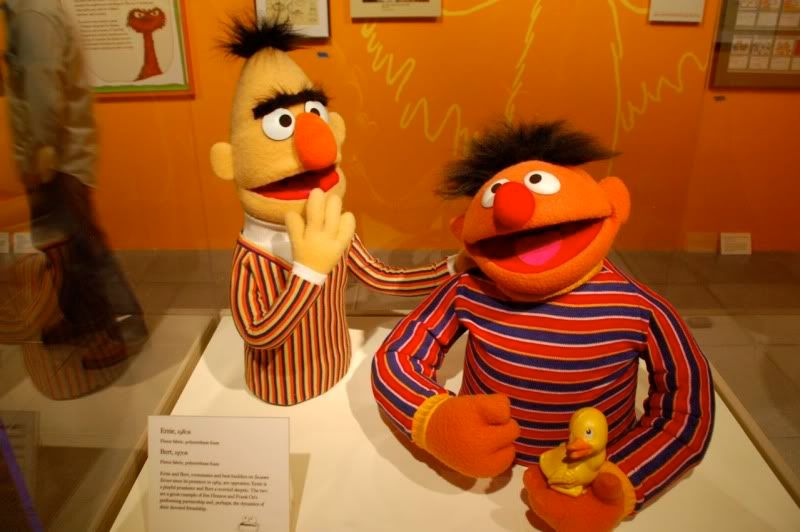 The meaty part of the exhibit lies in the many recognizable Muppets that are scattered throughout the premises. The story they tell, of Henson's initial idea for a Muppets-based show (that initially failed) that morphed in to The Muppet Show more than 10 years later. During his 'starving artist' phase (though he was not starving), Henson flirted with avant-garde film. His pursuit of the equal pleasing medium became a hot button issue for the young Henson: should he follow his keen eye into film or should he try once more to concentrate on the antics of his fabric creations? That decision, fortunately, was made for him when an old friend helping to develop a kid show for PBS rang Henson up. Sesame Street was born and the rest, as they say, is history.
Henson didn't abandon his love of cinema. Beyond the now famous Muppet movies (which aren't represented with any form of memorabilia), the exhibit focuses it's last one-third on the work of The Dark Crystal and the inspiration it lent to Fraggle Rock. There was plenty of Dark Crystal items to behold, and it truly became the first time Henson's England-based shop transformed itself into the juggernaut it is today. The cast, crew, creators, and animators worked on creating a world completely unique and onto itself.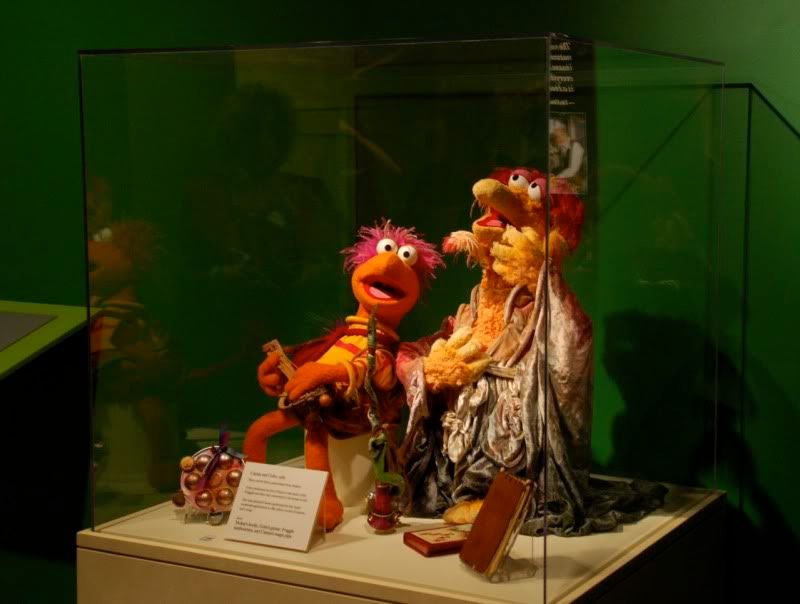 While we were fortunate enough to have the company and wisdom of Karen Falk, the beauty of EMP|SFM is the ability to rent an iPod and have the experience of Falk curating thanks to podcast/MP3. If you bring your own iPod, you can download the podcase/MP3 or you can just download and listen without hitting up the exhibit — it's as easy as visiting the EMP|SFM subsite dedicated to Jim Henson's Fantastic World. However, don't feel the need for a curator as Jim Henson's Fantastic World will allow your imagination to run wild, tapping into those kid sensors that tingle whenever something simple and good comes your way. If you have children, there couldn't be a more (pardon the use) fantastic way to spend an hour.
As it happens, EMP|SFM will be hosting Henson's films — both Muppet and avant — through the exhibit's run (which ends August 16th). Many of the showings will feature those who worked closely to Henson, including wife Jane Henson with a special look at home movies and rarely-seen archival footage. Dates and times can be found at the EMP|SFM website.