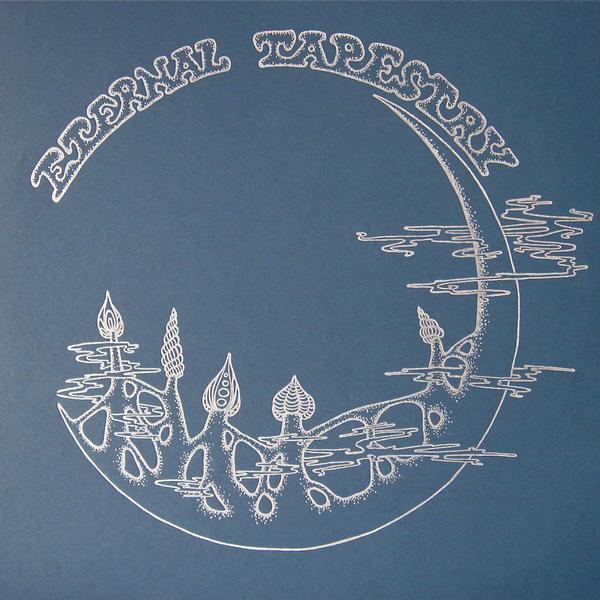 As major labels continue to exist behind the times, artists and labels with little capital and lesser reputations are producing some of the most innovative, interesting, and inspiring music. Whether it's creating a new niche in digital technology or looking to once obsolete formats, Agitated Atmosphere hopes to shed a bit of light and share a bit of information on the up and coming sounds of artists such as Eternal Tapestry.
It has come to my attention that Agitated Atmosphere has been grossly overlooking the Pacific Northwest in favor of delving into the many regional styles and perversions this giant ball of magma and rock has to offer. Perhaps the throwback psychedelia of Portland-based Eternal Tapestry will begin the slow healing process for those who felt the sting of neglect.
Eternal Tapestry – The Hidden Void

Audio clip: Adobe Flash Player (version 9 or above) is required to play this audio clip. Download the latest version here. You also need to have JavaScript enabled in your browser.
Palace of the Night Skies, the latest offering on Three Lobed, is the sort of jam only vinyl can contain. Each side of its glistening black sheen provides a piece of music so heavy, not even Atlas could carry its load. The LP begins with Side A's "Prism Light Traveler," which blends the fire of Hendrix and Grateful Dead jams with the muddy stomps of the Mississippi Delta. Equal parts psychedelic and blues, "Prism Light Traveler" may come close to reproducing the 60s fighting optimism of the Bay Area but it takes a darker detour down seedy alleys and drug dens, scoring a comatose dose of Howlin' Wolf to distort the rainbow aura surrounding the flower children of a bygone generation. "The Hidden Void," Palace of the Night Skies' flip-side, is dirtier and angrier. Rustling up a wall of heavy distortion and painfully slow bends, "The Hidden Void" represents the crashing low to the godly high of "Prism Light Traveler." With every bit of happiness, a soul crushing end awaits, and "The Hidden Void" burns long and hard with its bitterness and vitriol. If you're in a funk or feeling low, it won't be there to offer the friendly hand and good times Palace of the Night Skies' A-side was more than eager to extend. However, the world is light and dark; up and down; good and evil, and Eternal Tapestry encompass the simplicity of all in 35 minutes of acid rock.
Justin Spicer is a freelance journalist who also runs the webzine, Electronic Voice Phenomenon. He writes the Monday News Mash-Up and Thursday edition of Song of the Day for the KEXP Blog. You can now follow him on Twitter.