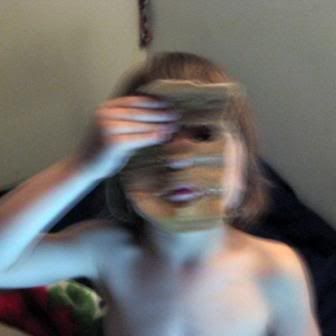 As major labels continue to exist behind the times, artists and labels with little capital and lesser reputations are producing some of the most innovative, interesting, and inspiring music. Whether it's creating a new niche in digital technology or looking to once obsolete formats, Agitated Atmosphere hopes to shed a bit of light and share a bit of information on the up and coming sounds of artists such as Hexlove.
The music of Zac Nelson — if the term music is really the best descriptor — engages the mind like brain freeze. It's fast, cool, and refreshing but the quicker you slurp it through the crazy straw, the more your skull begins to pound and your senses become dull to everything but the piercing throb of slush and cream invading your temperate tubes. The more you try to fight it, the more it beacons. You could try slowing down on your ice cream based treat but if it melts, then so does the delightful cold taste that was the impetus for seeking this particular sweet. So goes Portland-by-way-of Southern Illinois melodymaker, Nelson — better known by his menu name, Hexlove.
Listen to "Relax, Live"

Audio clip: Adobe Flash Player (version 9 or above) is required to play this audio clip. Download the latest version here. You also need to have JavaScript enabled in your browser.
With a treasure trove of small releases under his belt, it happens that Piją Z Bogiem, his second proper full-length released via free jazz frontiersman Valerio Cosi's Dreamsheep label is his most ambitious and skull-pounding mess of Neapolitan, sprinkles, syrup, slush, and nuts to date. Over the course of 20 songs on two discs, Nelson makes a raucous that blends the pop ambition of Ariel Pink and R. Stevie Moore with the far-out compositions of Frank Zappa and Mark Tucker. Piją Z Bogiem succeeds where like-minded contemporaries, such as Quinn Walker's equally ambitious but not near as perverse double disc Laughter's An Asshole/Lion Land crashed and burned. Walker was quick to reign in his ambling, choosing to focus on accessibility rather than the art of creation. Nelson dives head first into the loony bin, collecting every bit of dumpster scrap to fashion his music visions. There are times where it will find you rubbing your forehead in anguish, but more often than not Nelson's ritualistic recordings will create involuntary loss of motor skills in the most delightful and organic way. Piją Z Bogiem is the ultimate mash-up; layers of instrumentation, samples, loops, and drones compete for center stage only to magically meld into one uniform thought. It's the next evolution of pop. Nelson forgoes pretense in favor of rhetoric and somehow it holds together. There are moments of annoyance, such as "Scared of Hate," and "Rock Yourself Out Chah Body," but more often than not Nelson hits the mother of all sundaes. "She Heals Blisters," "Web Circle Spiral Dust," "Relax, Live" and the 15-minute "Herb" will all command repeated listens with their knob-turning distortions, isolated vocals, and tribal rhythms. Piją Z Bogiem is the blueprint for the next batch of pop innovators to follow — if only they can stop the album long enough to create.
Justin Spicer is a freelance journalist who also runs the webzine, Electronic Voice Phenomenon. He writes the Monday News Mash-Up and Thursday edition of Song of the Day for the KEXP Blog. You can now follow him on Twitter.