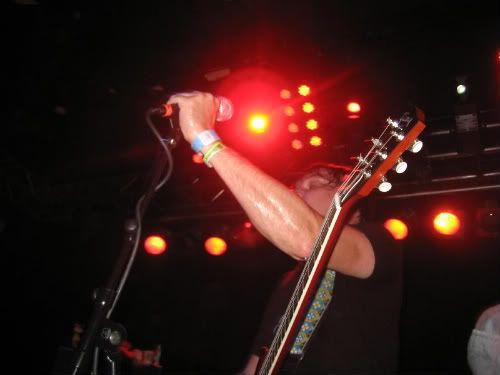 review and photos by Carrie Rubens
It is a rare occasion that an opening band ever trumps the excitement for the headliner, but the situation came gravely close one Tuesday night at Neumo's when Future of the Left played with …And You Will Know us by the Trail of Dead.
The evening kicked off with Seattle's very own, Born Anchors. Gregory Scott's guitar-playing has a quality similar to the post-hardcore stylings of fellow Seattle band, These Arms are Snakes. And given Jason Parker's wailing/singing tones, their sound is even reminiscent of Queens of the Stone Age. Despite the thin crowd, they rocked it and seemed to put in their all. If nothing else, Justin Martinez, on drums, just kept smiling throughout the set.
The crowd quickly multiplied by the time Future of the Left took the stage. Some might remember Jack William Egglestone and Andrew Falkous from the mid-nineties Welsh group, Mclusky. After an unexplained breakup from the group, the two joined forces with bass player, Kelson Mathias of Jarcrew, and formed Future of the Left.

With Falkous' Jello Biafra-esque vocals, and the bass-driven melody amidst a stage cluttered with instruments and equiment, Future of the Left is Cardiff showing Seattle how to rock. Songs like "Adeadbodyalwayssmellsgood" and "Arming Eritrea," were so full of frenetic tension, paired with the band's dry British humor, Egglestone, Mathias, and Falkous had he audience rolling with laughter and dripping with sweat. With a cheeky nod to English protocol, Falkous mentions that "it's so nice to play in a proper fucking crowd… even if some of you are wearing hats indoors."
Falkous and Mathias swap roles between vocals and keys often throughout the set, demonstrating their versatility and keeping the fans on their toes. During the final song, which they described as "prog rock with out the prog (basically a very long rock song)," Mathias jumps into the crowd with his bass while Falkous onstage, started playing his guitar with a drumstick – or rather, ramming it between the strings and sliding it around creating a screeching sound effect. The whole time Egglestone is rocking out on drums, and as Falkous described him, looking like an extra from 300.
There isn't much time to recuperate after Future of the Left, and the adrenaline is still pumping when the lights go out, and Trail of Dead's epically charged intro starts to play as the band files in and takes their place. All the doubts I had before melt away when the lights come back up, up and they drive into "Smile Again" — and I can't wipe the smile off my face.
Conrad Keely plays so hard on "Smile Again," he breaks a guitar string for the first time of the night. The audience was singing with the music, and Neumo's became even more packed than before. Where Future had a handful of die hard fans and recent converts like myself, the collective energy of Trail of Dead fans was exhilarating.
Amidst the reverb and guttural chaos, it's important to listen for Keely's beautiful guitar riffs that are what tangles you in before being enveloped into the ride. "Bells of Creation" starts out harmless and slow, but it begins to feel like you're on the verge of something, like reaching the top of a roller coaster.
At "Caterwaul," Jason Reece joins in on vocals and leans into the crowd from the stage fans in the front row can practically sing into the mic with him, and at the same time get misted with sweat cast off from Keely's headbaning. I really started to pity the fans toward the back of the room because there is no other way to see Trail of Dead play than front and center.
When they play "It was there (that I saw you)" it is most definitely the climax to the show and Reece and Aaron Ford are launched into full forced double-drumming, and are perfectly in-sync. And even when it seems like they go haywire, the drums are still together tightening up at the end with ease, thus proving the chaos was premeditated.
At the denouement of their performance they just keep playing without any breaks, and the transistions between songs is fluid and full of so many more layers of instrumentation, the sound is progressive but with an intensity and anger that makes it a far cry from psychedelic.
Trail of Dead isn't as rambunctious as they used to be, when they used to take shots of whiskey and wreck the stage (and each other) using their instruments and whatever else they could get their hands on. Tonight Keely mentions they are on their 7th month of touring and it's exhausting — but the professionals they are, they muscle through it. Among all the past experimentation and different sounds they've incorporated into their compositions, Trail of Dead have had some highs and lows. They played a show that was representative of their past successes, and certainly picked the best for this tour.
Several things happen during a Trail of Dead show: Keely and bassist Jay Phillips utilize the panel of guitars mounted on the back wall, swapping out for nearly every song, drumsticks, spit, and sweat go flying, and double drumming ensues. However what is most exciting about this band's live show is that that the progression of showmanship remains, especially when you don't think it could possibly get any better.
Born Anchors: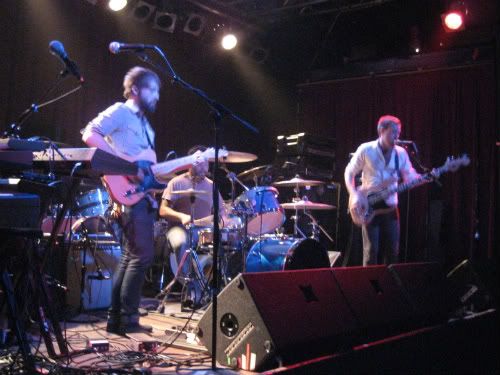 Future of the Left: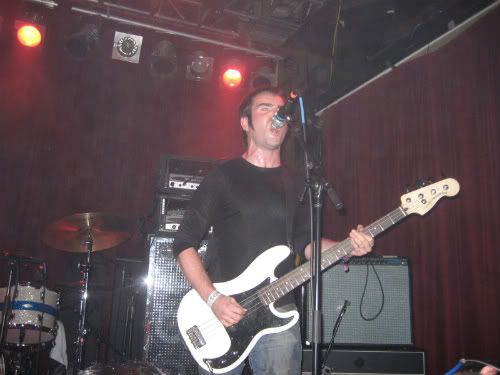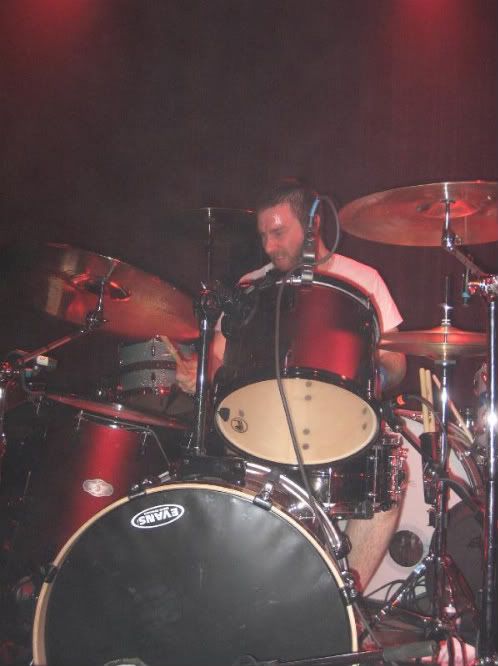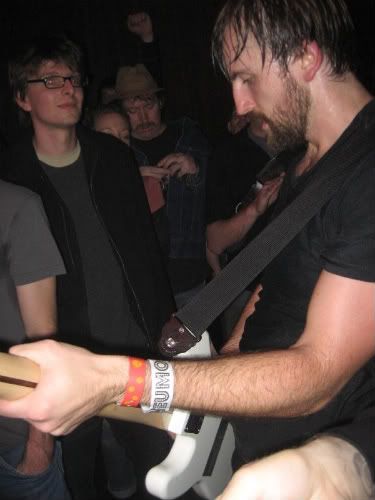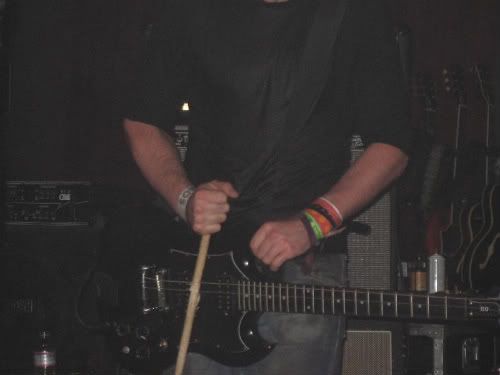 …And You Will Know us by the Trail of Dead: