Amid the deluge of dark and stormy nights that have been sounding off this month, and Champaign, Illinois' Headlights came out to play at The Sunset Tavern on November 8th. For those still adjusting to Daylight Savings, it was high time to get a dose of something sunny and cozy to help get through the darkness of the coming winter months.

Cincinnati, Ohio's Pomegranates got the audience warmed up with their quiet-on-purpose vocals and cascading dreamy guitar licks. Drawing influence from The Talking Heads and Fela Kuti, they delivered a dynamic performance. Last April, they released their sophomore album, Everybody, Come Outside!, from Lujo Records, and I can't wait to hear more from this band.
Anni Rossi drew the audience closer with nothing but an amplified viola, her full-bodied voice, and Devin Maxwell on drums. "West Coast" emulated the feeling of driving down the open interstate when Rossi switched off between plucking the strings and energetic strumming, thus mimicking the wax and wane of anticipation and boredom of the open road. A real crowd pleaser was Rossi's rendition of Ace of Base's "Living in Danger," which had me rethink disavowing the Swedish pop-sensation as thoughtful songwriters. Now, if only I could find my cassette of The Sign.
On "Las Vegas" the classically trained musician played her viola like a guitar, her bow dangling from her index finger like a pendulum. At the chorus, Rossi stomped time with her right foot, and cooly spoke-sang the lyrics, and I truly appreciated the minimalism of her stomp, pluck, and voice.
After a short break, Headlights set up their gear, did a sound check, and eased into the set with "So Much for the Afternoon," but then they kicked it up a notch with the dreamy and driving "Cherry Tulips" — because when it breaks, it breaks big with Headlights, and the audience was breaking their stance and even rocking out a little bit.
Manning the controls and driving the melody with the keyboard, Erin Fein energetically rocked out at her Casio and belted her honey glazed pipes into the microphone. When guitarist Tristan Wraight added his vocals to the mix, their harmonies danced around each other's like Fred and Ginger. Brett Sanderson's drumming, Wraight's guitar riffs, and Nick Sanborn's bass lines — although not technically impressive or complex — seem to have emerged from a distant planet of indie rock goodness.
The new songs really only peppered the set, and I would have liked to have heard more from Wildlife, especially to hear Wraight take the lead vocals on the upbeat — yet upon further examination, disturbing — single "Get Going." However, their lack was understandable given the album's mellow tenor. "Telephones" was enchanting, and "Dead Ends," haunting, but the real moving and shaking happened when they broke out with "TV" from their debut, Kill Them with Kindness.
Headlights' performance at The Sunset early this month was a step in the right direction from their May show at The Nectar Lounge, and it's exciting to see our Midwest friends keep at it and evolve, and keep coming out West with such energetic and solid performances.
Anni Rossi: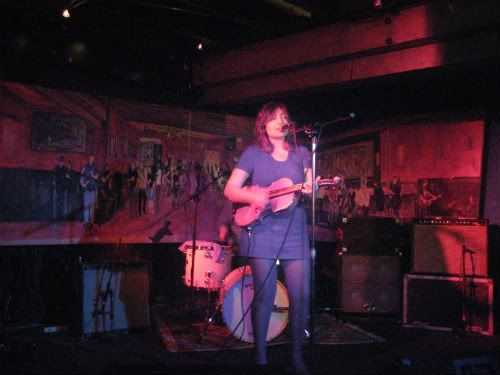 Headlights: