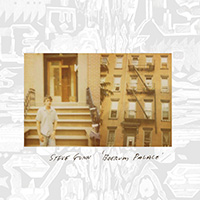 As major labels continue to exist behind the times, artists and labels with little capital and lesser reputations are producing some of the most innovative, interesting, and inspiring music. Whether it's creating a new niche in digital technology or looking to once obsolete formats, Agitated Atmosphere hopes to pull back the curtain on a wealth of sights and sound such as Steve Gunn.

Steve Gunn is best known for his blistering contributions to the trio, GHQ, but within the walls of Boerum Palace, Gunn steps onto the royal stage for a solo album of penetrating psych and twang that shakes the foundation of the album's namesake. The album, released at the end of 2009 by Three Lobed, is a stunner to any GHQ follower or Gunn enthusiast. Gunn doesn't so much as turn his back on his past guitar explorations; rather he reinvents them into a hefty combination of heartfelt southern pangs and acid-laced bends.
The album is brimming with standout tracks but leave it to Gunn to produce two songs that marry the two primary influences of Boerum Palace in unrivaled bliss. Side A finale "House of Knowledge" begins with a traditional open folk tuning — innocent but catchy — but the jangled strums are soon parted like the Red Sea with a fiery scale of tie-dye riffage that scorches the earth around Boerum Palace. The first time you hear it, it'll knock the wind out of you as flame and hand meet for the first time. With future listens, although you know the flame is coming and its heat intense, you still hang your fleshy appendages over the hearth of "House of Knowledge" because of its radiating warmth. The monotone vocal pairing of Gunn and Heidi Diehl only stokes the flames, lending the molten track an air of eerie calm. Surrender; don't dare fight the heat.
Listen to "House of Knowledge":

Audio clip: Adobe Flash Player (version 9 or above) is required to play this audio clip. Download the latest version here. You also need to have JavaScript enabled in your browser.
Side B closes out with the equally white hot "Mustapha's Exit." Unlike its Side A counterpart, "Mustapha's Exit" burns not with the heat of hell but with the passion of heaven. The track displays Gunn's nimble fingers, combining the essence of Indian folk melodies with modern raga rhythms to produce an track that is just as infectious as the whole of Boerum Palace while displaying the talent of Gunn without that bitter jam band aftertaste. Steve Gunn has outdone himself and not to reward this remarkable feat with at least a cursory listen would be cheating yourself of one of life's great (and simple) pleasures.
Justin Spicer is a freelance journalist who also runs the webzine, Electronic Voice Phenomenon. He writes the Monday News Mash-Up for the KEXP Blog. You may follow him on Twitter.