I'm not entirely sure what it was that started my musing on Canadian musicians over the weekend. Perhaps the announcement of the short list of nominees for the 2010 Polaris Music Prize (which includes KEXP faves Caribou and Broken Social Scene, Owen Pallett, and seven others)? Maybe it was Skylaire Alfvegren's excellent article "Grokking Rush" in the July/August issue of The Believer (their must-have annual music spectacular), or reeling from the memory of Cheryl Waters ending the Midday Show Dominion Day blowout with "Tom Sawyer." In any event, I did what all music geeks do when they fixate on a particular topic, and began making a mental list, in this case of favorite Canadian artists.
Some of them were obvious, the world-class contenders: Leonard Cohen, Joni Mitchell, Neil Young. Others came from my personal pantheon, with its obvious biases towards '80s new wave (Martha and the Muffins, Rough Trade), skinny boys with floppy hair (the aforementioned Mr. Pallett, Jeremy Shaw of Circlesquare), and ladies who turn country on its head (Carolyn Mark, k.d. lang). And, of course, Jane Siberry, who by rights should be in that first, iconic category, even though she's more often pigeonholed as a "cult" artist.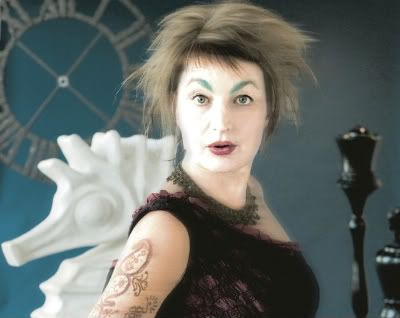 In addition to bands with funny haircuts, I listened to a fair amount of show tunes and musical satirist Tom Lehrer in my youth. Consequently, in 1984, when I heard Siberry's OCD masterpiece "Symmetry (The Way Things Have To Be)" and its insistent tag "you can't cut down symmetry" on WHFS, I had to have more. I bought the first copy of her sophomore album, No Borders Here, that I could get my mitts on. The wit she displayed on originals like "The Waitress" ("I'd probably be famous now if I wasn't such a good waitress") and "Extra Executives" ("his card says executive/but it mumbles just a salesman") spoke to the part of me that loved wordplay, while more reflective selections such as "Dancing Class" resonated with my affected fantasies of spending the rest of my life walking alone on an autumnal beach, wrapped in an over-sized sweater while thinking very deep thoughts.
I continued to champion Siberry throughout college and my early writing career. I even contributed the entry on her to the Trouser Press Guide to '90s Rock. But I stopped following her closely not long after; her later albums didn't connect with me as powerfully. I could appreciate their merits, but didn't feel compelled to listen.
Having only ever owned my favorite Siberry albums on vinyl, when I fell into this weekend's Canadian reverie I wanted to load them on my iPod. Which led me to an amazing discovery: Jane Siberry's entire back catalog is available on the web FOR FREE. I know, I know… isn't everything? But this is completely legal. Siberry knows a lot about giving things away. In 2006, she shuttered her own independent record label, and gave away or sold almost all her possessions, save a guitar and a few treasures in storage. She even got rid of her home, and took to leading a nomadic existence. So it really shouldn't come as a surprise that two months ago, she made all her old music available for free on her official website.
All she asks in return for this bounty is that people pay it forward. If you like what you hear, tell someone else. Well, I spent an inordinate amount of time this weekend indulging in hours of music by one of my all-time favorite musicians — Canadian or otherwise — at no expense, so I'm happy to oblige.
DJ El Toro hosts the variety mix show on Wednesday nights from 9 PM to 1 AM on KEXP 90.3 FM Seattle and kexp.org. His column, "Weird At My School," appears every Monday on the KEXP Blog. Please follow DJ El Toro (aka Kurt B. Reighley) on Twitter!