I feel sorry for kids today. A playlist or a click-and-drag "mix" CD is no substitute for the thought- and labor-intensive glory of a bona fide mixtape. Two-and-a-half years since my first mixtape-related post, I still cling to the customized cassettes of my adolescence and early adulthood more fervently than most family heirlooms. Yesterday, in a fit of nostalgia, I took a quick inventory and discovered my first boyfriend alone is responsible for 43.5* of those tapes! So why don't I know if he's alive or dead today?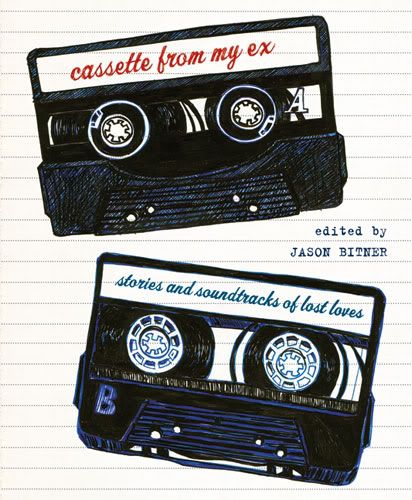 What triggered my digging through the archives? The hardback edition of Cassette From My Ex: Stories and Soundtracks of Lost Loves. Edited by Jason Bitner, the co-creator of FOUND magazine, this charming volume compiles the greatest hits from the website of the same name. Perhaps the best known vignette here is "'John' Tape, Circa 1986," wherein The Magnetic Fields' Claudia Gonson introduces the teenage BF who shaped her musical tastes as profoundly as her creative foil Stephin Merritt, but the others are just as compelling. And reassuring. Reading other people's reflections on how their raw, naïve, and occasionally even calloused feelings apropos of pivotal (and a few not-so) relationships and the tapes that served as a soundtrack-cum-keepsake makes one's own warts-and-all foibles seem less embarrassing.
In addition to mixtape memories from contributors including Rolling Stone/MTV vet Jancee Dunn, arty chanteuse Anna Domino, and Love Is A Mix Tape author Rob Sheffield, plus fifty-something others, this book includes sidebars on how to repair damaged cassettes, dos and don'ts (you did remember to punch out the tabs when you finished, right?) and much more. Perhaps best of all is the artwork, which includes photos of the original cassettes and handwritten track listings and artwork. Kudos to KEXP blogger Chris Estey, whose curlicue inscriptions in silver ink on black construction paper for his "33¢ at Jive Time" tape left a lasting impression on contributor Mairead Case.
The only thing missing? The actual music. But don't panic. No need to spend countless hours compiling your own versions of these dusty treasures. There's a host of them archived on the original blog. Which means you can prop the laptop open while perusing the book, and listen and read simultaneously. I'm bopping my head to Velocity Girl's "Sorry Again," from Side B of "Scissors and Snare Drums" — celebrated in the essay of the same name by Michael Hearst of One Ring Zero — even as I type this.
Now, would someone would please develop an app where I can just hold my iPhone up to the boombox while it's playing, and tell me the whereabouts of the tape's original author? I have some serious thank-you notes to write, but no idea where to send them.
* The half stems from his tape collaboration with our mutual friend Robert; they each filled one side of a C-90.
DJ El Toro hosts the variety mix show on Wednesday nights from 9 PM to 1 AM on KEXP 90.3 FM Seattle and kexp.org. His column, "Weird At My School," appears every Monday on the KEXP Blog. Please follow DJ El Toro (aka Kurt B. Reighley) on Twitter!