I am racing out the door to catch a plane at JFK, so I must keep this brief: This week/end I was lucky enough to spend a couple days in New York City. I came out to interview the legendary funk-soul guitarist Dennis Coffey, but I made time for lots of other culture, too: The National at Terminal 5; St. Vincent at Summerstage. But by far the extracurricular activity I was most psyched about was Christian Marclay: Festival, a retrospective of works of one of my favorite American fine artists. Marclay's work explores — and sometimes explodes — the points of intersection between sound, objects that make or represent sound, visuals, and textures. (I can't recall a Marclay piece with an olfactory component, but in New York City, there's always a top note of "what's that?" tickling your nostrils anyway.)
The day I visited, percussionist and composer Ikue Mori — perhaps best known for her work with '70s No Wave trio DNA — performed Marclay's "Sixty Four Bells and a Bow." (2010). The orchestra, such as it was, consisted of myriad bells Marclay has accumulated (pictured above): Dinner bells, souvenirs, and so on. The afternoon I attended, Mori's assistant was having some technical difficulties with the clapper in one particular instrument; the fact it was molded in the image of the Disney character Goofy lent it unique sonic properties, both pro and con.
If you have occasion to visit the Big Apple before the show closes at the end of September, I highly recommend it; there's virtually no overlap that I could see from the Marclay show hosted by Seattle Art Museum a few years back. You can even participate in one of the "Festival" pieces, "Chalkboard" (pictured below).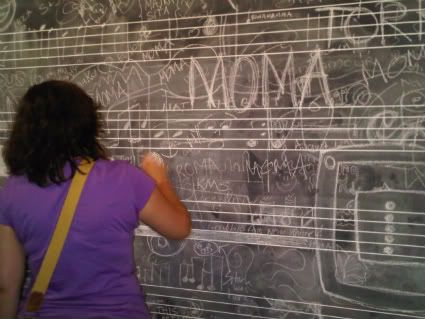 "Chalkboard" is a sort of ever-changing variation on Marclay's recent work "Graffiti," where folks make their own notation on a giant staff, and at periodic intervals solo musicians try to play the score back as literally as possible. Coincidentally, there's a new CD recording of Graffiti Composition out now, described thusly by the fine folks at Forced Exposure:
In 1996, Marclay plastered more than 5,000 posters of blank sheet music in public places throughout Berlin during a month-long sound festival. The posters functioned as an open invitation to the public to scribble musical notes, or any other type of graffiti. Marclay photographed the graffitied sheets, selected 150 from the group, and compiled them into a portfolio intended to be interpreted and performed by musicians. Graffiti Composition is the live recording of a one-time performance at the Museum of Modern Art, New York in 2006. Led by Elliott Sharp, it features five world-renowned guitar players: Melvin Gibbs, Mary Halvorson, Lee Ranaldo, Vernon Reid, and Elliot Sharp.
Can't afford a ticket to New York? No worries. Marclay is one of those great fine artists whose work is available at all price points. I picked up one of his 7-inches in the gift shop (although I was reluctant to shell out $50 for an LP of a recording of the notorious "Guitar Drag" piece; I'll just watch the YouTube video again, thanks). But if you don't know his oeuvre, start by looking at images of some of the pieces; the Festival magazine published to coincide with the exhibit is a great, inexpensive place to start, and Marclay's sounds make more sense once you understand their relationship to the visual elements of music and noise, too. I'm psyched to peruse it on the long flight home!
DJ El Toro hosts the variety mix show on Wednesday nights from 9 PM to 1 AM on KEXP 90.3 FM Seattle and kexp.org. His column, "Weird At My School," appears every Monday on the KEXP Blog. Please follow DJ El Toro (aka Kurt B. Reighley) on Twitter!