Once upon a time, in the dark days before YouTube made international stars of William Hung and Wing, it took a very special kind of bad singer to reach a wide audience. Despite lacking even a fundamental grasp of such basics as pitch and rhythm, notorious soprano and socialite Florence Foster Jenkins ("the first lady of the sliding scale") subsidized a long, lavish career and eventually played Carnegie Hall. Mrs. Miller's tuneless attack on Petula Clark's "Downtown" cracked the Billboard Hot 100 in 1966. And don't get me started on the calculated, so-bad-it's-brilliant genius of Jonathan and Darlene Edwards. But while these cult favorites have somehow survived into the digital age, one of their greatest contemporaries is only just now making her CD debut.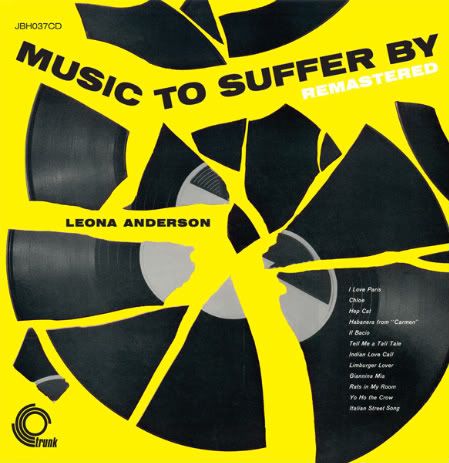 Originally issued in 1958, Leona Anderson's Music To Suffer By is one of those highly coveted albums that more collectors have heard of than actually heard. Enter Jonny Trunk, author of MOJO's monthly "Weird Record Club" column, who just rescued this disc from the dustbin of history and reissued it on his Trunk Records imprint. Remastered, naturally, to enhance every bum note and ghastly croak for a new generation. True, the grizzled lass billed as "the World's Most Horrible Singer" is merely wretched on standards like "I Love Paris" and "Indian Love Call." But when paired with original material as bewildering as the reality of Anderson's recording career, she is 31 flavors of rotten, as on the bluesy (sorry) "Limburger Lover," or "Rats in My Room," a bit of brass-driven pomp and circumstance in which the singer squares off with the vermin that infest her humble home.
When it comes to excruciating mid-century masterpieces, Music To Suffer By is pretty vanilla compared to such gut-wrenching masterpieces as Ilhan Mimaroglu's 1965 electronic composition "Agony." But Leona Anderson definitely could've taught William Hung a thing or two. Thank God she didn't.
DJ El Toro hosts the variety mix show on Wednesday nights from 9 PM to 1 AM on KEXP 90.3 FM Seattle and kexp.org. His column, "Weird At My School," appears every Monday on the KEXP Blog. Please follow DJ El Toro (aka Kurt B. Reighley) on Twitter!