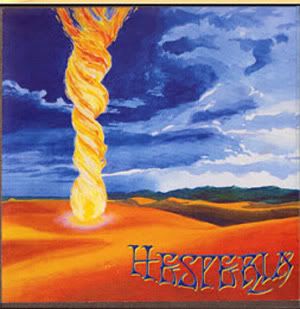 As major labels continue to exist behind the times, artists and labels with little capital and lesser reputations are producing some of the most innovative, interesting, and inspiring music. Whether it's creating a new niche in digital technology or looking to once obsolete formats, Agitated Atmosphere hopes to pull back the curtain on a wealth of sights and sound from luminaries such as Hesperia.
Subtlety dots this mysteriously cryptic from an individual known only as Hesperia. Carefully tucked inside the first four releases from equally secret label, Desert Lotus, the guitarist from the label's spiritual center Journey to Ixtlan composes minimal riffs meant for deep meditation. The black-on-black CD-R; no titles; the voodoo landscape that dots the front of the flower petal case — it all sets the table for a hypnotic trip.
Listen to Track 5:

Audio clip: Adobe Flash Player (version 9 or above) is required to play this audio clip. Download the latest version here. You also need to have JavaScript enabled in your browser.
Promised as the soundtrack to a late night drive, Hesperia's output is just that. It swims in black waters, naked and free from conventional music constraints. Despite a repetitive nature, there's plenty of variation in the bends, slides, and strokes to break up the glazed melodies. A cool emanates from Hesperia, who was inspired to record these tracks after the death of a close friend. But there is little remorse to be found, rather than album displays an aloof cool. The paired down riffs reflect darkness but their blend of psych, folk, doom, and blues seem to celebrate the overlooked bits of life. Music such as this will always breed clichés, it's entrenched in nostalgic mood. We all can bond over warm summer winds, dusty backroads, and midnight abandonment because we've collectively experienced it. This is the metronome that keeps time for Hesperia. Each pendulum swing — each strum of a chord — is a memory collected and cherished. As heavy a trope as it may be, it's time to jump in your car for a late night cruise with the windows down and Hesperia ringing from the speakers. Life is fleeting and so too are the moments to experience its minuscule pleasures.
Justin Spicer is a freelance journalist who also runs the webzine, Electronic Voice Phenomenon. He writes the Monday News Mash-Up for the KEXP Blog. You may follow him on Twitter.