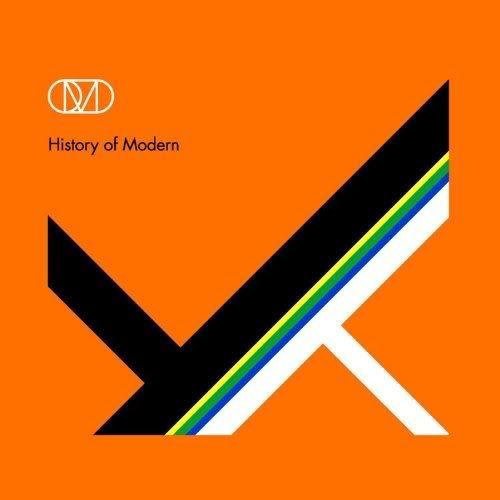 My friend Wes and I were talking about records as "fetish items" the other day. He's trying to decide whether or not to try and find a new label for his next album, or self-release (as he did with his last one), or forgo a physical record entirely. I mentioned that I'd learned how to make a book this past weekend, at a party for Seattle Center for Book Arts, and that I planned to continue down this path so I could eventually have my own bespoke publishing company. Wes pointed out that this trend — the physical thing as beautiful fetish object in an otherwise digital world — has gone to some cool extremes in the music world lately, particularly with Tom Waits and Elvis Costello issuing custom 78 discs.
Of course, collectors of pricey new wave imports have been familiar with this practice of releasing music in odd formats to whip up extra interest for decades. The picture disc, the limited-edition double 7-inch with exclusive b-sides, the cassette-only track. And UK synthpop duo Orchestral Manoeuvres in the Dark did it as well as the best of them — as one would expect from a band who issued its first single on Factory Records, the leaders in music-related fetish objects. One of the Holy Grails of my youth was the 10-inch single of OMD's "Messages," which featured a mix unavailable elsewhere, the non-LP cut "I Betray My Friends," and a live cover of Lou Reed's "Waiting for the Man." I was first in line at my local record store to buy an import copy of the 1984 album Junk Culture, complete with the one-sided instrumental 45 "(The Angels Keep Turning) The Wheels of the Universe." (All those tracks, except for the 10-inch mix of "Messages," are anthologized on the excellent Navigation: The OMD B-Sides, for those of you too lazy to root out your own truffles.)
The original lineup of OMD got back together recently and issued an excellent album earlier this year, History of Modern. Yes, "Sister Marie Says" sounds suspiciously like "Enola Gay," and there are echoes of moody vintage OMD cuts like "Joan of Arc (Maid of Orleans)" and "Stanlow" juxtaposed with the poppier moments throughout the 13-song set. Yes, this is familiar ground, right down to the analog synthesizer and Mellotron timbres and sing-along choruses, but let's be adult: Would you rather listen to OMD rehash Organisation or The Pacific Age? There are good reasons why "(Forever) Live and Die" doesn't crop up on Best of the '80s comps and "Electricity" does, even though the former was a much bigger hit in the U.S.. Besides, why should contemporary acts like Diamond Rings have all the fun with the OMD template in 2010?
In keeping with tradition — and savvy marketing — History of Modern is available in myriad formats and configurations, including a rather pricey box set that includes the entire album on CD and double-LP, a CDR of demo versions, a bonus DVD, and gatefold photo spread, all housed in eye-catching orange and black packaging courtesy of Peter Saville. Is this edition necessary? Hell no. This isn't bloody Pet Sounds, it's an OMD record. Does it make the experience of buying the new OMD record more fun for a diehard fan? Yes. In fact, initially I was sort of put off by the absence of certain extras that seemed obvious to me: None of the official videos released is on the DVD (although the snippets of OMD collaborating with the Royal Liverpool Philharmonic make it worth watching, regardless), nor did they include any of the myriad remixes floating around the net.
But then I realized there was a certain beauty to that decision. It focuses all the attention on the album as an entity in-and-of itself. And it's a good album, worthy of your attention. Not that I'm insisting that you rush out and buy this E ticket item. But give a listen to these free remixes of "Sister Marie Says" and "If You Want It," and check out the aforementioned videos, and if you like what you see, you might want to pop over the OMD web shop and pick up at least the standard version of the album. Although that "Ultimate Bundle" with the limited edition single including an exclusive non-LP song and T-shirt looks awfully sweet, too…
DJ El Toro hosts the variety mix show on Wednesday nights from 9 PM to 1 AM on KEXP 90.3 FM Seattle and kexp.org. His weekly rant, "Weird At My School," appears infrequently on the KEXP Blog. Please follow DJ El Toro (aka Kurt B. Reighley) on Twitter and/or Tumblr!