Seattle is an intricate web of talented musicians, under-appreciated writers, behind the scenes game changers, unbelievable photographers, starving artists, and just your all-around lovable socialites. They make up the backbone of this city with their words, their art, their songs, and their public drunkenness. Their ambitions are ever-flowing, and their goals admirable. Here's the people that make Seattle what it is. And these are their resolutions for 2011.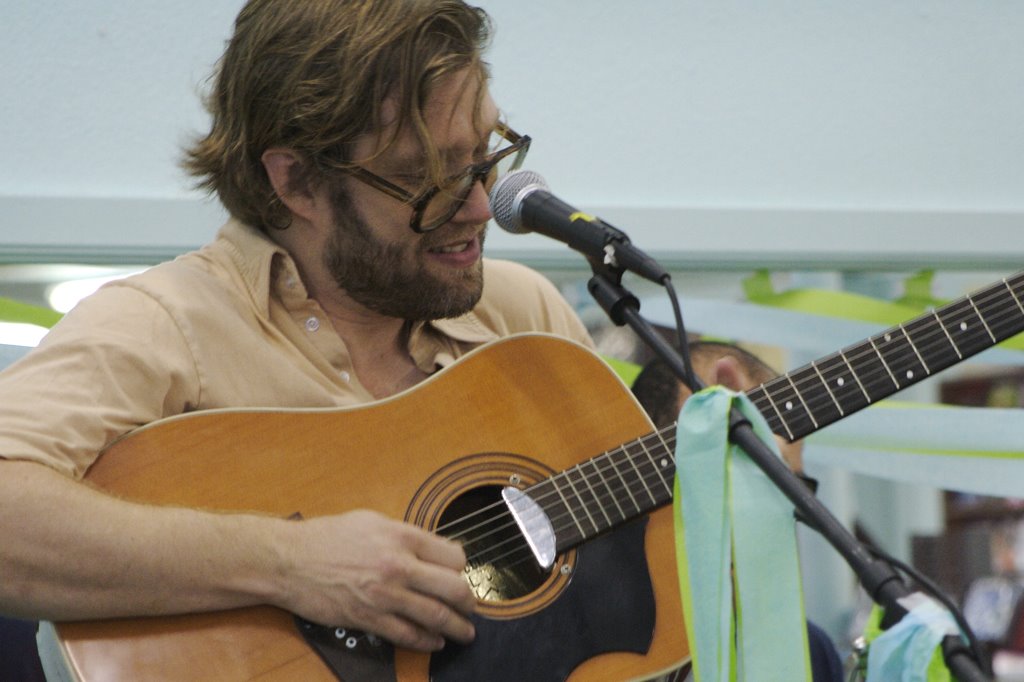 John Roderick of the Long Winters, Reverb resident writer, Seattle Weekly
I've made quite a few resolutions the last couple of years and have run through them like they were red lights and I was in a high-speed police chase. Obviously, the resolution-based system of encouraging oneself to strive for better in the coming year does not exert enough authority on my subconscious. So I can't make any new resolutions. I don't want my mental desk-drawer to fill up with metaphorical unused gym membership cards, or to make promises to KEXP about a new Long Winters record like I've done the last two years only to spend another six months in Mexico searching for the lost treasures of the Sierra Madre. No!

Instead I will just wish everyone good luck with their own resolutions and resume my Laocoonian posture of wrestling with the serpent of sloth, aided by my two sons, Ambition and Fun.
Damien Jurado
, musician &
Sarah Jurado
,
photographer
Damien:
– good health, quitting smoking, the old standbys
– a new album [!!]
– fixing up [my] '74 Volvo

Sarah:
– a solo show of travel photos
– take a non-tour-related trip overseas
– giving more, wanting less
David Meinert
, owner of Capitol Hill Block Party,
the 5-Point Cafe
& Onto Entertainment
In 2010 I want comprehensive Liquor Law Reform in Washington State, including the privatization of Liquor Distribution, No closing times for liquor service in bars, musicians being allowed to drink on stage, and liquor being available in strip clubs, to mention just a few things. I'd also love to see the State and City loosen up the restrictions on video slot machines – more revenue for business, the City and The State.

And I'd like to see our city continue to embrace music – more local music at the airport, more venues, festivals, and more artists. Music makes our lives better.
Kimya Dawson
of
the Moldy Peaches
I am working on 2 new albums (one solo and one as a duo with Aesop Rock) and can't wait to be able to share my new stuff with you guys!

1. Staying present as a parent and less distracted by gadgets.

2. Work on differentiating between compassion and codependency. Figuring out how to be caring and generous without being a rescuer and enabler.

3. Making the most of my time. Putting myself out there, living boldly and strongly, and having a lot of adventures (including as many rollercoasters and waterslides as possible).

4. Practicing mindfulness in all aspects of my life.

5. Laugh as much as possible.
Ken Stringfellow
of
The Posies
, R.E.M., The Disciplines
My resolution this year is to make music that reflects my environment even more than previously. The music, sounds, moods that surround me. I'm always trying to get further and further from my own head.

I try and keep in mind the quote from Jean Seberg about acting, can easily be applied to music, or whatever — "I have come to learn that the less I know about acting and the more I know about everything else, the better I`ll be at both acting and living." Music I know, and know it well. The rest, I always want to know more. And, so, not so much a resolution, but a directive. We all know resolutions are forgotten roughly around Jan. 4…I'm 42, I've been thru a few of these before!
Matthew Caws
of Nada Surf (both
The Weight Is a Gift
and
Lucky
were recorded in Seattle!)
This year i resolve to to take time out of the "directionless internet wandering" column and put it in the "practice fingerstyle guitar" column. a) for the sake of being better at it and b) so that i can accompany myself when i can't find a pick, which, unbelievably, still happens. I must have bought at least a thousand by now! Where on earth do they go?
Dow Constantine, King County Executive
Balance the budget. Save the environment. Restore prosperity. Liberate the oppressed. See more shows.
Dave Segal, music writer, The Stranger
-That musicians leave MySpace for Bandcamp and SoundCloud. The latter two sites are so much more pleasant spaces on which to listen to music.

-That the good people who book shows at Cairo can find a bigger space in which to host said shows.

-That the wonderfully strange Children's Hospital — a group consisting of A Frames guitarist Erin Sullivan and his wife, Laura Cassidy — play out. They are the Seattle music scene's best-kept secret. (Oops, not anymore.)

-That the electronic-music savants who run Decibel continue to book amazing shows—and maybe even make a profit in 2011.

-That I conceive a marketable idea for the 33 1/3 book series. I thought I had a surefire winner in 2003 with Kraftwerk's Computer World, but apparently that proposition was too obscure or edgy for the series (or my pitch wasn't compelling enough; there's always that possibility).

-That I find an energy drink that doesn't taste toxically synthetic.

-That people at venues and bars stop carding me. I haven't been underage since the first quarter of 1982.

-That I can get more DJ gigs to make money to buy more records with which to help me procure more DJ gigs.

-That I can help to foster a greater interest in prog rock, both old and new. This is seriously some of the greatest music ever, but a lot of folks have foolishly knee-jerk biases against it. (Blatant self-promotion: I DJ at a prog-rock-centric night at the Living Room bar with four other knowledgeable heads.)

-That I will learn once and for all how to render correctly oOoOO's name.

-That people stop reflexively hating anything that could be classified as "chillwave." Realize that there are good and bad artists in any genre — except in third-wave ska, which is beyond the pale.

-That all the cigarette smokers whom I care about quit the habit.
Troy Nelsen & Mackenzie Mercer of The Young Evils
Make new, new years resolutions.
Record our new album.
Hit the fuzz pedal during the recording of our new album.
Watch every episode of Sex and The City. Again.
Find new dresses for live shows (Mackenzie)
Pretend to help Mackenzie find dresses for live shows (Troy)
Beat Troy at Texas Hold 'Em, all year long.
Avoid ending up on the show Hoarders.
Quit smoking.
Start smoking after quitting smoking.
Quit smoking after starting smoking after quitting smoking.
Wash my hair more (Troy)
Wash my hair more (Mackenzie)
Stay positive, focused, and loving.
Sean Pecknold, local director/filmmaker
Circumnavigate the globe without using air transport. Ships, trains, bikes, buses, horses, and camels. Also to try and find happiness in people and not on the interwebs.
Visqueen, local musicians
Ben: "Flush out my liver a little bit, with water."
Rachel: "To not eat like the hotdog ghost in Ghostbusters."
Cristina: "To be more reckless."
Tomo Nakayama of Grand Hallway
My resolution this year is to buy music only on vinyl from independent record stores or directly from the bands.
Jesse LeDoux, local graphic artist
I need to get out more. It's far too easy for me to lock myself away in my studio for days at a time. Although I've typically got a handful of great projects on my plate, they're never as enjoyable as seeing a new show or an old friend.
Jason Dodson of The Maldives
In the year 2011, I resolve to get in shape for once in my life. Seriously. I've spent much of 2010 having fun and doing what I damn well please, but I need discipline! I ain't getting any younger, and it might be nice to live up to whatever expectations my grade school P.E. teacher had for me. (Mr. King was a tyrant). Along the same lines, I resolve to quit drinking. Yeah, right. That'll be the day! I, at least, resolve to quit buying a bottle every few days. There's only so much the mythology of the rock star lifestyle can afford you if you take it to heart. Keith Richards be damned! I'm starting over. Nothing but clean living for this Maldivian! That said. I think I'm gonna be spending a lot more hanging time with my Moondoggie pal Kevin Murphy. We started a project about two years ago, the Cosmic Panther Land Band, and I mean to see that album through! Gawd save KEXP!
Kristen Blush, local photographer (Blush Photo, The Stranger)
I'm turning thirty in 2011, which for some reason, changes everything. Frankly, I'd like to spend my summer birthday in Greece, on a beach, in a hot bathing suit. So, let Macrobiotics and fitness begin! For realz this time. ;)
The Head & The Heart, local musicians
See as much of every city we visit, meet new buddies, eat a few snacks and push our songwriting further
Kaz Nomura of PWRFL Power
my life goal for is to finish smoking rather than "quit smoking". I am a compulsive buyer and when I started smoking a pipe, I immediately ordered 50 tins of tobacco (about 6, 7lb of tobacco) and 7 more pipes. Now I don't even like smoking but I have a pile of tobacco. I will try to smoke it all up and get ready for smoke-free 2012.

my music goal is to make electro beats. I just got a setup to make dance music. You will see me making beats that are as big as a whale and as powerful as an atomic bomb.
Andrew Matson, music writer for the Seattle Times (Matson on Music)
Always wear earplugs at concerts, not just sometimes. Always.
John "Grynch" Overlie
Get back in shape and get this new album done
Litsa Dremousis, local writer (Esquire, Nylon, NPR)
1) To finish my novel and hand it off to my agent.

2) To convince the Centers for Disease Control and the National Institutes of Health that the way to cure seemingly intractable illnesses is to offer researchers free head and pizza for life. Because the current incentives obviously aren't working.

3) To stop saying "dude" so much.
Mark Baumgarten, Executive Editor at City Arts
This year I resolve to drink less, smoke less, listen more, read more, travel more, watch less reality television, watch more films, spend more time staring at the sky, spend more time in my basement, write and record an e.p., write a book, invent two jokes, discover three amazing artists, make peace with my girlfriend's cat, make more time for my girlfriend, check my blood pressure twice a week, call my parents more often, send more music to my brother and sister, spend less time on the Internet, spend more time with a pencil in my hand, laugh more, cry more, and be more honest and thoughtful in my writing.