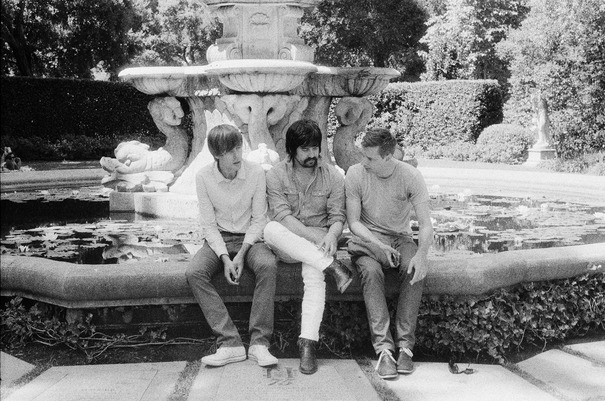 Every Monday through Friday, we deliver a different song as part of our Song of the Day podcast subscription. This podcast features exclusive KEXP in-studio performances, unreleased tracks, and recordings from independent artists that our DJs think you should hear. Each and every Friday we offer songs by local artists. Today's selection, featured on the Midday Show with Cheryl Waters, is "Pineapple Girl" by Mister Heavenly from their 2011 album Out of Love on Sub Pop Records.
Mister Heavenly – Pineapple Girl (MP3)
I knew I'd heard the name 'Mister Heavenly' before, but I couldn't remember where. A quick Google search gave me my answer: they were the band that featured actor Michael Cera (Superbad, Youth in Revolt, etc.) on bass during their tour last fall, beginning with their first ever show at the Moore Theater, right here in Seattle. After such a blatant publicity stunt, I put off giving a shit about the band, assuming they were probably some group of over-dressed Los Angelenos looking for attention more than to make good music.
It turns out Mister Heavenly, whose debut album Out of Love is set to be released on Sub Pop on August 16, is actually a super-group of sorts (isn't it a little excessive to call any band comprised of members of other bands a "super-group?"), featuring Ryan Kattner of Man Man, Nick Thornburn of Islands and The Unicorns, and Modest Mouse's Joe Plummer. Their poppy indie rock doesn't bring to mind any of the members' other bands in particular, but it isn't hard to pick out the pieces of where they came from. They recorded Out of Love live, on tape, and in only 12 days from Bear Creek Studio in Woodinville, WA, and though they seemed to eschew a lot of the production technology that could have been at their disposal, and, according to their Sub Pop bio page, they are indebted to pre-rock-and-roll 50s doo-wop, their music doesn't seem to be particularly not modern. Today's featured song "Pineapple Girl," however, is an ear-pleasing, light-hearted song inspired by, are you ready for this? …a correspondence between 10-year-old Michigan resident Sarah York and Panamanian dictator Manuel Noriega. So I guess you could call that a throwback to the 80s.
Mister Heavenly will begin touring almost immediately after the release of Out of Love, kicking things off at Branx in Portland on August 18. Two days later, on the 20th, they'll be playing Chop Suey in Seattle. For more tour details, visit the band's website here. While we're waiting, here's the teaser for Out of Love: