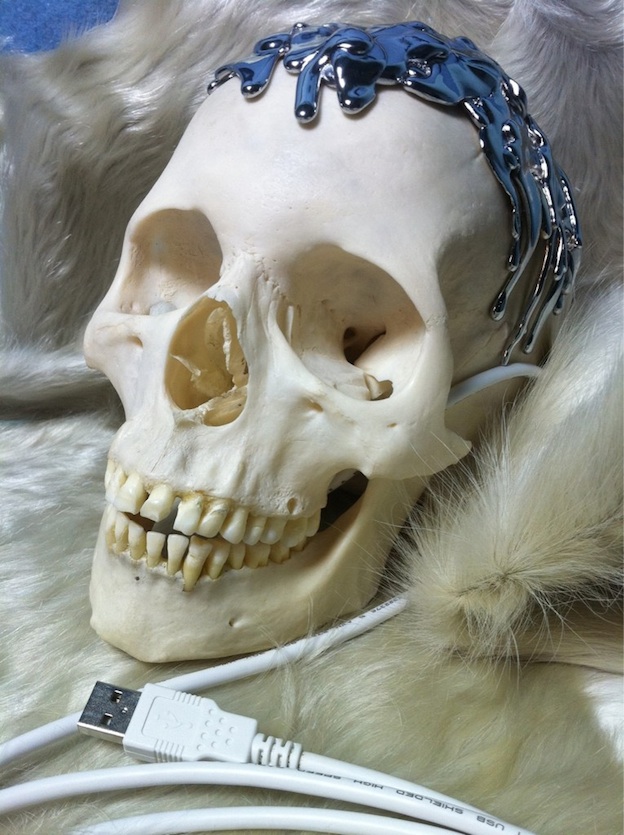 Happy Halloween! While music may not have the same effect as candy, there's still several treats being served up today. Starting things off is the release of The Flaming Lips' 24-hour song "7 Skies H3," which you can now stream over at their site. If you really want to drive the point home, you can order one of the 13 actual human skulls (pictured above) for a paltry $5,000.
Last month, KEXP reported that Guided By Voices are returning with a new album, Let's Go Eat the Factory. Now, eager fans can listen to the album's first single, the almost-two-minute "Doughnut for a Snowman." Peep the track over at Soundcloud.
Karen O's psycho-opera project Stop the Virgens recently debuted in Brooklyn, and now you can hear a couple of songs from the soundtrack via a live session and interview over at WNYC. A clip of calm comes on at 4:50, and the performance of "Duet" starts at 11:15.
Odd Future are no strangers to controversy, and as such this latest bout shouldn't faze them at all. Apparently the rap collective pulled some Mars-Volta-at-Sasquatch antics, with Tyler, the Creator denouncing photographers, which then spurred Left Brain to assault the present photographers. According to NBC33, Left (real name Vyron Turner) "slung water at them, and then pushed and kicked cameras." This all built up to the point when "he slapped freelance professional photographer Amy Harris across her face, knocking her camera to the ground." Odd Future has declined to comment. Because, as you can tell, they are respectful class acts who are in it for the music, and not the spectacle.
Filmmaker David Lynch's new album is finally arriving, after the premiere of his first single "Good Day Today" almost a year ago. The album, fantastically titled Crazy Clown Time, is streaming in its entirety over at NPR.
The first posthumous Amy Winehouse collection is already headed to stores near you, entitled Lioness: Hidden Treasures. The album will include unreleased tracks, alternate takes, and b-sides new and old. The album will release December 5th, and a small portion of the profits will go towards the Amy Winehouse Foundation, a charity set up in the singer's name. More info here.