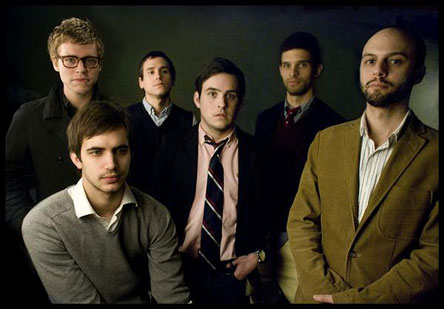 Every Monday through Friday, we deliver a different song as part of our Song of the Day podcast subscription. This podcast features exclusive KEXP in-studio performances, unreleased tracks, and recordings from independent artists that our DJs think you should hear. Each and every Friday we offer songs by local artists. Today's selection, featured on the Morning Show with John Richards, is "Heavy Metal" by White Rabbits from the 2012 album Milk Famous on TBD Records.
White Rabbits – Heavy Metal (MP3)
To say that Brooklyn six-piece band White Rabbits has been "influenced" by Spoon is putting it lightly. Not only did Spoon frontman Britt Daniel produce their 2009 sophomore release, It's Frightening, Mike McCarthy, who worked with Spoon on Gimme Fiction and Ga Ga Ga Ga Ga produced White Rabbit's most recent effort, Milk Famous, which was released earlier this month (McCarthy also mixed It's Frightening). The band's stealthy grooves and frontman Stephen Patterson's unassuming vocals certainly conjure the their mentors, but who said sounding like Spoon was a bad thing? The tutelage of Daniels and McCarthy has left the band sounding incredible, with a polished, well-produced sound that makes it clear that White Rabbits are far more than mere imitators. Today's featured song, "Heavy Metal," is the single off Milk Famous.
White Rabbits are currently on tour, and will be performing in Seattle on March 24 (that's this Saturday!) at The Crocodile. They'll also be LIVE on KEXP that day at 2:30pm, so tune in! For more tour info, visit their website here. Seeing as "Heavy Metal" is the single off of Milk Famous, White Rabbits decided to film a video for it. Watch here: