words by Taylor Snowberger / photos by Stacy Cornett
edited by Victoria Holt
If San Francisco is a special place, then wouldn't a music festival in the heart of San Francisco's beautiful Golden Gate Park be meta-special? According to many of this year's Outside Lands artists, performers and attendees, the answer is yes. Everything from the diligence of the refuse program to the variety of additional attractions (including comedy acts, free craft tents, live art work, a beautiful setting and food choices ranging from spaghetti sandwiches to fresh oysters) created an atmosphere of kinship and decadence for all in attendance.


Day one's festivities included an early performance by the appropriately dubbed Warpaint, an all-female rock group whose music oscillated between tenacity and mellow charm with their dissonant bass and drumming style and surf-rock chord progressions.
Chromeo made a cameo on the main stage in the late afternoon costumed in the finest of studded leather, bringing lighthearted vivaciousness with their bubbly remixes of R&B classics as well as flirtatious originals.
Disclosure followed up with more dance-able beats for a large and lively crowd, backed with gorgeous diamond visuals synced perfectly with their manic tweaking of dials and buttons.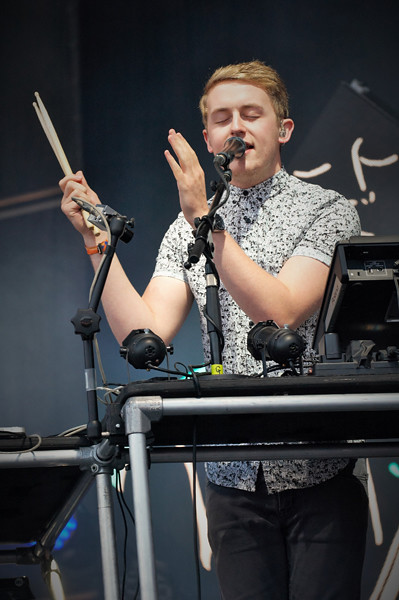 The evening enveloped an intriguing art-noveau performance by a masked Kanye West under the bright blue moon.
Day two began in the House by Heineken Dome with the eclectic Matt Haze, whose compositions compelled us to dance despite being the first act of the day. His refusal to rely on sub-bass frequencies was both original and refreshing in this dub-step saturated day and age.
Next on the agenda was Local Natives, who made it hard to decide whether to tap one's toes or swoon, and taught us that these actions are not mutually exclusive.
At mid-day, Vance Joy tapped the keys of their organs and shook their tambourines in understated harmony on the humble Panhandle stage, attracting fans until reaching fullest capacity, despite (or because of?) their quiet melodrama.
Death Cab for Cutie humored fans with a set list of favorites, performing them with utmost precision as hopeless romantics sang along. A sea of cellphones rose to record Ben Gibbard's solo acoustic performance of "I Will Follow You Into The Dark".
First world problems had never been so dire until night came; Tom Petty and the Heartbreakers, or Macklemore? The answer was both.
To the east, Tom Petty and the Heartbreakers roused the crowd to blissful reminiscence while rendering classic after classic with utter perfection in their low-key honky-tonk style.
To the west, Macklemore gave alms to all in attendance with woo-hoo-worthy interludes of praise for the Bay Area, between a range of songs that pitched us from gay merriment, to thoughtful introspection, to mob-like hysteria, not to mention the live on-stage engagement of lovers Jenny and Natalie.
Day three began for us at the Panhandle stage, where local band The Brothers Comatose drew a crowd that astounded the bluegrass boys into a peak performance. Their lively singing and obvious joy welled between the sounds of the stand-up bass and twanging banjo as the mid-morning clouds cleared away and audience members danced as they applied sunscreen.
A small crowd gathered at the main stage awaiting CHVRCHES, whose little known cancellation wasn't brought to the audience's attention until the sex appeal of ring-fingered Paolo Nutini had worn away and people became cognizant of what was going on. However, many stayed to enjoy the soulful choir-esq rock and roll.
Jenny Lewis got lemons and made lemonade at the modest Sutro Stage, adorned with rainbows, stars, and a solid white power suit. Fists rose and audience members serenaded the band like old friends for the sometimes funky, sometimes honky, sometime rock and roll songs from the Rilo Kiley days, as well as a few originals.
Spoon intrigued like a foreign dish one has never tasted with their unique blend of happy-go-lucky movie soundtrack keyboards and abrasive vocals on the main stage.
Lykke Li sashayed around the stage in a black garbage bag, somehow still looking coquettish and dripping high pitched love lyrics to a crowd of admirers.
The Flaming Lips tied up the last night with a giant hug. Adorned in an anatomical-print body suit and tinsel jacket, the lead singer roused the crowd to laughter, tears, and singing-along as he tangoed with the sun, two giant butterflies, a rainbow, and two giant mushrooms, cleverly disguised as people. This was followed by a brief crowd surfing session enabled by a giant plastic hamster ball, and iced with raindrops of colorful L.E.D. vines draped from the ceiling of the stage. The music seemed secondary to the wild performance, until "Do You Realize" brought everyone to tears and laughter with its universal poetry. The show ended with a song from the bands upcoming covers album, a rendition of "Lucy In the Sky With Diamonds".
Because of the eclectic nature of the artists, musicians, and vendors of Outside Lands, and the aptitude of the planning committee and cleaning crews, the enthusiasm of the visitors and residents of San Francisco for the festival proved to be an excellent example of how fun life can be. Cheers to Outside Lands 2014! May there be many more concerts on this happy little island of a city in California!